Usernames and Passwords
Details

Last Updated: March 02 2020
Published: March 02 2020
Separate accounts are set up for each user in FDLP eXchange. Accounts are always set up with the user's email address as username. Passwords are created by each user during the first login.
Follow these instructions to login for the first time and create your password:
Go to https://exchange.fdlp.gov / training-exchange.fdlp.gov and select "Request new password." Enter your e-mail address in the Username bar. You will receive an e-mail shortly with instructions on setting your password.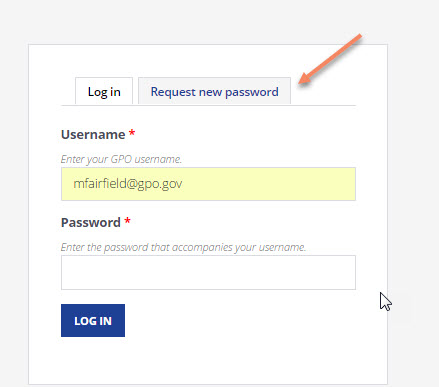 Here are some important things to remember about usernames and passwords in FDLP eXchange.
You have to set a password for both the production site (https://exchange.fdlp.gov) and the training site (training-exchange.fdlp.gov). You can create the same password for both accounts if you want, but you will need to go through the set up process for each site.
Each individual user has a unique account and password.
Depository numbers and internal passwords are not used in FDLP eXchange.
Sometimes password e-mails get stuck in SPAM filters or junk mail folders. If you do not get your password e-mail, check there first.
If you do not receive your password e-mail and it is not in your SPAM or junk mail folder, contact us at

This email address is being protected from spambots. You need JavaScript enabled to view it.

and we will send you a temporary password.
When setting up User Accounts for your staff, make sure to use their e-mail address as username. This will make it easier to update accounts if necessary.