Persistent Uniform Resource Locator (PURL): Explanation, Purpose, and Tracking Usage at Your Library
Last Updated: March 31, 2022
Published: January 08, 2010
PURLs provide stable URLs to online Federal information that can be used on depository library websites and in cataloging records.
About PURLs
Since March 1998, the U.S. Government Publishing Office (GPO) has used Persistent Uniform Resource Locators (PURLs) to provide libraries and other parties stable URLs to online Federal information. If a user clicks on a PURL found on a library web page or in a library catalog, the request will be routed to the Federal publication. Libraries do not need to update the PURLs in their catalog records or web pages since GPO staff will modify PURL entries as the location of the Federal information changes, and GPO's PURL server will route traffic to the appropriate Web site.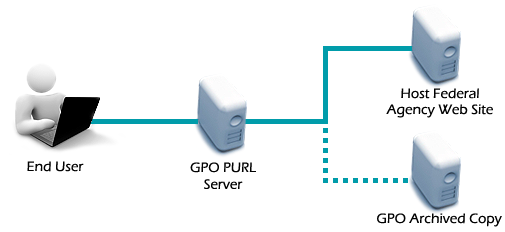 GPO performs routine maintenance on PURLs and their bibliographic records. Contact GPO to report broken PURLs. If the Federal agency host removes the content from their web pages, GPO will modify the PURL to route online traffic to a copy on its own data repository if it has been "harvested" or archived. This will ensure that when a user visits the PURL it is always up-to-date with the most current information. If GPO cannot obtain an online version of the Federal information, the PURL record will be modified to link to a page that states that as of a certain date that the information was no longer available online.
Using PURLs on Library Web Sites & Catalog Records
In order to ensure that links point to accurate, active, Federal, web-based resources and publications, Federal depository libraries are encouraged to use PURLs in their library catalogs and web pages. There are two main advantages for depository libraries to use PURLs:
Decreased time required to maintain links
Access to usage statistics
To identify PURLs for inclusion in your library catalog or web pages, use GPO's Catalog of U.S. Government Publications (CGP) to determine if a publication or series has been assigned a PURL. A PURL will appear in the catalog record if the online or digital resource has been identified. The PURL stem is http://purl.fdlp.gov/GPO/gpo#. If no PURL is found for an online or digital resource, contact us to request that the item to be cataloged.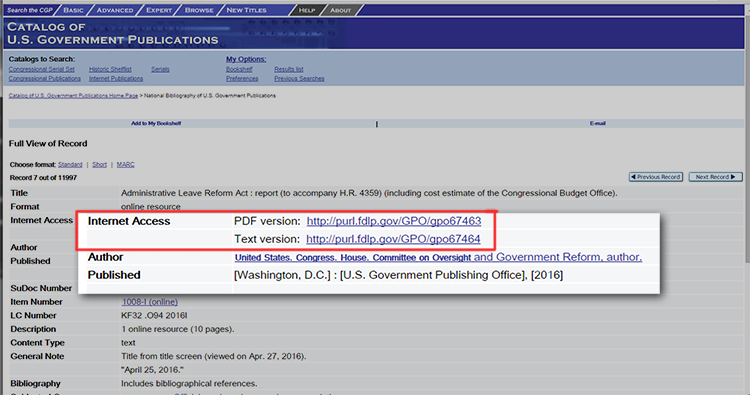 Example of a PURL as referenced in the standard view of a record in the CGP.
The PURL is inserted into the MARC 856 40 and 856 41 fields. Prior to October 2008, GPO followed a single record policy, and the PURL appears in both the tangible records and the online resource records. After October 2008, the PURL appears only in the online resource record.
Tracking PURL Usage for Your Library
Federal depository libraries can analyze their PURL usage statistics using GPO's FDLP PURL Usage Reporting Tool.
To access the FDLP PURL Usage Reporting Tool:
Login with your depository library number and GPO-issued internal password.
Logins are based on browser session. Once a browser is closed, users are logged out of the tool.
The tool provides monthly information that includes:
The total volume of click-throughs by individual hostname and/or IP address to Federal publications through GPO's PURL server
A listing of the top 50 referred PURL resources per hostname and/or IP address with:

The PURL path
The full path of the target URL for each PURL
The total requests for that individual PURL
SuDoc classification number with a search link utilizing the CGP to view cataloging records for the individual PURL

Individual institutional usage data. Provided a pattern profile is set up for a depository library, further analysis can be performed by library staff who want to analyze which PURLs are being used by their patrons and when they are using them.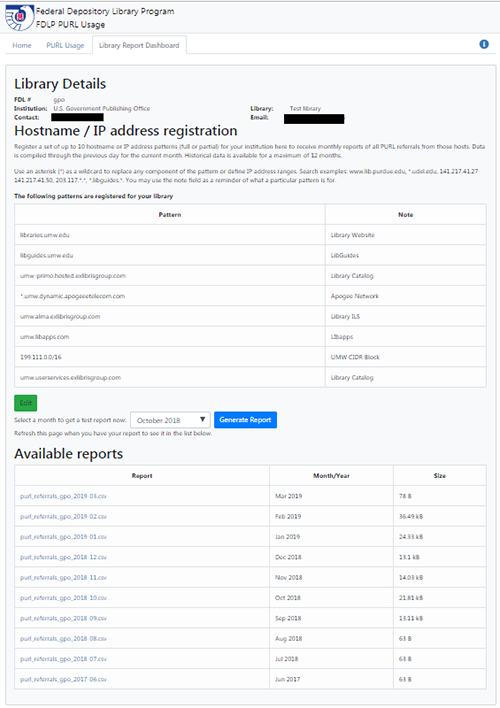 Image of Library Dashboard
Statistics are compiled on a daily basis and aggregated into monthly statistics. Totals are current through the previous day's usage. Libraries can access the reporting tool at any time to view their referral statistics for the current month and access up to 12 months of historical data. After 12 months, the data is purged from the system, so any customized reports should be exported prior to that time.
Understanding What is Captured Versus What is Reported
In order to provide the most accurate statistics for PURL usage from Federal depository libraries, GPO has configured the PURL Usage Reporting Tool to capture and report specific types of web traffic extracted from its PURL server's log files. Understanding what is captured may help libraries set up their customized PURL Usage Report.
Be advised that web traffic not reported in the server log files includes traffic coming from search engines that are routinely indexing PURLs for their search engines and link checking software.

Image showing an example of the PURL server log file.
Elements found in the PURL server log file include:
IP Address or Network Name is the name of the end-user's network clicking on the PURL.
Identifier, when transmitted, identifies the computer or device clicking on the PURL.
User name, when transmitted, is used by the computer for authentication.
Timestamp is the date and time of the click.
PURL clicked on is the link that was clicked on.
Referrer, when transmitted, is the website or tool URL from which the PURL was clicked on.
User agent is the web browser and platform used by the PURL user.
The PURL Usage Report will not report out all of the information found in the server log. The report extracts the most useful information for analyzing PURL usage traffic at an institution. Fields reported out include:
Timestamp: When the PURL was clicked on (reported in the Eastern Time Zone)
Host: Name of the end-user's network host domain or the network's external IP address used to click on the PURL
PURL: Link the end user clicked on
Target URL: Where the end-user is redirected to
SuDoc Number, Title, Author, Year: Information derived from the PURL's catalog record found in the Catalog of U.S. Government Publications (if available)
Pattern note: Any note the library saved for the pattern
Referrer Domain: Which website or tool URL where the end-user clicked on the PURL (if available)
Historical PURL Usage Data
Historical PURL referral reports (2001-February 2016) are available in FDLP.gov's file repository in a variety of file formats (HTML, PDF, xls, or csv) based on when the report was released. The files are for all PURL usage and as such are raw data only and not customized for individual libraries.
Prior to November 2009, the log files provide click-through statistics for Federal depository libraries that met the industry standard definition of a referral and registered their domain with GPO for statistical reporting. Reports generated from November 2009 forward report all click-through traffic and utilizes the expanded GPO definition of a referral.
See GPO Modifies PURL Referrals Reporting for more information about the change in log files.
Additional Resources