FDLP eXchange Tips of the Week
Details

Last Updated: September 03 2019
Published: April 11 2019
Each week, GPO will bring FDLP eXchange users a new tip to help you navigate FDLP eXchange.
Recent Tips
Tip 42: Viewing Records
When looking at needs or offers in any list view (My eXchange, Needs and Offers Repository, or Advanced Search), there are two different ways to view a record. Each way will provide slightly different information.
First, you can click on the plus sign next to each entry to expand the list.

This will expand the view to include more information about the entry without taking you away from the list view.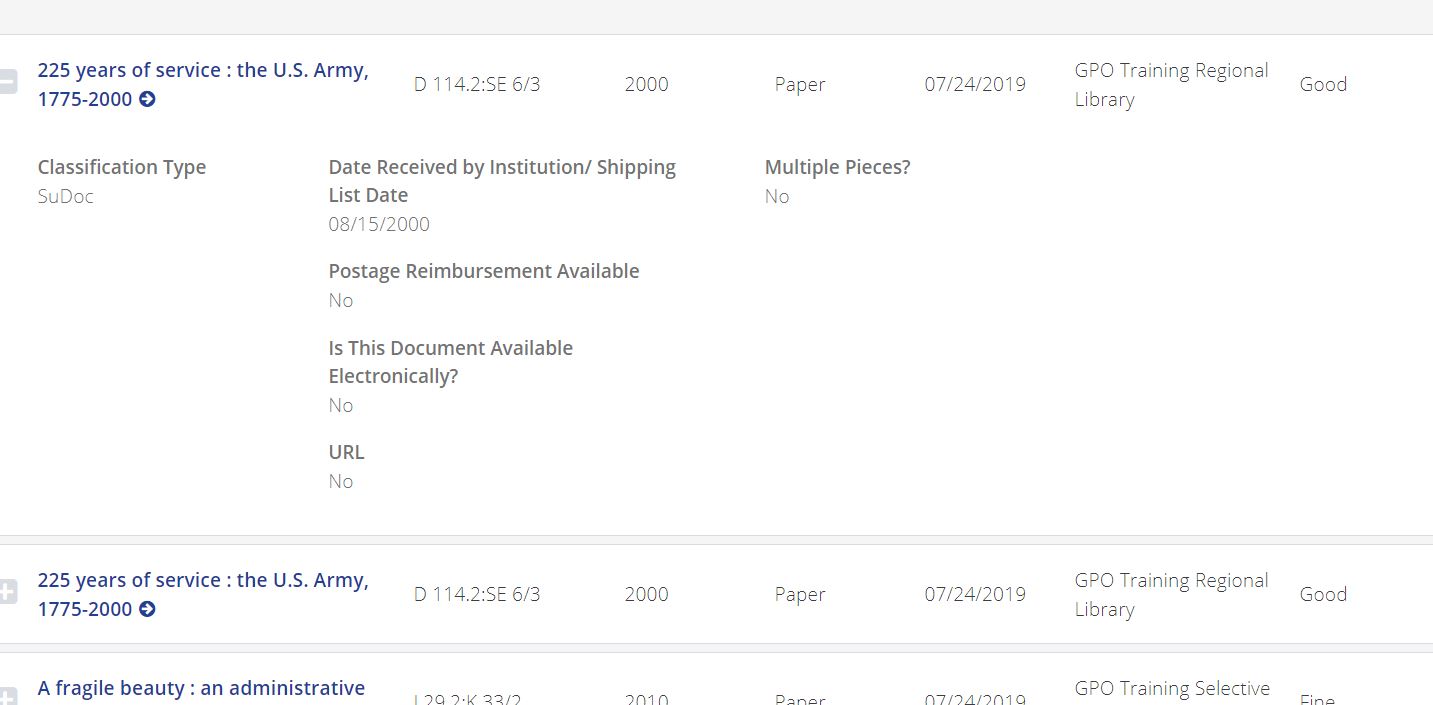 You can also click on a title in the list view. Doing this will take you to another page where you can view the record of the need or offer and a transaction log that provides information about the submitting library. You can also request an offer, copy the item, and message the submitting library from this page.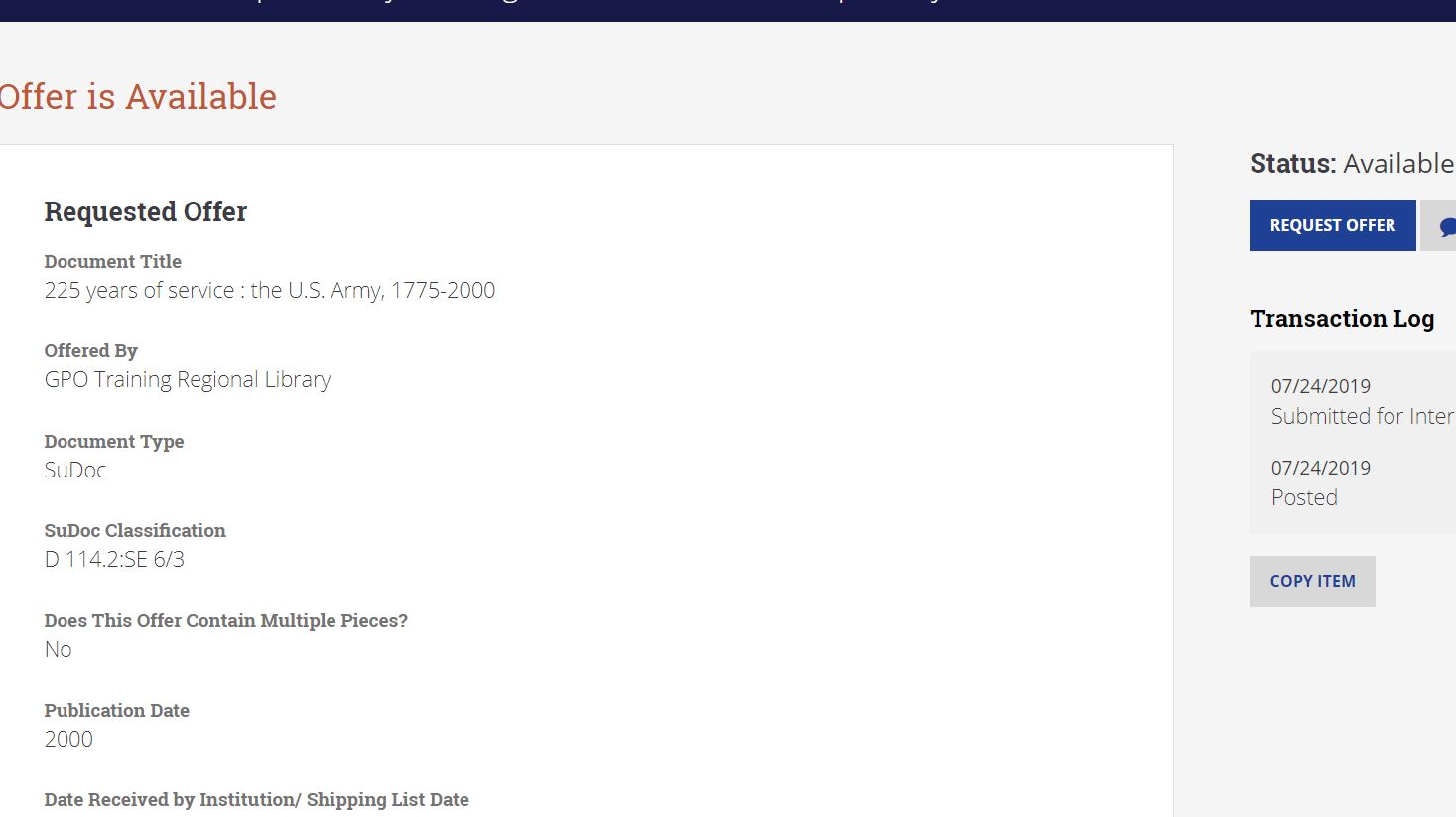 Tip 41: Mailing and Marking Items as "Received"
Once items have been matched or requested and are ready to transfer, mark as mailed so the requesting library knows it is on the way. This will also alert other libraries that the item is no longer available.

When the item is received, mark as received to complete the transaction.

Once this is done, the item status will change to Fulfilled/Transferred and will not be seen by other libraries.

Tip 40: Changing Your Passwords
Every user is able to create and maintain their own passwords for both the training and production sites in FDLP eXchange. To change your password, go to My Library Account- My User Account- Edit Your Profile.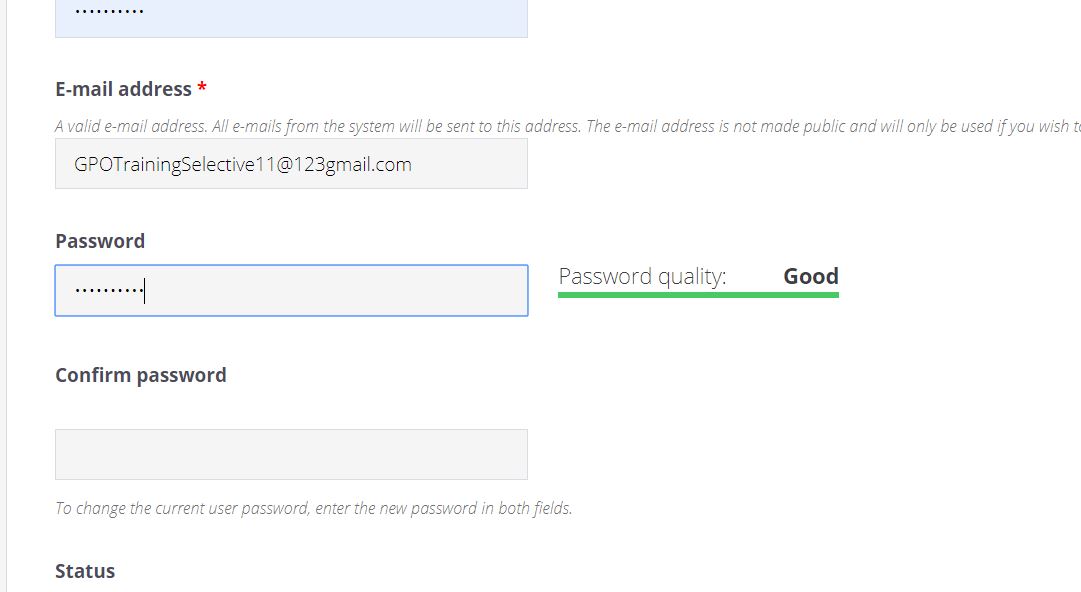 The bar to the right of the Password field will let you know how strong your new password is. To make password creation easier, make sure your password choice meets the following requirements:
Must contain at least eight characters.
Must contain at least one uppercase character.
Must contain at least one lowercase character.
Must contain at least one number.
Must contain at least one special character.
Must not match any of your last six passwords.
For more information on passwords, see Tip 3: Usernames and Passwords and Tip 4: Don't Get Locked Out!
Tip 39: My Exchange, Needs and Offers Repository, and Advanced Search
There are three places in FDLP eXchange where you can go to look at needs and offers: My eXchange; Needs and Offers Repository; and Advanced Search. Each of these has a different function and provides access to different items.
My eXchange allows you to see your own needs, offers, and requests. You will only see your own items here.
Needs and Offers Repository allows you to see other libraries' needs and offers. You will not see your own items here. You will also never see any offers that are not currently available to you
Advanced Search allows you to search all needs and offers, whether your own or other libraries'. You can search here for everything, or you can limit your search to your own library or your own region. As with the Needs and Offers Repository, you will not see anything in Advanced Search that is not available to you.
Tip 38: Live Site and Training Site
There are two FDLP eXchange sites: the live site and the training site. The live site is the official site. Once items are submitted, the discard process starts, and items are available for review. Items submitted in the training site, on the other hand, are never part of the discard process. So, it is the perfect tool for practice, testing, or training.
Both sites have the same functionality, and follow the same processes. However:
Each site has its own password.
Account information, review periods, and other information are set separately in each site.
Items submitted in one site will not be included in the other.
To access the live site, go to: https://exchange.fdlp.gov
To access the training site, go to: https://training-exchange.fdlp.gov
If you have questions, please contact This email address is being protected from spambots. You need JavaScript enabled to view it.
Administration of Your Account