FDLP eXchange
Details

Last Updated: January 15 2019
Published: June 19 2018
FDLP eXchange Background

The FDLP eXchange replaces and expands upon the former national Needs & Offers. The goal was to build an application that libraries in the Federal Depository Library Program (FDLP) could use as a one-stop-shop for the entire needs and offers process. FDLP eXchange automates disposition processing by allowing libraries to enter information on materials they want to discard and to have the process managed by an automated workflow. The application also allows libraries to enter information on materials needed for their collections or digitization efforts.
The user-friendly design includes an easy-to-use interface as well as many convenient features. This includes options to manually enter records or upload lists from a library's catalog, and the entire site is mobile ready. The automated workflow moves offers through the process of offering materials first to the library's regional depository, then to other selectives in the same region, then to libraries across the country. A matching function matches one library's offers with other libraries' needs and provides notification to both libraries when there is a match. The in-site communication tool allows libraries to communicate within the application through an interface that allows colleagues to collaborate on requests placed with other libraries.
FDLP eXchange Production Site
The FDLP eXchange production site is now live. In regions that have adopted the application as part of their disposition process, selective depositories can enter offers for review by their regional depositories. When the regional has completed their review, unneeded materials move on to review by other selectives in the region. Materials not claimed by the regional or other selectives in the region move on to be offered nationally if the library has chosen to offer materials outside their region. All libraries can post needs and receive notification when their need matches another library's offer.
Libraries in regions that have not adopted FDLP eXchange for their disposition process may still use FDLP eXchange to offer materials nationally after they have been offered within their region and remain unclaimed. These libraries may also post needs to receive notification when their need matches another library's offer.
FDLP eXchange Training Site
In October 2017 GPO launched a training version of FDLP eXchange to provide libraries with a sandbox where they could test the application and learn how to use it. With the launch of the production site, the FDLP eXchange training site has moved to a new URL where FDLP library staff may continue to try out the application. Automated redirects will be in place for a limited time to route users to the updated site. GPO recommends updating bookmarks and links in any materials libraries may have pointing to the previous version of the training site.
The training site also gives regionals an opportunity to test the application within their regions and to determine their own procedures if they choose to use the application as part of the disposition process. The training site has full functionality – with the exception of email notifications.
Selective depositories should continue to follow guidance from their regionals. Consult your regional depository library coordinator if you have questions.
Users should remember that records in the training site are test records. Offers of materials that are actually being processed for discard should be offered in the production site. Likewise, needs that libraries are actually trying to fill should be entered on the production site.
FDLP eXchange Project Timeline
Contract issued to Confluence, Corp.: September 2015
Discovery phase completed: December 2015
Initial site design completed: April 2016
Initial development completed: July 2016
GPO internal tested completed: August 2016
Beta test completed: September 2016
Additional development: throughout Spring 2017
Sunset of the national Needs & Offers service: June 1, 2017
Launch of FDLP eXchange training and educational resources: June 1, 2017
Launch of the FDLP eXchange Training Site: October 2017
Launch of FDLP eXchange Production Site: June 2018
Benefits of the FDLP eXchange
The FDLP eXchange boasts many benefits for regional and selective depository libraries. Download the benefits document to share with library administrators, directors, and staff.
Next Steps
Regionals will want to take some steps to ensure that FDLP eXchange is set up correctly for their region, whether or not they plan to adopt the application as the primary discard process in their region. Review the checklist here.
Selectives will also want to take some steps to ensure that FDLP eXchange is set up correctly for their library, whether your region is adopting the application for its discard process or not. Review the checklist here.
Frequently Asked Questions
Download FDLP eXchange Frequently Asked Questions.
Templates to Upload Needs and Offers
Download templates for uploading needs lists (.csv, .xlsx) and offers lists (.csv, .xlsx).
Please note that the .xlsx versions of the templates have bolded column headers to indicate required fields. Users whose software does not support the.xlsx format should use the .csv versions of the templates.
Download sample needs lists (.csv, .xlsx) and offers lists (.csv, .xlsx).
These include example entries for monographs, serials entered as a range, and serials entered as individual issues.
Use the FDLP eXchange Data Dictionary to help you complete your spreadsheets.
The data dictionary provides descriptions of fields in offers, needs, user, and library records. It also indicates which fields are required, specifies accepted values for fields that only accept certain values, and provides definitions of accepted values.
Related Documents and Resources
FDLP eXchange Training for Regionals & Selectives
Training Videos
Explore brief, task-based training webcasts:
If you are not able to play the MP4 file, try switching to a different web browser.
FDLP eXchange QuickStart Guide
Tips of the Week
Each week, GPO will bring FDLP eXchange users a new tip to help you navigate FDLP eXchange.
Tip 1: Using FDLP eXchange to Offer Materials Nationally
Check the "Offer Nationally" box to offer materials outside your region after following regional procedures to offer within the region.
The default when FDLP eXchange was launched was to leave the box unchecked, so libraries that want to offer nationally will need to change that setting to enable offering outside their region in FDLP eXchange.
To verify that the box is checked, login to FDLP eXchange, then choose "My Library" from the Library Account menu. If the box has been checked, you will see "Offer nationally?: Y" on the Library Account page.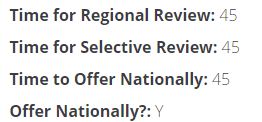 If you see "Offer Nationally?: N" and want to offer your materials outside your region, click the Edit tab and scroll down until you see "Offer Nationally?" with a check box to the right. Click the box so that a check mark appears in the box. Then use the drop-down menu below "Time to Offer Nationally" to select the number of days that you want to offer the material outside your region. The default is 45 days.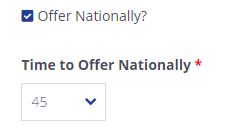 If you have materials in the system that have not expired from Phase 2 (review by selectives in your region), changing this setting will ensure that they are offered nationally after they have been offered through your region. Anything that has already expired from Phase 2 will not revert to Offer Nationally. To offer those titles outside your region, you will need to re-enter them after checking the box.
Tip 2: Administrative Review
There are two types of accounts in FDLP eXchange: library administrators and library users.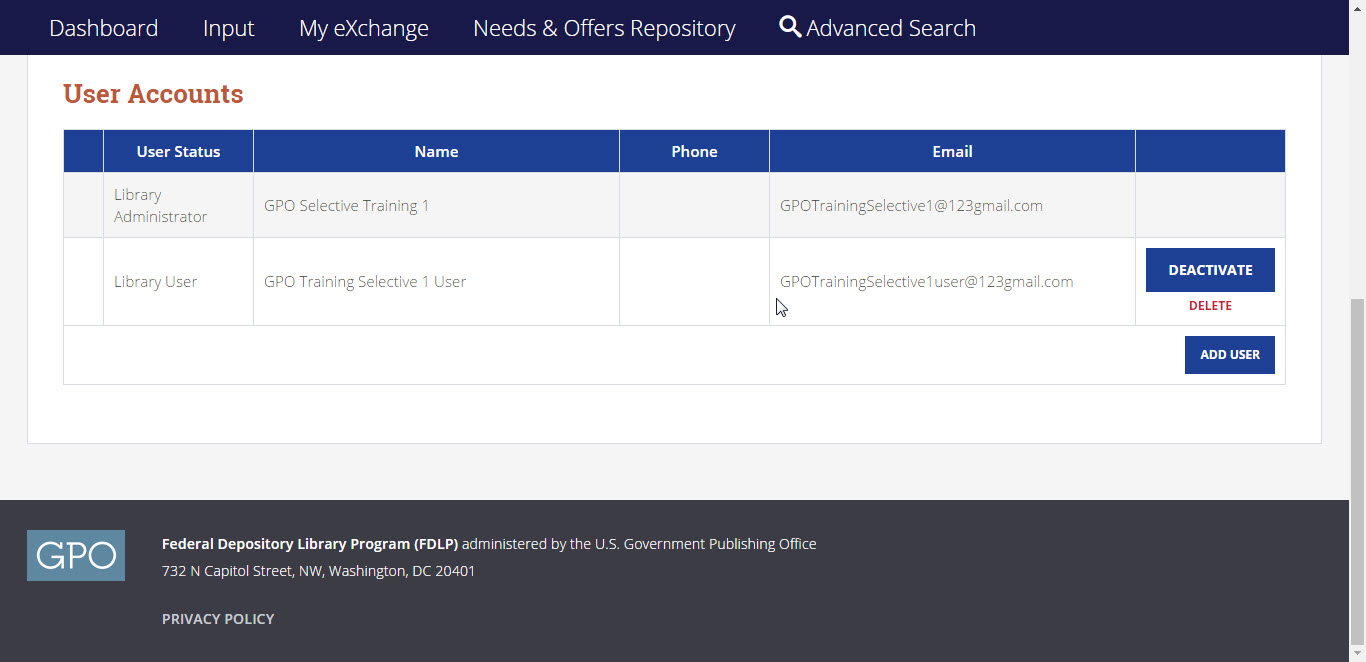 Library users can enter items into the eXchange, but those items must be reviewed and approved by a library administrator before they can be sent for regional review.
Library administrators can review these items by selecting "Approve Items for Submission" under the Library Account tab.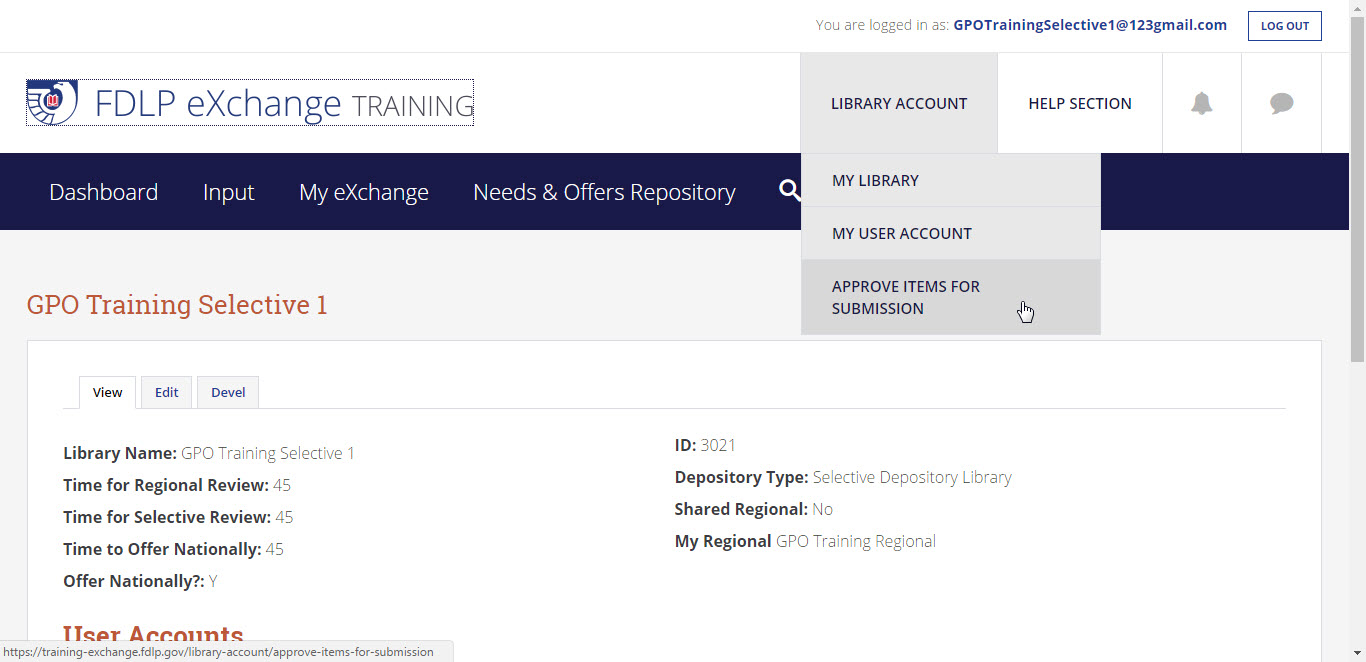 The library administrator will see all items that have been entered by library users and can submit them to the regional for review, edit them, or delete them.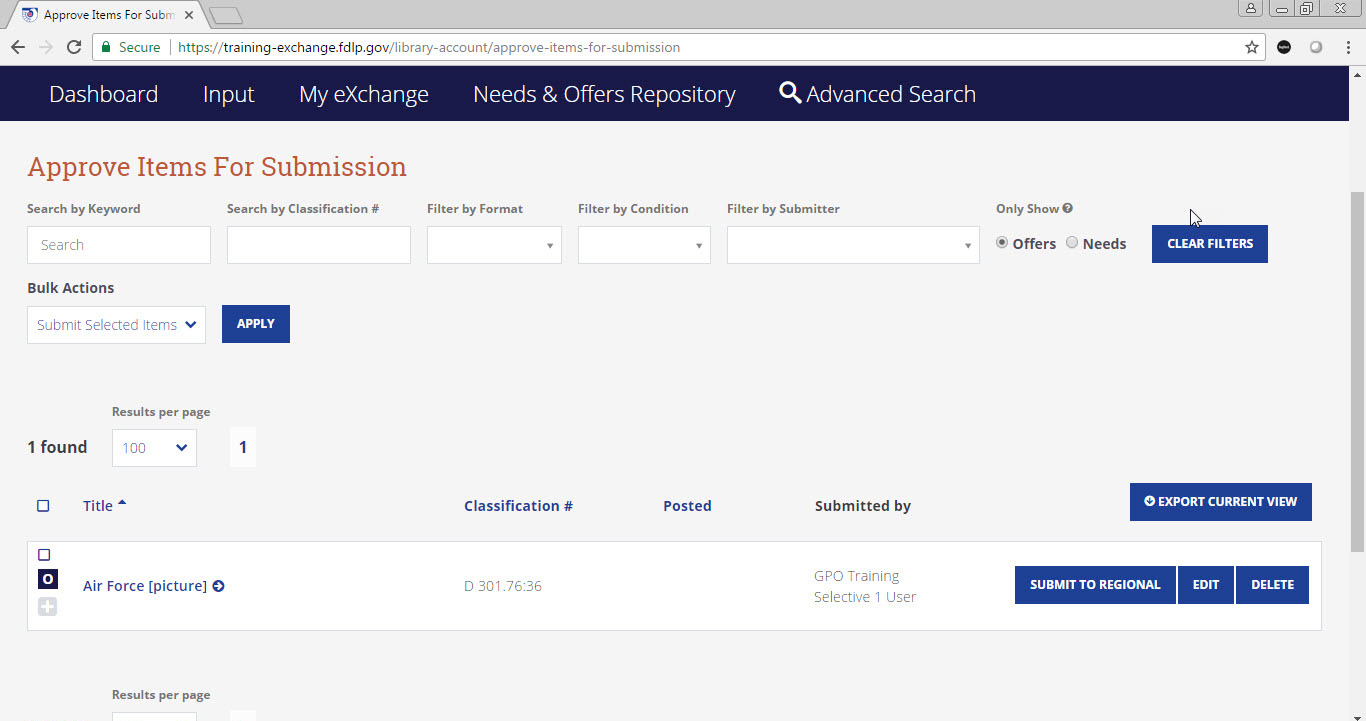 It important to remember that items entered by library users are not sent for regional review until they have been submitted by a library administrator. Library administrators should check their queue regularly to be sure that they do not have items pending review.
Library administrators can set up library user accounts for staff who will be entering items into the eXchange but who do not have the authority to submit to the regional. Examples of users could be student workers, volunteers, or any staff member who needs occasional access but does not bear primary responsibility for disposition processes in your library.
During implementation, library administrator accounts were established for all coordinators as listed in the Federal Depository Library Directory on April 2, 2018. A coordinator can request that other staff members be added as administrators by contacting This email address is being protected from spambots. You need JavaScript enabled to view it.. Please note that the request must come from the Depository Coordinator.
Tip 3: Usernames and Passwords
Separate accounts are set up for each user in FDLP eXchange. Accounts are always set up with the user's email address as username. Passwords are created by each user during the first login.
Follow these instructions to login for the first time and create your password:
Go to https://exchange.fdlp.gov / training-exchange.fdlp.gov and select "Request new password." Enter your e-mail address in the Username bar. You will receive an e-mail shortly with instructions on setting your password.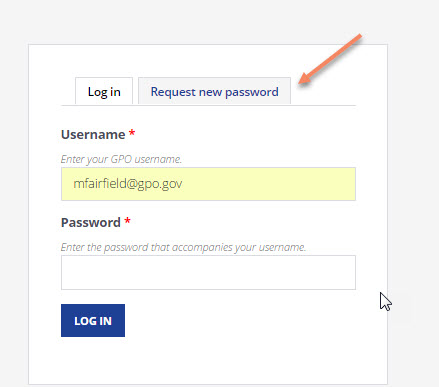 Here are some important things to remember about usernames and passwords in FDLP eXchange.
You have to set a password for both the production site (https://exchange.fdlp.gov) and the training site (training-exchange.fdlp.gov). You can create the same password for both accounts if you want, but you will need to go through the set up process for each site.
Each individual user has a unique account and password.
Depository numbers and internal passwords are not used in FDLP eXchange.
Sometimes password e-mails get stuck in SPAM filters or junk mail folders. If you do not get your password e-mail, check there first.
If you do not receive your password e-mail and it is not in your SPAM or junk mail folder, contact us at

This email address is being protected from spambots. You need JavaScript enabled to view it.

and we will send you a temporary password.
When setting up User Accounts for your staff, make sure to use their e-mail address as username. This will make it easier to update accounts if necessary.
Tip 4: Don't get locked out!
As with many computer systems, FDLP eXchange has a security feature that will lock your account after a number of unsuccessful login attempts. This helps prevent unauthorized users from hacking into your account, but it can also cause you to be locked out of your account if you forget your password. To avoid this, GPO recommends that you use the "Request new password" tab to reset your password after four unsuccessful attempts to login when you have forgotten your password.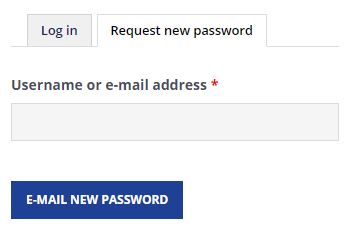 On the sixth failed attempt, you will get the error message below.

Should you get this message, your account will be blocked for six hours. GPO does not recommend using the "request a new password" link at this point. Instead, GPO recommends waiting six hours before resetting your password. At that point you can reset your password and continue as normal.
Should you need immediate access to your account, you can use the "request a new password" link in the error message. However, you should be aware that doing so will allow you to reset your password and access your account, but you will need to remain logged into your account for six hours to avoid being locked out of your account. If you change your password and log out sooner than six hours later, you will be locked out of your account and will not be able to reset your password at that time.
In the event that you do get locked out, please contact This email address is being protected from spambots. You need JavaScript enabled to view it. for further assistance.
Tip 5: Shipping List Dates
Because five-year retention of materials is a core rule of the FDLP, we originally made shipping date a required field in FDLP eXchange.
However, we soon learned that this requirement might place too much of a burden on our users. In many cases, especially on very old documents, shipping dates are not always readily available. The requirement has also caused problems with regional-approved electronic substitution, supersession, and offering duplicate copies.
We have been able to remove the requirement in some input procedures but not others. Removing the requirement from the remaining input procedures is on our list for potential future development.
In the meantime, we have come a few solutions to mediate any issues you might have.
When MANUALLY inputting offers, "Shipping List Date" is no longer required (as indicated by the lack of an asterisk.) If you prefer to do so, you can click "Item doesn't have a date" here.

When uploading a Spreadsheet, use "01/01/0000" as the Shipping Date for any items you do not have a shipping date for.

If you have any questions about shipping dates, or continue to have problems after using these work-arounds, contact This email address is being protected from spambots. You need JavaScript enabled to view it. for further assistance.
Tip 6 – Offers- Regional Review, Selective Review, and Offering Nationally
FDLP eXchange is a tool designed to make discarding depository materials easier for libraries. However, it is important to remember that requirements and processes for discarding have not changed with the release of eXchange.
Regionals still establish discard policies and procedures for their regions. They determine whether a region will use eXchange, what can be discarded, and how long review periods are to be.
Offers must still follow the established review process of: regional first, selectives within the state second, then national offers.
Limits on discards in states without a regional continue to apply.
With this in mind, FDLP eXchange was designed to pass offers through three distinct phases before becoming eligible for discard.
Phase 1- Regional Review is the period in which a regional library reviews all offers and determines whether or not to pass, disallow, or request all items being offered in the region. The time period allowed for this phase is determined and set by the regional library. Selective libraries will not be able to change the review period.
Phase 2- Selective Review is the period in which selectives review all offers from within their own region that have been passed on by their regional. The time period allowed for this phase is also determined and set by the regional library. Selective libraries will not be able to change the review period.
Phase 3- National Offers is the period in which all depository libraries will review offers that have passed through Phases 1&2. Whether or not materials are offered nationally, and for how long, is determined by each individual library. This is done under "Library Account—My Library."
To offer nationally, the checkbox "Offer Nationally?" must be checked and a time period must be selected. Review periods range from 0-90 days.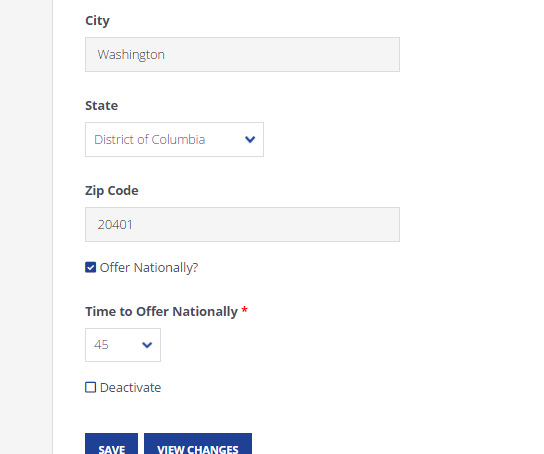 There are a few important things to note about National Offers.
Libraries are not required to offer nationally. However, it is strongly encouraged as the practice helps other depositories build their collections.
All depository libraries are eligible to post offers nationally, whether or not their region uses FDLP eXchange for regional and selective review. If you are in a region that is not currently using eXchange, contact us and we will set up your account accordingly.
The default in eXchange is to not offer nationally, so if your library does want offers to go through this phase, you must go into "Library Account—My Library" and check the box indicating this preference.
If you have any questions about review periods, or need assistance with setting up your account for national offers, contact This email address is being protected from spambots. You need JavaScript enabled to view it..
Tip 7- Inactive Accounts
If you receive a notification that your FDLP eXchange account has been inactive for 90 days, there is no need to worry. This is a standard notification that all users get when accounts are not used for 90 days, and it does not affect your account in any way.

We understand that FDLP eXchange is a system that is only used as needed, which may mean it is not used for months at a time. Because of this, we would like to provide the following tips:
The notification emails can be ignored and deleted with no repercussions. Your account will not be affected in any way.
Log on/log off your account every 1-2 months to prevent notifications. You will not need to do anything in your account- just log on, then log off.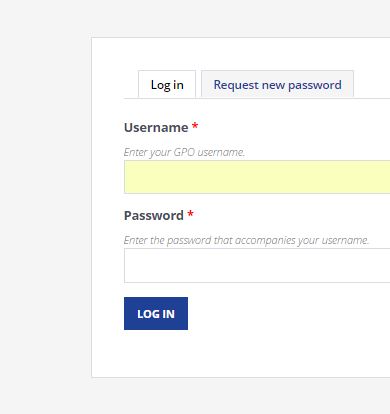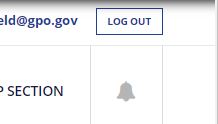 If you have questions, Contact This email address is being protected from spambots. You need JavaScript enabled to view it..
Tip 8: Seeing Your Own Needs and Offers in FDLP eXchange
If you want to look at your own library's needs or offers in FDLP eXchange, there are two places to do so. The first place is My eXchange, where you can search for your own needs, offers, and requests you have made.
You can also search for your own needs and offers on the Advanced Search page.

Here, you can conduct a search by subject, SuDoc, keyword, date, etc. and limit results to your library's needs or offers by selecting "Only show results from my library" in the Posting Library Field. (Bonus tip- you can also view limit your search of needs or offers in your region the same way.)

Please note that your own needs and offers do not appear in the Needs and Offers Repository, which provides access to other libraries' needs and offers via browsing and basic searching. To review your own needs and offers, you will need to use My eXchange or to Advanced Search.
Tip 9: Filtering to View Current Offers (or Needs) in My eXchange
If you find that it is difficult to locate your current offers in My Offers because there are a number of expired offers appearing in the list, try filtering by status to only show your current offers. The screenshot below shows an unfiltered list in My Offers.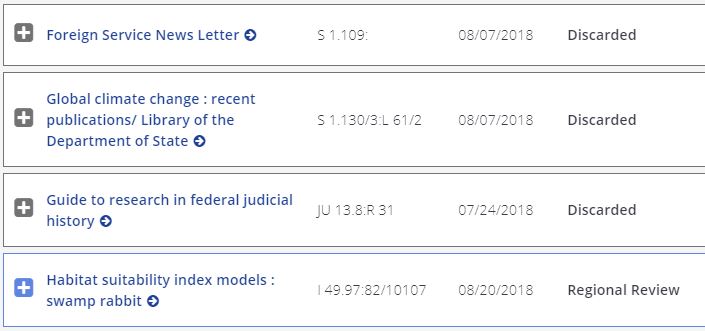 When you use Filter by Status, you can select as many statuses as you wish. Checking the boxes next to the current statuses will ensure that you only see what is currently in process.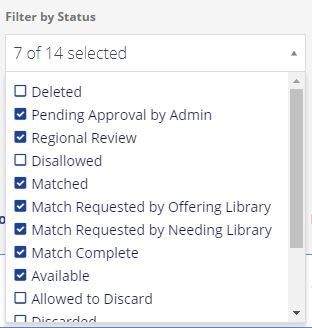 The screenshot below shows the same list in My Offers after it has been filtered to only show offers in current statuses.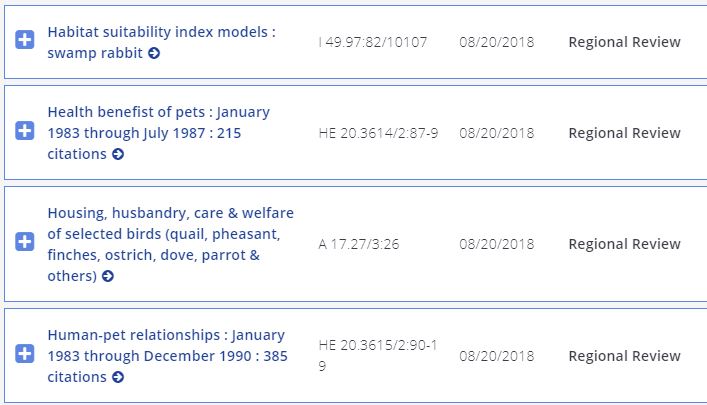 The original list also shows offers in the Allowed to Discard status, so filtering by status would provide a list of items ready for discard to use to complete the process for those items.
The same process works for filtering My Needs.
Tip 10: Library Names in FDLP eXchange
Some users have noted that the "Library Name" field in their library record in FDLP eXchange contains both their library name and institution name, while the "Parent Institution" field only contains the institution name.

Information in this field was pulled from the Federal Depository Library Directory (FDLD), but in most cases, the Library Name field in FDLP eXchange has been edited to include both the library name and the parent institution. This was done because the Library Name field is used in the drop-down menus for the "Filter by library" library function. The "Filter by region" function also uses the Library Name field, utilizing the regional depository's Library Name to identify the region.
When the original training site was launched in October 2017, GPO discovered that using the library name alone made it difficult to identify libraries in the drop-down filters in many cases. For libraries with common library names, such as "Library," "Main Library," "Law Library," etc., it was difficult to identify which of multiple listings was the one to use when filtering. This was also problematic for libraries named after individuals, which might not be easily identified by other libraries without the associated parent institution information.
For this reason, when FDLP eXchange was launched for full production use, GPO included both the library and parent institution in the Library Name field. The only exception would be for matters of redundancy. For example if the "Cincinnati Public Library" had "City of Cincinnati" as the Parent Institution in the FDLD, then the Library Name in FDLP eXchange was left as "Cincinnati Public Library." The institution name was left as it was in the FDLD in all cases.
Users are able to edit this information in their library records. GPO recommends that any editing of this field be done with the ease of identification in the drop-down menus in mind. Changes to library names in FDLP eXchange do not impact the listings in the FDLD, and the FDLD remains the system of record for this information.
Tip 11: "Posted" Dates
Every record in FDLP eXchange contains a "Posted" date as seen here.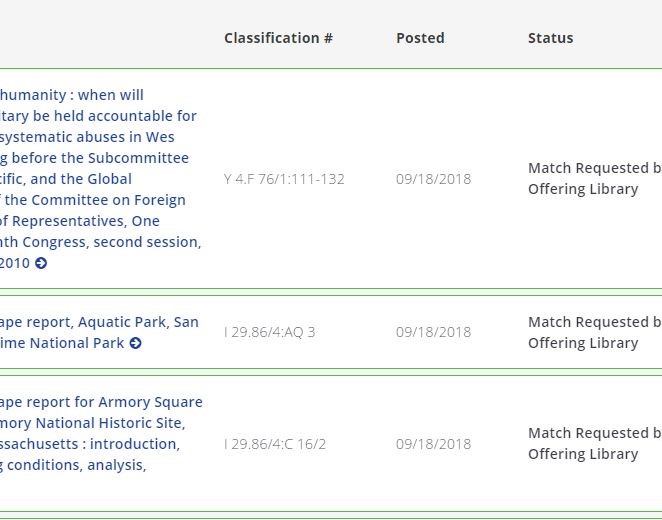 When viewing a match, it is important to remember that there are two records involved: one library's need and another library's offer. If your library posted the need, the "Posted" date you will see is the date your need was posted. For the same match, the library that posted the offer will see the date the offer was posted. Assuming that the need and the offer were posted on different dates, each library will see different "Posted" dates.
The "Posted" dates will never affect matching or progression through the different phases in the system. They are simply there to help you keep track of when items were entered into the system.
Tip 12: More Info about Inactive Accounts
If you receive a notification that your FDLP eXchange account has been inactive for 90 days, there is no need to worry. For more information on this, please see Tip 7.
Additionally, please note the following:
Having an inactive account will NOT lock you out of FDLP eXchange.

No action is required by you when you receive the email.

We understand that eXchange is not a tool that everyone uses regularly, and we are working to extend the length of time it takes for accounts to go "inactive."
Tip 13: Postage
Some users have expressed confusion about how to use the "Postage" field in FDLP eXchange. While we are looking at ways to clarify the wording used in the system, there are a few things to keep in mind.
1. The question "Postage Reimbursement Available?" is asked when entering needs or offers manually. A column named "Postage Reimbursement" is on both the needs and offers templates for bulk upload.

This is not a required field in any of these instances and can simply be ignored.
2. If you want or need to include postage information in your need or offer, remember that the question applies to whoever is posting the need or offer. In other words, the question is asking whether or not YOU can pay postage, rather than whether you need SOMEONE ELSE to pay postage.

Clicking "yes" means that whoever posted the need or the offer is able to pay postage on an item.
3. Sometimes there are limits on the ability of the posting library to pay postage. In these cases, it is recommended that you either leave the field blank, or select "yes" and then add a note in the "Additional Notes" field. This option is available for manual input and uploading either needs or offers.

Tip 14: Entering Senate and House Journals into eXchange
Matches in FDLP eXchange are made solely on SuDoc number. For this reason, it is recommended that complete SuDoc numbers be used in order to accurately match needs and offers.
However, this only applies to common SuDoc patterns. There are some items with unusual patterns that are not accepted by the system when the full SuDoc is entered. This includes Senate and House Journals (XJH:[Congress]-[Session]/PT. [Part #]; XJS:[Congress]-[Session]).

Because the patterns for these classification numbers are so different, the eXchange system will not accept them as valid numbers if they are complete. This will be fixed in future development. In the meantime, this can be worked around by including only the stem for these items.

You can then add a note in the Additional Notes field to indicate which items you are offering or you need.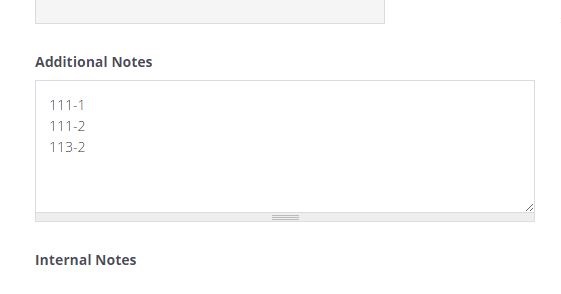 If you have questions about submitting House and Senate Journals or any other items with unusual SuDoc patterns, please contact FDLPOutreach @gpo.gov.
Tip 15: Searching by Topic or Keyword
If your library collects heavily in certain subjects, FDLP eXchange Advanced Search can be used to search for available items by topic or keyword. Moreover, the Saved Search feature can simplify collection development by allowing you to load and run these searches on a regular basis so that you make sure you review everything available in your subject areas.
For example, if your library has a strong Aviation collection, you could search for all offers of aviation materials that are currently available to you by searching for offers with the keyword "Aviation." You can limit by format, date, condition, class stem, or anything else that meets your needs.

You will then be able to see items about aviation that are currently available to you. You can then save your search by naming and saving the search.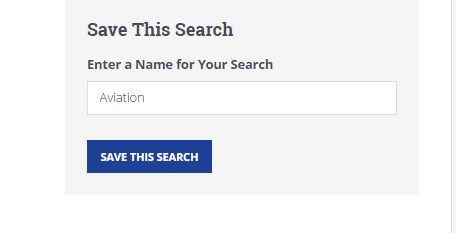 Once saved, you can load and run the search regularly, making it easy to search for items on the topics that interest you. To do this, simply hit "Load this Search," then "See Results."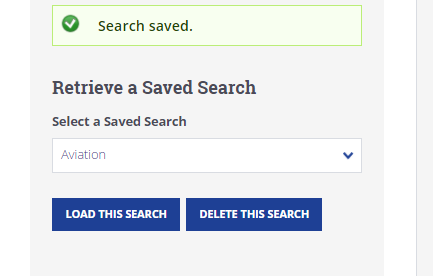 Tip 16: Clearing Notifications
You can set up your FDLP eXchange account to notify you about any number of activities. However, if you have too many notifications, it can cause the system to time out when logging on or otherwise diminish system performance.
If your account times out because there are too many notifications, you will see a message like this: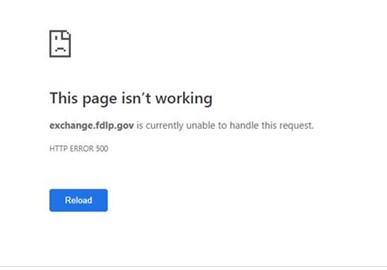 Here are some tips for setting and maintaining your notifications.
1. Set your account to only receive those notifications you really want. Go to My Account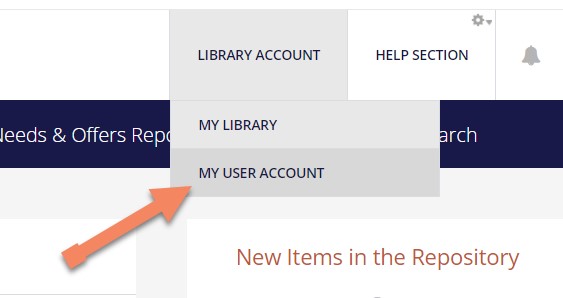 Set your preferences.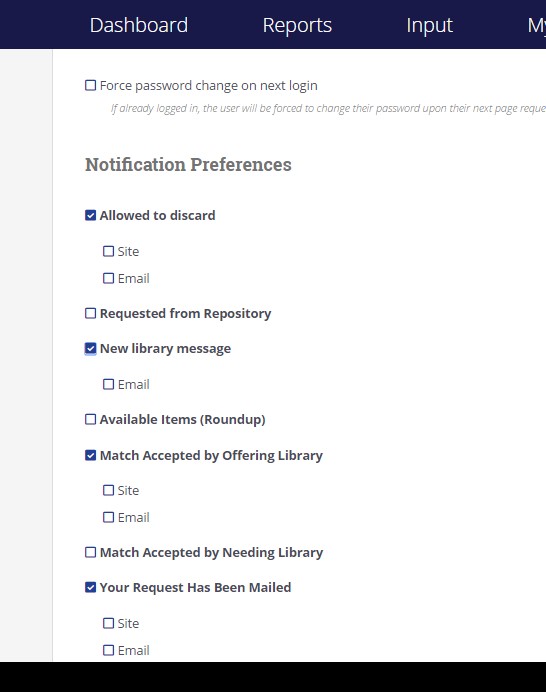 2. Clear your notifications once you have read them. Go to Notifications.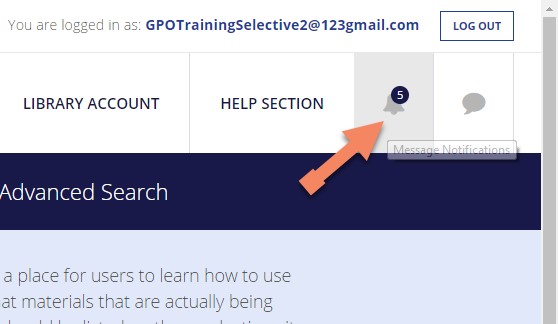 Mark all notifications as "read."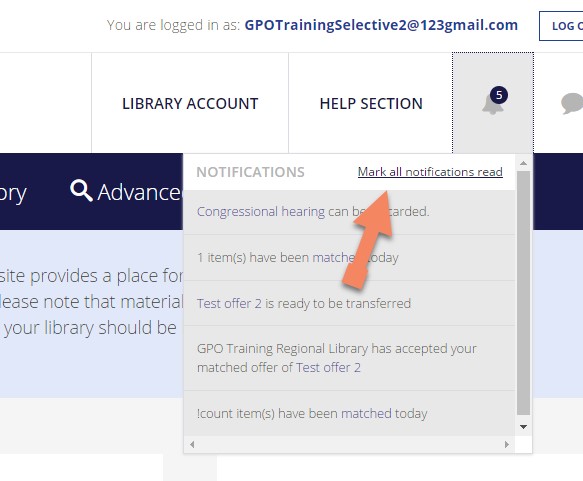 If you continue to have problems after clearing your notifications, please contact This email address is being protected from spambots. You need JavaScript enabled to view it..
Tip 17- Browser Updates
FDLP eXchange was designed for use by any browser. However, there have been a few cases of functionality loss when browsers are updated. If a function is not working in FDLP eXchange, try a different browser. This is especially important if you are unable to do something you could do previously, or if you know your browser had been updated recently.
Let us know when this happens, even if you are able to get it to work in a different browser. Send screen shots, and tell us what you were trying to do, and what browser (and version) you were using so we can work to get the problem fixed.
Because there is no way to know beforehand what affect updates will have, we appreciate you letting us know when there are issues. As always, please send any questions or concerns to This email address is being protected from spambots. You need JavaScript enabled to view it..
Tip 18: Offering Serials or Multi-Volume Sets as Ranges
Items that are serials or part of multi-volume sets can be offered via FDLP eXchange in two ways. They can be entered as individual items or as ranges.
When using the Manual Input feature in FDLP eXchange, you select "Yes" when asked if the item contains multiple pieces. When you do that, a Multiple Pieces Notes box comes up, and you can add any pertinent information there.
In the example below, a range of the publication State is being offered. The range includes years from 1981-1995, with some missing volumes. The missing volumes are listed in the notes box.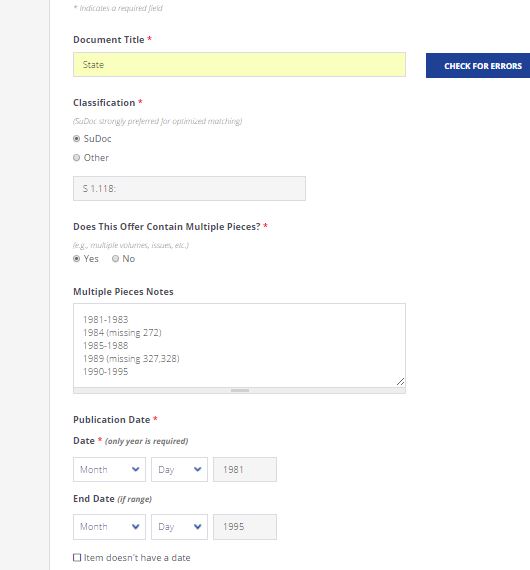 Ranges can also be used when uploading an offers or needs spreadsheet. Simply add the range information to the Multiple Pieces Notes field.

Please note that the Publication Start field should be used to indicate the date of the first piece in the range and the Publication End field should be used to indicate the date of the last piece in the range. Missing issues or gaps in the range should be included in the Multiple Pieces Notes field. Unlike cataloging records which include all dates a title was published, offers of ranges should only include the date range of what is being offered.
Tip 19: My Library and My User Account
There are two types of accounts in FDLP eXchange: My Library and My User Account. These can be found in Library Accounts at the top of the FDLP eXchange page.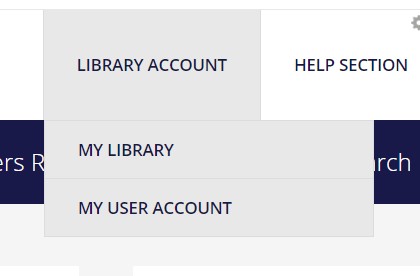 My Library contains information about your library, such as your library name, number, and address. It is where you will see the review periods that have been set by your regional and where you set your national needs and offers preferences. All of your library's administrator and user accounts can be viewed here. The information contained in My Library applies to all users at your library.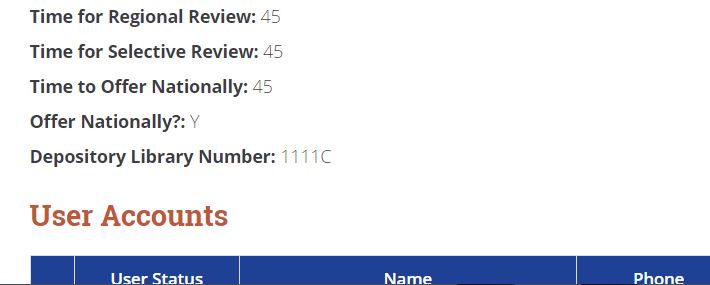 My User Account contains information that is specific to you as a user. It is where you update and maintain your email address and password and where you choose your notification options. The information contained in My User Account applies only to you.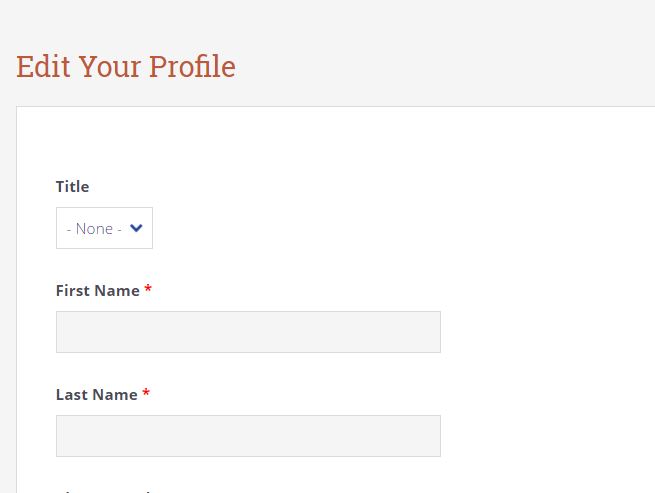 Tip 20: Offering Serials or Multi-volume Sets as Individual Items
Tip 18 described how to offer serials and multi-volume sets as ranges. As noted in that tip, serials and multi-volume sets can also be offered as individual items.
The main benefit of offering serials and multi-volume sets individually is that it allows for better matching because the complete SuDoc number is entered for each item. Since the matching works on the full number entered in the offer, you will get more precise matches by using the complete SuDoc number.
Offering serials or multi-volume sets as individual items can also save time when offers are requested, as each item is removed from the system once transferred. Since offers cannot be edited after they have been submitted to the system, ranges entered as one offer may become inaccurate if part of the range is claimed while the rest remains available. This may require additional communication with libraries wishing to claim parts of the range that have already been claimed and are no longer available.
To simplify the process for those libraries that prefer to offer individually, FDLP eXchange has a "Duplicate Offer" feature.
For example, if you are offering State for 1989, input the January issue first.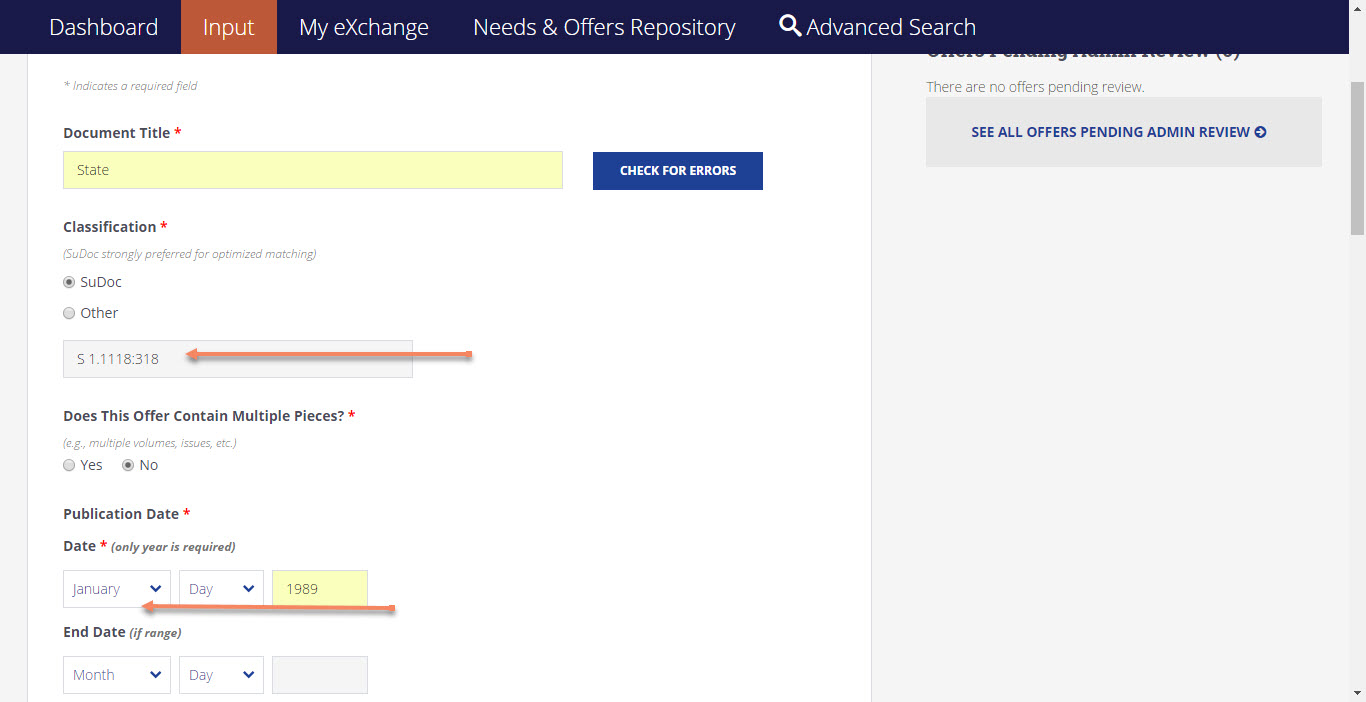 Once this has been submitted, you will be given the option to "Duplicate Offer."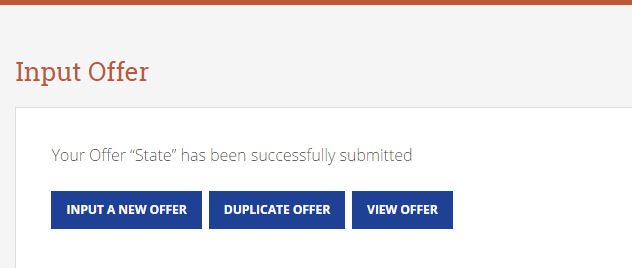 Selecting this option will take you back to the manual input page already filled in with the information you previously provided. Simply make the necessary changes for the next item. Continue this process until each item has been entered.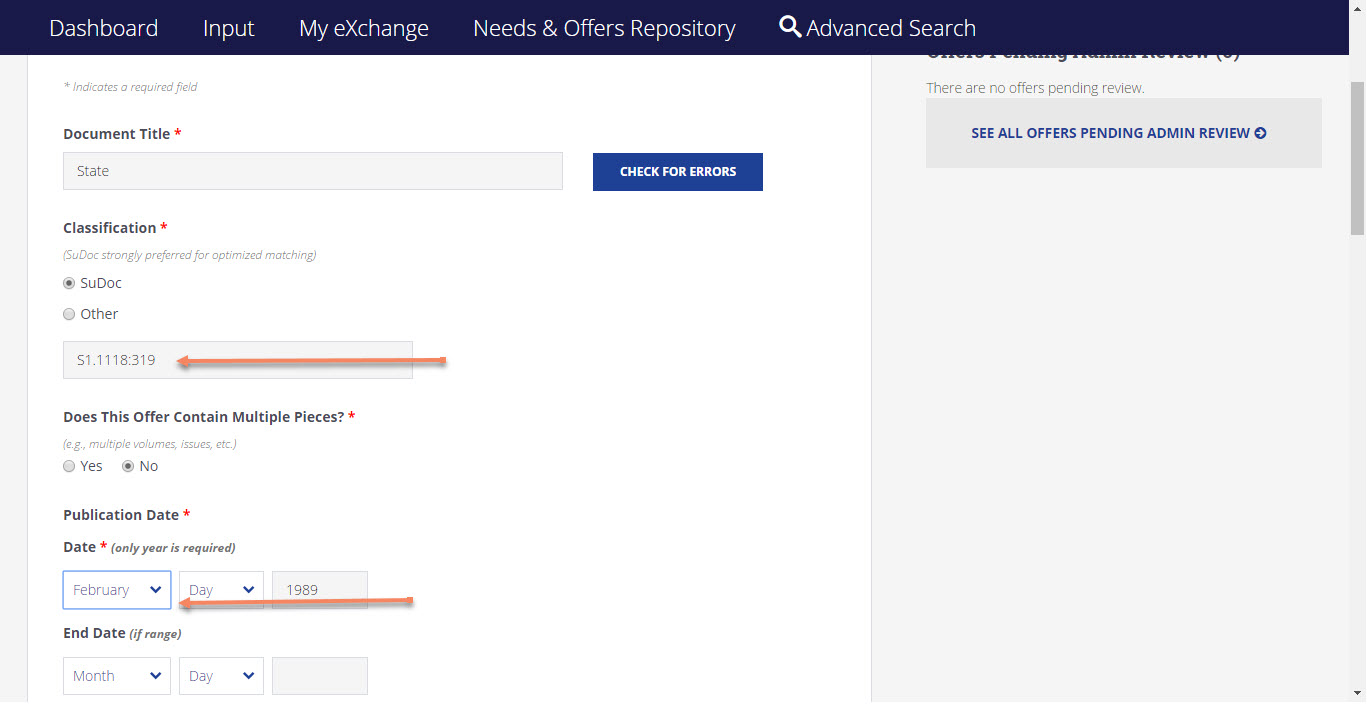 You can also do this for items already in your offers list by using the "Copy Item" button available in the item record in "My Offers" under "My eXchange".
Tip 21: Matching for Ranges
Entering offers (or needs) as a range can reduce the amount of data entry required to post to FDLP eXchange. However, there are some nuances in the matching to keep in mind. In general, you will be less able to rely on the automated matching when entering ranges. When entering a range, you should enter as much of the SuDoc classification as possible to apply to the range offered or needed. In most cases, that will be the stem. For example, you could offer the 1981-1985 issues of the title State as shown below.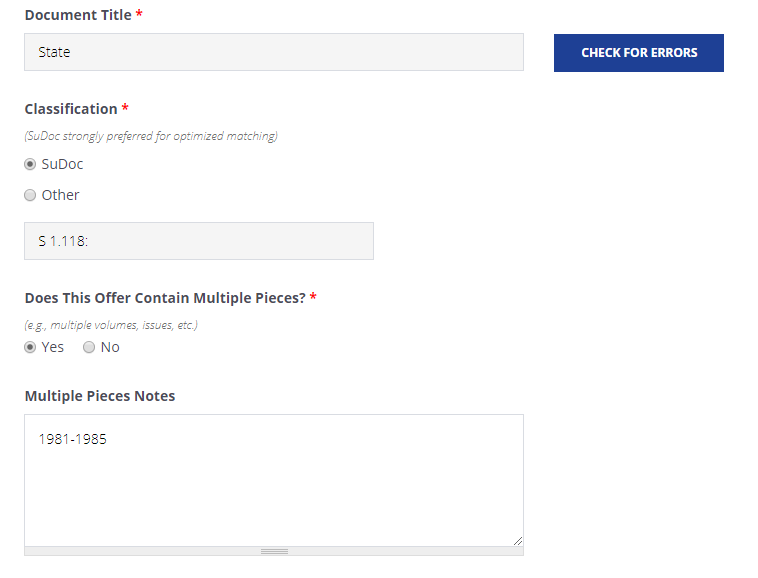 If a library was seeking issue 272 from 1984 and had entered a need as a single issue, they would have entered the SuDoc number as "S 1.118:272." Even though this falls within the range of issues you are offering, the system would not match the other library's offer to your need. This is because the match looks for an exact match of the full SuDoc number as entered, and "S 1.118:" does not exactly match "S 1.118:272." In this case, relying on the matching function to catch the match would mean that neither library would be aware that material needed by one library was being offered by another. Either the library needing the issue would need to find the offer in the Repository, or the offering library would have to find the need in the Repository in order to make the connection to transfer the material.
Conversely, if another library also posted a need for State, but needed 1995-2000, they would also use only the stem in the Classification field in their need. Although your offer is for a different date range, you would get a match in that case, because both the offer of the 1981-1984 issues and the need of the 1995-2000 issues would have exactly the same SuDoc number (S 1.118:) in the Classification field.