GPO's FDLP Twitter Campaign Starts Today, #lovemyFDL
Details

Last Updated: February 01 2018
Published: February 01 2018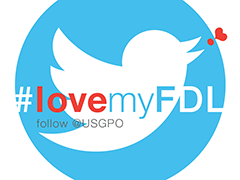 Today marks the start of GPO's month-long #lovemyFDL Twitter campaign. Follow @USGPO all month long as we spotlight the services and resources available to the public at Federal depository libraries across the Nation.
We will be tweeting about what the Federal Depository Library Program (FDLP) has to offer: innovative services, interesting publications, free online resources, and expert reference assistance, to name just a few. We also want to get Federal depository libraries and your patrons involved.
All February long, we ask that you:
Tweet about your library and all that it has to offer using the hashtag #lovemyFDL. Don't forget to include photos.
Encourage your patrons to tweet what they love about their depository library and the ways your library has helped them using the hashtag #lovemyFDL.
Promote the campaign on your library's website and social media pages. Download these new graphics to get you started. There are four images to choose from.
Download and print this handy sign, and post it in your library to promote the campaign and to remind staff to talk about it with patrons.
Let's work together to flood Twitter with all the FDLP has to offer, all February long.
For questions, contact us via askGPO. In the "Ask a Question" tab, choose "Federal Depository Libraries" as the category and "Marketing Strategies/Radio Spots" as the subcategory.