University of Colorado, Boulder Becomes 1st Preservation Steward
Details

Last Updated: October 18 2016
Published: October 17 2016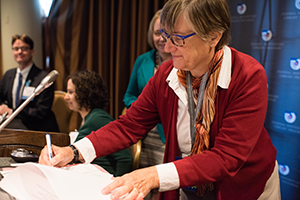 The U.S. Government Publishing Office is pleased to announce that the University of Colorado, Boulder's Norlin Library is now the first official Preservation Steward library. In an official partnership agreement signed today at the 2016 Depository Library Council Meeting & Federal Depository Library Conference, the Norlin Library pledged to permanently preserve their print collections of Congressional Hearings, the U.S. Congressional Serial Set, and the Bound Congressional Record (and its predecessor titles).
Norlin Library is the regional depository library for Colorado, serving 19 other selective depositories in the state. This institution has been in the Federal Depository Library Program since 1879.
"Today marks a significant milestone," said GPO's Acting Superintendent of Documents, Laurie Hall. "GPO is proud to officially partner with the University of Colorado, Boulder's Norlin Library to preserve historic U.S. Government information for generations to come."
GPO continues to seek libraries (both regionals and selectives) that will serve as Federal Information Preservation Network (FIPNet) Preservation Stewards. These designated libraries, under a Memorandum of Agreement with GPO, would retain all or a portion of their Federal depository collection. Identifying Preservation Stewards will allow GPO to ensure that preservation copies of record will be in geographically dispersed locations in the United States, as required by the Joint Committee on Printing, GPO's oversight committee.
To inquire about becoming a Preservation Steward or to simply learn more, reach out via This email address is being protected from spambots. You need JavaScript enabled to view it.