A Fond Farewell and Thank You
Details

Last Updated: April 22 2016
Published: April 21 2016

From the beginning of my Federal service at GPO on January 31, 2011 through these bittersweet final days as I prepare to retire on April 29, I've thought a lot about what this wonderful GPO experience has meant to me personally. Above all, it has been a privilege to be part of the GPO team and work in the red brick buildings. There is no higher calling than the GPO mission of Keeping America Informed. And the staff of Library Services and Content Management (LSCM) are dedicated public servants charged with fulfilling this mission at the national level.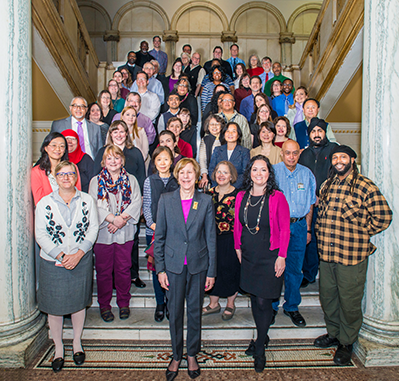 I've also asked myself whether we have met the goals I promised you in my remarks at the April 4-6, 2011 Depository Library Council (DLC) Meeting in San Antonio. That was the first DLC Meeting for our then new Public Printer, William J. Boarman. He was delighted to interact with the depository library community then and, as a Marylander, was even more delighted to participate in the ribbon cutting ceremony five months later celebrating Towson University Library's rejoining the Federal Depository Library Program (FDLP).
Rereading my remarks from the April 2011 DLC meeting reminded me of the priority goals I set out to achieve as Superintendent of Documents—more collaboration, partnerships, training, and transparency. By the October 2011 DLC Meeting & FDL Conference, the focus was on how we could achieve these goals by working with the DLC and depository library community. Here are some brief highlights of our journey together these past five years. The first step was developing a shared V-I-S-I-O-N for the future.
Viewpoint. In 2011 in partnership with the depository community, LSCM embarked on the FDLP Forecast Study to obtain coordinators' viewpoint of challenges being faced, initiatives undertaken, and their aspirations for the future of the ideal FDLP. Findings from the Study led to the three key recommendations which were incorporated into the National Plan for Access to U.S. Government Information as strategic priorities.
Implementing change. Transformation and change are crucial to the success of the National Plan. With the full support and encouragement of Director Davita Vance-Cooks, LSCM is implementing change not only in what we are doing, but how we are doing it. We are implementing a lifecycle management approach to managing Government information; implementing changes to the governance and structure of the FDLP; implementing a user-centric service model; and implementing outcome-based success measures. Of the 46 actions identified in the National Plan, LSCM is currently working on or planning 57% of them. We are moving forward and making great progress.
Services. GPO's mission of Keeping America Informed, and the vital role depository libraries have in ensuring GPO fulfills its mission, requires a host of services and tools. LSCM aims to deliver dynamic, innovative, strategic services and mechanisms to support the needs of Federal depository libraries and the American public in finding accurate Government information in a timely manner. LSCM embarked on an ethnography study of depository library operations, which will result in systems that will best serve depositories. You will soon see a new and improved Needs & Offers tool that LSCM has developed; it will facilitate the new policy allowing regional depository libraries to discard certain tangible materials under certain conditions. The Catalog of U.S. Government Publications turned 10 this year, and we continue to make enhancements that improve findability of Government information and provide functions that assist depositories with collection development and management.
Instruction. In 2012, LSCM procured a new webinar delivery and unified learning platform – taking instruction to the next level. The request for more instruction and training was, once again, a result of the FDLP Forecast Study. LSCM launched the FDLP Academy, the FDLP Training Assistance Center, and launched a pilot FDLP Coordinator Certificate Program. In FY 2015, LSCM, depository library, and Federal agency staff presented 69 webinars with over 8,200 registrants.
Online content. We have focused on adding more online content, born digital, converted, and historical content to the Catalog of U.S. Government Publications, FDsys/govinfo, and the FDLP. Harvesting of Federal agency websites was ramped up, and we now have 5.7 terabytes of content in the FDLP Web Archive. In 2011, we signed an agreement with the Administrative Office of the U.S. Courts for ingest and authentication of lower Federal court opinions into FDsys. Today, there are more than 1.5 million online opinions and the U.S. Courts Opinions collection is among the most heavily used. Digitized content from depository libraries is now making its way into FDsys/govinfo. The Warren Commission Report and 26 hearings were received from Boston Public Library, authenticated, and ingested. And the newest collection is from the University of Florida Smathers Libraries. I am delighted to announce that under a new agreement, GPO has authenticated and ingested into FDsys/govinfo the publications of the Panama Canal Commission, its predecessor agencies, and other Federal agency publishers. These documents will be publicly available April 27; be on the lookout for a press release. GPO digitized and added to FDsys/govinfo reports from the Superintendent of Public Printing and the GPO Annual Reports from 1859-1947 and through agreements with other Federal agencies more historical content is now, or will be, publicly accessible: Treasury reports, Constitution of the United States: Analysis and Interpretation, U.S. Statutes at Large (1951-2002), the historic volumes of the Bound Congressional Record (1873-1998), and the complete Federal Register beginning with the inaugural issue of March 14, 1936.
Network. Federal depository libraries have always worked together as a network. Collaboration and partnerships have taken on a new importance in recent years, and this has made the depository network even stronger. Participating in a partnership as crucial to the American public as the FDLP requires a high level of open communication. We have been committed to sharing more information with you about current initiatives, challenges and issues, and plans for the future through FDLP.gov and FDLP Connection, the online newsletter launched in 2011. GPO also had exhibit booths at the 2015 ALA Annual Conference and the 2016 Public Library Association Conference. GPO staff are making courtesy visits to depository libraries to discuss their needs so that we can better meet them. LSCM staff members are speaking at regional meetings about the National Plan and future of the FDLP. Because the Government has an obligation to provide broad public access to its information, GPO has entered into partnerships with, and beyond, depository libraries. In 2014, GPO partnered with the Digital Public Library of America (DPLA) to increase access to Government information by providing them with GPO's cataloging records. And because only through preservation can we ensure access to Government Information for future generations, GPO is developing the Federal Information Preservation Network (FIPNet). The University of North Texas was the first FIPNet partner, continuing their history of partnerships with GPO. The preservation of tangible and digital Government content is a task too large for any one library or institution; FIPNet is a strategy for a collaborative network that leverages what libraries are already doing, and it provides an opportunity to elevate the public awareness and prestige of local initiatives, specific collections of Government information, and the institutions and agencies that have stewardship over them.
Vision
Over the last five years we have worked together to define a shared vision and develop a plan to achieve it, and we have made great progress. I am confident that we will realize our vision of "providing Government information when and where it is needed." It is a vision on which we all agree, and it will serve future generations of Government information users well.
Final Thoughts
I suspect that many of you are tired of hearing me say, over the course of the past five years, "it takes a village" and "depository librarians are the heart of the FDLP". But it does, and you are. "Once a documents librarian, always a documents librarian" is another of my favorite sayings. When in library school studying for my MLS in 1986 at Rutgers, The State University of New Jersey, I was privileged to be a part-time reference assistant at Alexander Library. That's when, thanks to then-documents coordinator and now retired Professor Emeritus Mary Fetzer, I decided that I wanted to be just like her and know everything there is to know about government documents—an impossible goal.
After working as a documents librarian at two depository libraries from 1988-1994, I had the honor of representing the American Association of Law Libraries under the guidance of then Georgetown University Law Library Director Robert Oakley. Bob passed away in 2007, way too young, but he further instilled in me the importance of public policy. He often stated that government information is our "lifeblood." We all have stories about our mentors. Mine were extraordinary and I am forever grateful to them.
My five year journey here at GPO has been the professional highlight of my life. I am extremely grateful for the support and advice that GPO Director Davita Vance-Cooks has given me throughout the years. Her focus on transforming GPO as a 21st-century publisher and successfully getting support in Congress to change our agency's name to the Government Publishing Office are but two examples of the change she has led. Her commitment to strategic planning and the need for transformation have inspired me, and I thank her.
Under Davita's direction, we took GPO Access offline and now provide access to more than 50 collections through FDsys/govinfo. Her support to permit libraries the opportunity to be an all-digital depository led to a new model that will help sustain the FDLP in today's increasingly digital world. Most of all, her encouragement and support for a new policy allowing regional libraries to discard tangible materials under certain conditions was approved by the Joint Committee on Printing in August. We are working with seven pilot regional libraries to develop the process and workflow to implement it.
In FY 2015, the number of LSCM personnel was at its lowest staffing level following two agency-wide buy-outs and staff retirements. And yet when the LSCM Year in Review FY 2015 is posted later this spring, you'll see that it's been one of LSCM's most productive years ever. For that, I thank Acting Superintendent of Documents and LSCM Managing Director Laurie Beyer Hall, her executive team, and all the wonderfully talented and committed LSCM staff who work tirelessly on your behalf. I would also like to express my gratitude to the current and former members and chairs of the Depository Library Council who have represented the community so well since my arrival at GPO in 2011. I'd like to recognize the hundreds of depository librarians with whom I've worked since the 1990s and the many new depository coordinators who bring such wonderful energy, enthusiasm, and new skills to our community. Thank you all for your service!
Although it's exciting to begin a new stage in my life that will give me more time to spend with my family and take care of my health, leaving GPO is bittersweet. Members of the FDLP community are the most dedicated, passionate, and diligent people I have ever had the pleasure of working with. It's going to be very hard to say goodbye to the GPO family. However, the FDLP is in good hands and I'm confident that our collaborative strategic plans and goals for the future will continue to be implemented and are here to stay. The best is yet to be!