National Plan for Access to U.S. Government Information
Details

Last Updated: April 21 2016
Published: April 21 2016
The National Plan is a framework document that conveys our guiding principles and sets our strategic direction. It supports the Federal Depository Library Program (FDLP) and the Cataloging & Indexing Program (C&I), statutory programs of the Superintendent of Documents, by applying a user-centric outcomes-based approach to service. All of the actions help to fulfill our statutory mandates while clearing a path for the digital age and achieving our vision: "to provide Government information when and where it is needed."
Strategic Priorities
Lifecycle Management
Establish Library Services and Content Management (LSCM) processes and procedures that apply lifecycle management best practices for all formats, while also ensuring permanent public access to Government information dissemination products in the digital age.
This addresses the internal need of LSCM to shift from print-centric to being content centric for the digital age. Some new processes will be developed, and workflows will be reviewed and adjusted.
FDLP Governance
Provide a governance process and a sustainable network structure that ensures coordination across the FDLP and allows the most flexible and effective management of depository libraries and their resources.
This relates to what GPO needs to do to allow more flexibility in Federal depository libraries so they can meet the local demands of libraries in the digital age. Examples of actions in this area include reviewing/revising FDLP regulations, Superintendent of Documents policies, Title 44 modernization, and the recently-approved policy, Government Publications Authorized for Discard by Regional Depository Libraries. (Read the JCP response letter, along with GPO Director Davita Vance-Cooks' original approval request for this new policy.)
Services
Deliver new dynamic, innovative, and strategic services and mechanisms to support the needs of Federal depository libraries in providing accurate Government information to the public at large in a timely manner.
This is providing direct services to FDLs so that they can provide better and more accurate services and assistance to the public (e.g., expanding educational opportunities through the FDLP Academy, cataloging record distribution, national needs and offers, and a more robust Integrated Library System).
User-Centered Approach
In applying a user-centric approach, LSCM will keep depository libraries' and their users' needs in mind when designing and providing tools and services. Using this philosophy optimizes the services around how users can, want, or need to use the service, rather than forcing users to change their behavior to accommodate the service.
A user-centric organization works to understand what their end-users are trying to do and help them get that done with ease and a positive experience. We conducted the FDLP Forecast Study in 2012 so that we could better understand the pressing issues, needs, and goals of depository libraries as well as their aspirations for the FDLP of the future. The 2015 Biennial Survey of Federal Depository Libraries & Library Needs Assessment incorporated a needs assessment so that we could determine any changing trends from what we learned from the FDLP Forecast Study and the Federal Depository Library Needs Assessment and Biennial Survey of 2009. See the full report from that survey.
In a nutshell, depositories told us their priorities needs are:
Permanent public access to both tangible and digital Government content
Digitized historical content
Flexibility in managing their depository collections – the need for "localization"
Easy access to and discoverability of Government information
More educational and training opportunities
Our strategic priorities and desired outcomes align with these depository needs.
Outcomes-Based
An outcome is a desired change in an end user's knowledge, skills, behaviors, attitudes, condition, or status - a specific benefit from the user's perspective. LSCM will be using outcomes to evaluate and measure success in achieving our goals. Using outcomes-based assessments or evaluations will allow us to understand the impact of our programs and services on depository libraries and the lives of their users. We'll be able to tell the story of our value and your value to the public as a depository library.
This approach requires a knowledge of those we serve, including what's important to them and what their aspirations are and then aligning our efforts to those. This approach requires a shift from transactional services and outputs to outcomes-driven thinking. As an example, an output is there was a 20% increase in attendance at library programs this fiscal year. An outcome would be that a parent reads to a child more often because of skills learned during a program at the library.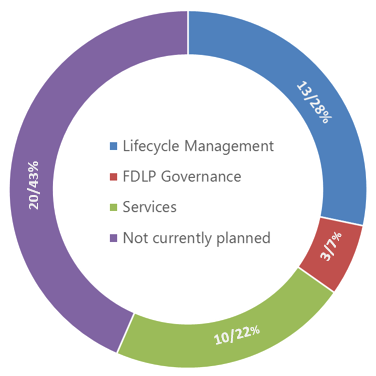 Where Are We Now?
The National Plan outlines 14 desired outcomes with 46 action that, when accomplished, will put us well down the path to achieving our vision.
At present LSCM is working on or planning more than half of the actions. The graphic on the right shows a breakdown of those actions based upon the strategic priority under which they are categorized.
Over time the actions will change, but the basic guiding principles and vision will remain the same.
See the National Plan for Access to U.S. Government Information for more details and the National Plan'sproject page on FDLP.gov for additional information.