Depository Distribution
Details

Category: Get to Know GPO
Published: March 06 2012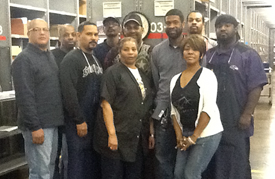 The staff members in the U.S. Government Printing Office's (GPO's) Depository Distribution division work hard each day to make sure that the important Government documents they work with get where they need to go, efficiently and accurately.
Depository Distribution handles receipt, storage, preparation for classification, distribution, and shipment of tangible publications to Federal depository libraries nationwide. Depository claims are processed by Depository Distribution as well. The operational components (processing and shipping) of the International Exchange Service (IES) are also managed by Depository Distribution on behalf of the Library of Congress.
On top of all of this, lately, the staff of Depository Distribution has been busy with another big project: moving! As you know, this past December, Depository Distribution relocated out of the main GPO headquarters building in Washington, D.C. to GPO's Laurel, Maryland Warehouse.
The Depository Distribution team has a primary focus on customer service. Complementing GPO's core values, this dedicated team takes on a customer-centric approach to ensure they are meeting the library community's needs and exceeding their expectations. From the initial distribution process to the fulfillment of claims, the Depository Distribution team works hard each day to ensure that the important documents of our democracy are making their way to FDLP libraries throughout the country.
Thomas (Tony) Brooks has been with GPO for 20 years and serves as the Supervisor of Daily Operations. Of his work with Depository Distribution, Tony said, "The work we do in Depository Distribution is important in that we help ensure that the FDLP community has many of the proper resources they need to keep the public informed."
Gail House, a 22 year GPO veteran, is the Stock Control Supervisor for Depository Distribution. Of the recent move, she said, "The change to a smaller operational space has really been effective, and in this case, I can actually say that bigger isn't better. We are smaller, but more efficient, and that works well for everyone."
Depository Distribution's Mailing Section Supervisor, John Wilkins, has been with GPO for 18 years. Together, these three staff members, along with their teams, keep the Depository Distribution operation running smoothly.
In speaking further about the transition to Laurel, Gail House said, "We are prepared to take on any and all responsibilities needed to maintain and continue the highest level of customer service that our library community expects and deserves from us all."
Another staff member from Library Technical Information Services (LTIS) in Washington, D.C. has been temporarily reporting to the Laurel Warehouse in order to perform quality control for shipments and claims and to document the results for analysis.
There are several next steps on the horizon for Depository Distribution. Additionally, another GPO staff member has been tasked with some further post-implementation analysis, including a business process analysis and financial analysis. GPO will use the results of these analyses to look at overall business process improvement for the distribution function.
The library community is encouraged to submit thoughts, feedback, and questions regarding the Depository Distribution move to askGPO.
Tony Brooks conveys his thanks to the depository library community for their understanding and wonderful cooperation during their time of transition to Laurel.