Pertinent Data to Predict the Future of the FDLP
Details

Category: From the SupDocs
Published: July 10 2012
Written by Mary Alice Baish, Superintendent of Documents

With the summer heat upon us here in the D.C. metropolitan area, we were all surprised by a violent derecho on the evening of June 29, causing major power outages to some 1.5 million homes. While our weather forecasters had warned us of the typical late afternoon or evening thunderstorm, nothing prepared us for a derecho, which is a fast-moving band of violent thunderstorms and very high winds that moves along a straight line. Our local weather service was not able to warn us of the severe thunder and lightning that hit the D.C. area with winds gusting up to 80 mph.
Thank you for the Overwhelming Response to the State Forecast Project!
Thinking about weather forecasts and how dependent we are on them, I checked out the definition of forecast in Merriam-Webster's Collegiate Dictionary, Eleventh Edition, 2003. To forecast is "to calculate or predict (some future event or condition)... as a result of study and analysis of available pertinent data." Until we began the State Forecast research study following our discussions with the community during the October 2011 Depository Library Council Meeting & Federal Depository Library Conference (Meeting & Conference), I had most often associated the word forecast with the weather.
We here at the U.S. Government Printing Office (GPO), including Acting Public Printer Davita Vance-Cooks, would like to express our gratitude to each of you who took the time to confer with your library colleagues and your director before submitting your individual Library Forecast Questionnaire via Survey Monkey by the June 30th deadline.
The exciting news is that we received 775 responses, which is 64.53% of the approximately 1,200 Federal depository libraries. Thank you! Given the voluntary nature of participation in the Federal Depository Library Program (FDLP) Forecast Study, we are delighted with your interest in working with us to strengthen and change the FDLP to make it stronger in the digital age. Here's a quick breakdown by library type of the 775 Library Forecasts that we received:
Let's revisit the definition of forecast provided in Merriam Webster's Collegiate Dictionary (2003). It aptly defines what we mean when we use the term Forecast to identify the type of questionnaires used to gather information for this study. Merriam Webster's defines the term "Forecast" as meaning "to calculate or predict (some future event or condition)... as a result of study and analysis of available pertinent data."  The questions contained in the FDLP Library and State Forecast questionnaires are designed to elicit pertinent information and viewpoints of all types of FDLP libraries that will help GPO to more comprehensively predict the community's future needs and to identify the specific areas where change is needed.
So to those of you who have already participated in this research project by submitting your Library Forecast, your viewpoints and information will be represented when we share our preliminary findings at the 2012 Meeting & Conference this October.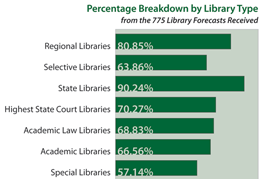 Although the time to submit Library and State Forecasts through Survey Monkey for inclusion in our primary data analyses has expired, GPO is still accepting completed submissions to more comprehensively understand and document the needs and vision of the FDLP community. If you have not yet submitted your Library or State Forecast, we urge you to do so and have your information and viewpoints help inform our strategic initiatives and the FDLP National Plan. Please submit your FDLP Library and State Forecasts today!
Stay tuned for more information, including some preliminary data on the State Forecasts we have received in the August issue of the FDLP Connection!
LSCM and FDLs Collaborating on Training—Just the Beginning
One of my key goals has been to strengthen and broaden Library Services & Content Management's (LSCM's) education and training. LSCM's FDsys Training Initiative, which I wrote about last month, has achieved enormous success. In the coming year, our training program is going to expand substantively into new content areas. The data we received about training from the Library Forecasts will help determine our priorities. In addition, we plan to expand our training sessions by collaboratively partnering with members of the FDLP community because you are the experts in the field. You'll hear much more about our plans and how you can participate at the October 2012 Meeting & Conference. In the meantime, I'd like to highlight two recent presentations by our talented LSCM staff which demonstrate our leadership in cataloging as well as our collaboration with our partners.
The first is the cleverly titled What's Up with Docs?!?: The peculiarities of cataloging Federal Government serial publications, a program presented at the June 2012 North American Serials Interest Group (NASIG) Conference by the mighty trio of Stephanie Braunstein and Joseph R. Nicholson from Louisiana State University and LSCM's Fang Huang Gao, Supervisory Librarian (Cataloging). The program description highlights the fact that each of the three presenters brings a unique perspective on the peculiarities of cataloging serial Government documents. Fang Gao described the cataloging of Government document serials from her perspective of a cataloger working here at the GPO. Joseph Nicholson provided insights as the local cataloger who must make Government documents' records conform to his library's online catalog guidelines. And program moderator Stephanie Braunstein shared her point of view in having to provide, as she described it, "logical and uncomplicated" access to Government information from the angle of a Government Documents Department Head in a regional Federal depository library.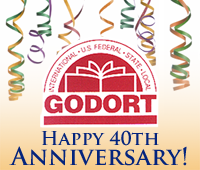 In the same collaborative vein, during the recent American Library Association Annual Conference in Anaheim, Jennifer Davis, LSCM's Manager of Bibliographic Control, participated in the Government Documents Roundtable (GODORT) Program "RDA and Government Publications," moderated by GODORT chair Kirsten Clark. The very well-attended program focused on changes in RDA that affect Government publications, including new rules for headings and authority records. Jennifer was joined on the panel by Regina Reynolds, Director of the U.S. ISSN Center at the Library of Congress; Jim Noel, Manager of GPO Services at MARCIVE, Inc.; and Richard Guajardo, Head of Resource Discovery Systems at the University of Houston Libraries. Jennifer's presentation, titled "GPO's Preparation for RDA: Transforming Alphabet Soup to Duck Soup," was very well-received. She summarized GPO's preparation for RDA, which began in 2011 with the development of a plan to implement RDA and intensive training by our staff on the new standard. She also pointed the audience to examples of GPO local practice that you can read on the FDLP Desktop. LSCM plans to implement RDA fully in January 2013.