Digitizing Hearings at the University of New Orleans
Details

Category: Community Insights
Last Updated: March 12 2013
Published: January 05 2012
Written by Sonnet Ireland, Head of Federal Documents, Earl K. Long Library, University of New Orleans
I don't know about you, but I would love it if the U.S. Government Printing Office (GPO) could go back and digitize almost everything in the Government document world. But that's not reality...it's not even wishful thinking. That's why it is important for depositories to do what they can to contribute to the growing collection of digitized Government documents.
At the Earl K. Long Library at the University of New Orleans, we're trying to do just that. We have a 91% selection rate, and we've had that for quite some time. This means that we probably have thousands of documents to which other libraries would love access. With this in mind, we have set out to digitize our collection of U.S. Senate and House Hearings and Publications. Currently, the project is limited to those published in the 1960s, 1970s, and 1980s for two simple reasons:
We have no desire to reinvent the wheel. Most of our hearings after the 1980s are already freely available to the public online. If we find one that isn't, you can rest assured that we will digitize it.
We became a depository in 1963 and began receiving documents in 1964. It is also rare to find a catalog record for those items before the 1960s. With the current efforts to catalog older documents, we're hoping that the few older hearings we have in our collection will be cataloged by the time we get to them. If that doesn't happen, we fully intend to do it ourselves.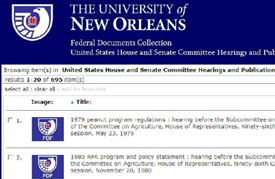 The hearings we are digitizing are freely available to the public through our U.S. Hearings database. They are also backed up twice locally (external hard drive and CD) and with OCLC in Ohio. The question you're probably asking yourselves now is, "But why hearings, in particular?" Well, Congress holds hearings on almost anything you can think of...so it made sense to us that more people would benefit from digitized hearings than anything else in our collection. It also makes up about a fifth of our Federal documents collection. Space is an issue, as it is everywhere, and digitizing does allow us to free up the space without giving up the content of those documents.
Since starting this project in 2010, we've managed to digitize over 600 hearings. Originally, our plan was to pull the items from the shelves by SuDoc order--one shelf at a time. And this is actually how we did the Y 4.Ag section. After the presentation on our project at the Depository Library Council Meeting and Federal Depository Library Conference in October, many of the attendees recommended focusing on collections that other libraries would like digitized more quickly. Since our main goal is to provide public access to these hearings, we took those words to heart and created an online survey for other librarians, depository and non-depository alike, to share where they would like to see our online collection go next. We went through the stacks, noting our larger sections, and gave librarians those SuDoc numbers to consider. The survey was open for two weeks and received 106 responses.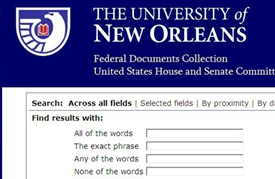 The survey did not limit the responses to one librarian per library; it also did not guarantee that respondents wouldn't take the survey more than once. The results were interesting. Along with the obvious question of what to digitize next, we also asked question about the type of library where the respondents worked. Most respondents work in an academic library (56%), with some working in special libraries (18%) and academic law libraries (16%). Corporate law libraries and public libraries were also represented with 6% and 4%, respectively. We followed up with a question about the depository status of those libraries: 61% of respondents worked in selective depositories, while 28% did not work in a depository, and 11% worked in regional depositories. We also asked respondents what the focus of their collections was, and we received a variety of answers. Though the results are still being analyzed, the front runners for most common focus appear to be law and environment. I encourage you to keep your eyes open for announcements coming this year about the future of this project.
So by now, you might be wondering how you can use our collection. The collection can be used in a number of ways, really. Libraries can offer the link to our database through their own database sites. Our database can be browsed or searched. The advanced search offers four fields: all of the words, the exact phrase, any of the words, and none of the words. You can use one field or a combination of fields to find the hearing you need. You can also search within selected fields, such as title, agency, SuDoc number, GPO item number, etc. After searching the database for a word or phrase, users can actually click on the links in the results list and find that the pages where the word/phrase is found are noted by red brackets and asterisks. When the user clicks on one of those pages, he/she will find the word or phrase highlighted. This beats going through hundreds of pages in a hearing, making the search for the right hearing a little easier.
For libraries that would like to have some or all of these hearings in their catalog, each item has a reference URL, which allows libraries to link to specific hearings with ease. The reference URL can be found by clicking on the "reference url" link right about the PDF image of a hearing.
Our main goal in digitizing hearings is to provide free access to this information across the country and even across the globe. Sometimes it is daunting, but being able to provide access to anyone is worth it. To adapt a quote from President John Kennedy, ask not what the FDLP can do for you, ask what you can do for the FDLP. That's what we're trying to do here at the Earl K. Long Library.