Help! I'm an Accidental Government Information Librarian
Details

Category: Community Insights
Published: February 06 2012
Written by Lynda Kellam, Data Services & Government Information Librarian, University of North Carolina at Greensboro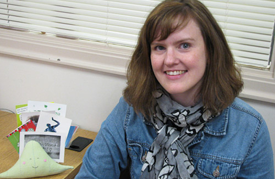 At a board meeting for the North Carolina Library Association's (NCLA) Government Resources Section, a colleague mentioned that more librarians are being called upon to support Government information research without adequate training. Additionally as "Government documents" are distributed online, the nature of supporting Government information has evolved and become more dispersed. Rather than serving as gatekeepers of Government information, librarians are facilitating the process of finding, accessing, and using Government information. In addition to knowing the ins and outs of the SuDoc classification system (as much as one can), we need to have the ability to brainstorm and troubleshoot our way through patron questions to get at where the information might possibly be. Moreover, those who support Government information know that they have holes in their knowledge. Either they didn't pay attention the day their Government documents class went over Census materials or they never had to deal with THAT subject area until THAT subject liaison decided to retire (how dare she!).
From these discussions, the "Help!" webinar series was born. We wanted to create training sessions to provide continuing education on various topics related to Government information. Because of the budget crises in our state, in-person training never seemed feasible. Our Chair at the time, Mimi Curlee of the Charlotte Mecklenburg Library, suggested a workshop at the state library association conference, but feasibility was a concern for our small group. About the same time, the University of North Carolina at Greensboro's (UNCG) Teaching and Learning Center gave the UNCG University Libraries access to a "room" within the software Elluminate (now called Blackboard Collaborate). The room was not being used extensively and would easily fit our needs. The software creates an interactive virtual classroom space in which the instructor can present slides, write on a whiteboard, or co-browse Web sites. Students are also able to chat with the instructor by instant message within the software.
After some practice and preparation, in April 2011, we launched our first session entitled "Help! I'm an Accidental Government Information Librarian: The Basics" with Bryna Coonin of East Carolina University. When volunteering for the webinar, she insisted that we commit to a "series" to keep the learning going. I agreed, thinking that we might be able to get enough interest to have two or three more sessions throughout the year. The series was even more popular than anticipated, and instead of two or three sessions, we ended 2011 with a total of 11 presentations.
We have covered a wide range of topics so far, with attendance usually around 30 to 40 people. Some institutions have presented the session to a large audience by watching the webinar in a computer lab. Our recent Creative Commons webinar apparently had 32 attendees from one institution! Initially we only advertised the series to our NCLA colleagues, but we decided it could have more widespread interest and encouraged others outside of North Carolina to attend. The feedback in our surveys has been extremely positive!
Here are the topics from 2011:
April 14: The Basics (Bryna Coonin)
May 11: Genealogy using Government information (Jane Johnson)
June 9: American FactFinder and Census 2010 (Michele Hayslett)
June 14: The Economic Census (Mary Scanlon)
July 13: Patent Searching (David Zwicky)
July 27: Resources for Guard and Reserve Soldiers (David Durant)
September 7: Good Health Information in NC (Rebecca Hyman and Kurt Brenneman)
September 21: State Agency Databases (Daniel Cornwall)
November 9: Beginner's Guide to Legislative History (Rebecca Hyman and Steve Case)
November 16: Maps and Geospatial Information (Marcy Bidney)
December 9: PubMed, PubMed Central, and MedlinePlus - What's the difference? (Lea Leininger)
You can access recordings, slides, and more at the NCLA Government Resources Section Web site.
In creating this series we never thought we were being particularly innovative. We just saw a need and used the resources available to us to try to meet that need. This series would not have happened without the kindness and generosity of our presenters who volunteered their time to teach the far-flung workshop participants about their specialty areas.
If there is a primary lesson to be learned from our effort, it is to not underestimate your resources. As with any technology solution, Elluminate (and Blackboard Collaborate) has quirks, and sometimes it just doesn't work the way that we want it to. But what matters is that participants have the opportunity to connect with our presenters and to discuss these topics and refresh their familiarity with the resources needed to support Government information research.
We kicked off the year with a session on Creative Commons, presented by Rosalind Tedford, and have a full slate of webinars scheduled for spring 2012. Our February webinar was not a traditional Government information topic, but an area of interest to many of us who do double-duty in history, women's studies, archives, or political science. Beth Ann Koelsch of the UNCG University Libraries Archives presented on the Betty H. Carter Women Veterans Historical Project.
After the spring, we will look back over the webinar series to see where the road will take it in the future. Based on participant comments, we may even start repeating some topics as new things arise. Most importantly, we could certainly use YOUR expertise and YOUR ideas. If you have suggestions for a webinar topic, or if you'd like to share your knowledge by leading a session, please This email address is being protected from spambots. You need JavaScript enabled to view it..