2013 DLC Meeting and FDL Conference
Details

Last Updated: January 06 2014
Published: May 17 2013

DLC Meeting and FDL Conference October 21-23, 2013 is cancelled. It will be rescheduled for Spring 2014.
________________________________________________________________________________________
The following information was posted prior to the Government shutdown October 1, 2013.
The 2013 Depository Library Council Meeting and Federal Depository Library Conference will be held in Washington, DC from October 21 thru October 23, 2013. This year, we are hosting this important annual event at the U.S. Government Printing Office's historic location in Washington, DC at 710 North Capitol St., NW, Washington, DC, 20401-0001.
Virtual Programs Registration: coming soon!
Programs
The three-day DLC Meeting and FDL Conference will include:
Meetings of the Depository Library Council seeking FDLP input
Federal agency presentations
An array of timely educational programs by FDLP members
Focus groups on topics expanding issues identified in the FDLP Forecast Study
Meeting for Regional Depository coordinators
Tours of GPO operations
Monday, October 21st will feature a welcome and important presentations by Public Printer Davita Vance-Cooks and Superintendent of Documents Mary Alice Baish. Programs will include presentations on the results of the FDLP Forecast Study and presentation of the award for Library of the Year.
Programs run from 9:00 a.m. through 5:30 p.m. on 10/21 and 10/22 and from 9:00 a.m. through 12:30 p.m. on 10/23. After the programs on 10/23, there will be an opportunity to participate in GPO History Exhibit Talks early that afternoon.
Accommodations
GPO is located in NoMa, a rapidly developing neighborhood in Washington, DC located just north of the U.S. Capitol and Union Station and named for its location – North of Massachusetts Avenue. Two hotels are located nearby, and GPO has reserved blocks of rooms especially for conference attendees.

Hilton Garden Inn
1225 First St. NE
Washington, DC 20002Courtyard by Marriott
1325 Second St. NE
Washington, DC 20002

If selecting your own hotel, please note GPO is conveniently located within two blocks of Union Station, with a Washington DC Metro stop on the Red Line.
Virtual Conference Registration
Selected programs will be broadcast virtually. We hope that many of you will take advantage of this additional opportunity. Registration for these sessions will be announced at a future date.
More Conference Information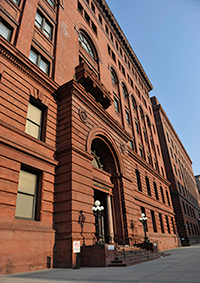 GPO will host the DLC Meeting and FDL Conference at our headquarters building in Washington, DC this year. This is an important training event for the Federal depository library community. As this is the largest gathering of Federal depository library personnel annually, we want to support the community's ongoing training and networking opportunities. All of us at GPO are very excited about this change of venue as it affords a great opportunity to share our GPO facility and Washington, DC with you.
Please note: You will be required to show a valid Government-issued photo identification every time you enter the U.S. Government Printing Office building.
GPO has been at the same location since operations began in 1861. Our historic buildings feature a beautiful auditorium and a plethora of meeting and training rooms. We have proudly displayed historic photographs throughout the building, and we know attendees will enjoy soaking up the building's historical ambiance during breaks between sessions and formal tours.
To help the environment, program handouts will be limited to basic conference information only. Program presentations will be posted on FDLP.gov prior to conference for reviewing online. Wi-Fi will be available in the larger meeting rooms used for programs.
Coffee and tea will be available each morning. Food will also be available for purchase in the GPO Cafeteria.
Washington, DC Tourist Information