Spring 2009 DLC Meeting and Conference Summary
Details

Last Updated: January 08 2014
Published: April 22 2009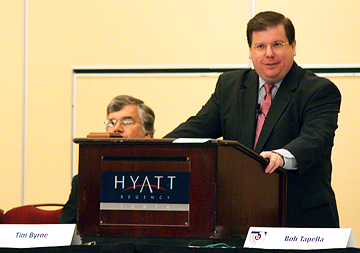 The spring 2009 Depository Library Council meeting was held in Tampa, FL, at the Hyatt Regency Tampa from April 20-22, 2009. Dedicated professionals from around the country gathered to talk about the future of the Federal Depository Library Program (FDLP) and share their experiences with their colleagues and with GPO staff. The conference featured educational programs conducted by Federal depository librarians and GPO staff.
A special reception was held on Sunday, April 19 at the University of Tampa's historic Plant Hall to facilitate networking among attendees. The event was hosted by Lexis-Nexis, Marcive, the University of Florida, University of South Florida, and University of Tampa. Special thanks to all who organized the reception.
GPO invited depository library directors to attend a series of discussions on Monday afternoon on developing the GPO/depository library partnership, improving service, and strengthening regional/selective relationships. LSCM managers presented updates on recent developments in their areas, and educational sessions presented by depository library staff covered a variety of topics of practical interest in managing depository operations. Among the topics examined were: GPO's role in Government transparency, information for new depository staff, bilingual resources, comparison's to UK libraries, partnerships, ways to strengthen regional and selective relations, FDsys updates, social networking resources and trends, strategic planning, cataloging updates, preservation initiatives, and authentication.
The proceedings from the conference are available in the file repository. Content includes audio files of the speeches given by Public Printer, Robert C. Tapella, and Richard G. Davis, Director, Library Services and Content Management; DLC briefing topics, PDF captures of presentation slideshows; and supplementary materials.
GPO wishes to thank those that made the spring meeting a success! We look forward to seeing you in Washington, DC, for the fall DLC Meeting.