The FDsys Training Team
Details

Category: Get to Know GPO
Published: August 10 2012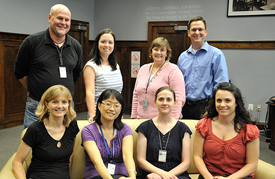 Have you attended any of the recent webinars on the U.S. Government Printing Office's (GPO's) Federal Digital System (FDsys)? Have you ever wondered who is on the other side of that microphone? A group of 10 staff members from all over Library Services & Content Management (LSCM) serve as the FDsys Training Team.
To prepare for this large-scale training initiative, in May 2011, an FDsys Curriculum Team was formed to create an educational curriculum complete with lesson plans, handouts, slide presentations, talking points, class exercises, and more. This early team consisted of five representatives from all over LSCM: Mark Ames, Amanda Colvin, Ashley Dahlen, Heidi Ramos, and Kelly Seifert.
In October 2011, the 10-person training team came together and began presenting training internally to GPO staff, to staff at other Federal agencies, to Congressional staff, and to members of the depository community in the D.C. area. Following the procurement of GPO's webinar/virtual collaboration software in April 2012, the team began delivering FDsys webinars on a regular basis. Simultaneously, the group has been working with LSCM's Web Team to create the FDsys educational videos. The first module is now available and focuses on basic search techniques and working with FDsys search results. View the video on fdlp.gov, as well as from the new "Learn About FDsys" Web page.  
One of the strengths of the FDsys Training Team is the diversity of its members. The team is made up of LSCM staff members of varied backgrounds, so each person brings something unique to the table. Several trainers are part of LSCM's Education & Outreach unit. These librarians bring to the team a close familiarity with individual libraries in the depository community. This group has a strong sense of what the depository community wants and needs to learn regarding FDsys. Several trainers are project managers in LSCM and have been heavily involved in the development of FDsys. You may also know some of our trainers from the days of GPO Access training classes. Finally, the team has two cataloging librarians who both have a lot of diverse experience outside of the Federal Government and are great communicators. Many of our team members also have extensive experience in both virtual and live training, both while at GPO and beyond.
Fun Facts about the FDsys Trainers:
Mark Ames, an Outreach Librarian who has been with GPO for two years, was formerly a Peace Corps Volunteer and previously worked as a bilingual reference librarian for Montgomery County (MD) Public Libraries with concentrations in French language assistance, telephone reference, young adult literature, science fiction, and computer instruction.
Kathy Bayer, an Outreach Librarian who has been with GPO for 11 years, previously served as a depository coordinator at the University of San Francisco and a passport adjudicator for the U.S. Department of State. She is active in ALA GODORT.
Kristina Bobe, an Outreach Librarian who has been with GPO for two and a half years, came to us from Georgetown University where she held roles as a Government Information Reference Librarian, Bibliographer, and Depository Coordinator. She has also held previous positions at the Census Bureau Library and the Fairfax County Public Library. Kristina also plans the annual Interagency Depository Seminar and serves on the team of Outreach Librarians here in LSCM.
Amanda Colvin, a Planning & Development Specialist who has been with GPO for five years, studied History and Political Science at the University of Iowa and also earned a certificate in Museum Studies while she was there. Since coming to GPO, Amanda has had heavy involvement with FDsys and was part of the group that helped develop the system. In her spare time, Amanda is preparing for her first half-marathon.
Ashley Dahlen, an Outreach Librarian who has been with GPO for four years, came to us from the University of Maryland's McKeldin Library. She not only worked in the depository but she also graduated from the University of Maryland with her Master of Library Science degree. Ashley also has an active three-year-old at home, two bunnies, and a cat that keep her and her husband busy.
Fang Gao, a Supervisory Librarian (Cataloging) who has been with GPO for a year and a half, has co-authored four published works on various aspects of librarianship. In addition, her book on serials cataloging is being published this fall. Prior to coming to GPO, Fang was involved with several training programs under the auspices of the Library of Congress. As LSCM's Supervisory Librarian (Cataloging), Fang oversees a group that produces high quality and bibliographic metadata records. In her spare time, she enjoys jogging and singing.
Donna Kraemer, a Cataloger who has been with GPO for nine years, came to us by way of Illinois. Donna first studied History and English at Illinois State University and later earned her Master of Science with a specialty in Library Science from the University of Illinois at Urbana-Champaign.
Heidi Ramos, a Senior Planning & Development Specialist who has been with GPO for 12 years, is currently working on her Masters of Business Administration to complement her Bachelor of Science in Government Administration. Heidi was one of the original GPO Access trainers and has had extensive involvement in the creation of FDsys. Her two young sons keep her and her husband on their toes at home.
Kelly Seifert, a Lead Planning Specialist who has been with GPO for 12 years, is responsible for FDLP promotion and is also the Co-Editor of FDLP Connection, in addition to her FDsys training duties. She studied Public Relations and Marketing at Towson University in Maryland. You may also remember Kelly from traveling the country teaching GPO Access classes years ago. When Kelly is at home, she enjoys running and chasing after her three-year-old daughter.
Steve Shearer, a Planning & Development Specialist who has been with GPO for four years, joined us through GPO's Leadership Development Program. Working in LSCM, Steve performs a wide range of duties, from project management to business process redesign to providing support to FDsys users from depository libraries, the public, and Federal agencies. At home, Steve spends his time with his wife and his newborn and six-year-old daughters.
In describing this important initiative, Kristina Bobe said, "Teaching the public how to better search and find documents of their Federal Government is carrying on the traditions of Jefferson and Madison in helping create a more informed citizenry. If our founding fathers were alive today, I'm sure they would be impressed by the power and facility of a tool like FDsys."
Visit all of us at the fall 2012 Depository Library Council Meeting and Federal Depository Library Conference, where we will be presenting live FDsys training classes. Make sure to stop by the FDLP coffee break area where the training team will be available at an FDsys informational table to answer your questions, provide demonstrations, and arrange webinars for your library.