LSCM's Administrative Assistants
Details

Category: Get to Know GPO
Published: April 04 2012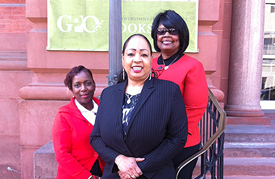 Administrative Professionals Day will mark its 60th anniversary on April 25, 2012. Over the years, the role of an administrative professional has changed dramatically thanks to new technologies, tools, and techniques. One constant in the field has remained: administrative assistants continue to be a steady center of efficiency, helping ensure that the offices they support stay on track, stay organized, and continue to run smoothly. They do all of this while maintaining their role as the gatekeepers for many customers and employees.
Library Services & Content Management's (LSCM's) administrative assistants handle a wide variety of duties, such as:
Management of official records.
Management of personnel files and related information.
Extraction and dissemination of important data to employees and customers.
Management and retention of important Governmental paperwork.
Preparation and maintenance of correspondence, reports, and records.
Acting as a liaison with employees, customers, and agency officials.
Working with external contractors.
Coordination of office activities and special events.
Providing assistance in preparing for outside events and conferences.
LSCM is lucky to have three wonderful administrative assistants supporting our various business units: Deborah (Debbie) J. Smith, Jeannine Ballard, and Glenda Carmichael.
Debbie Smith is a 39-year U.S. Government Printing Office (GPO) veteran who currently holds the position of Executive Assistant to the Superintendent of Documents, Mary Alice Baish. In her years at GPO, Debbie has seen it all! She has worked for several Superintendents of Documents and a variety of business units at GPO. She is responsible for the day-to-day administrative operation of LSCM. Of her work, Debbie said, "I truly enjoy my job and those I work with. GPO has been good to me, and I have been great to GPO."
Jeannine Ballard has been with the Federal Government for 11 years, with the last four of those spent at GPO. She serves as the Administrative Assistant to Robin Haun-Mohamed, LSCM's Director of Collection Management & Preservation. Prior to Depository Distribution's move to Laurel, MD, Jeannine worked with that unit for the last several years.
Glenda Carmichael has been with GPO for 27 years. She serves as the Administrative Assistant to Laurie Hall, LSCM's Director of Library Technical Information Services (LTIS). Glenda said, "Our work benefits LSCM by assisting management by prioritizing, planning, scheduling, researching, collecting, arranging, evaluating, distributing, organizing, implementing, negotiating, and summarizing information on a variety of administrative matters for special projects, budgets, metrics, contracts, and reports. By supporting LTIS management, staff, and contractors efficiently and professionally, our work ensures that we can focus on prioritizing the work of the Federal Depository Library Program." These ladies are busy!
This team of administrative professionals keeps LSCM on track and on its toes each day. They are the unsung heroines of LSCM, and we thank them greatly for their hard work and dedication.