Ringing in the New Year
Details

Category: From the SupDocs
Last Updated: March 12 2013
Published: January 05 2012
Written by Mary Alice Baish, Superintendent of Documents

William J. Boarman, 26th Public Printer of the U.S. Government Printing Office (GPO), stepped down on January 3, 2012. Boarman had received a recess appointment from President Obama in December 2010 and therefore needed to be confirmed by the U.S. Senate before the first session of the 112th Congress adjourned. His leadership of the agency during its 150th Anniversary year was marked by notable accomplishments. During his yearlong tenure as Public Printer, Boarman turned the agency around financially by taking a number of cost cutting measures that allowed GPO to end FY 2011 with a net income of $5.6 million. Boarman's substantial achievements as Public Printer are documented in GPO's Annual Report FY2011. He has always been a strong champion of the Federal Depository Library Program and has praised the important contributions of the depository community in Keeping America Informed.
Davita Vance-Cooks, who served as Boarman's Chief of Staff and whom he named Deputy Public Printer on December 20, is the new Acting Public Printer and the first woman to lead GPO. She notes that,
"I am honored and humbled to serve as GPO's Acting Public Printer and I look forward to continue working with GPO employees as we serve the needs of Congress, Federal agencies, and the public," said Acting Public Printer Davita Vance-Cooks. "I want to thank Bill Boarman for the opportunity to serve as his deputy and Chief of Staff. I have enjoyed working everyday, side-by-side with Bill as we reinvented GPO into the digital information platform it is today."
As Chief of Staff, Vance-Cooks was responsible for the development of GPO's strategic plan and oversight of GPO's Human Capital, Acquisitions, Security, Information Technology, Equal Employment Opportunity and Program, Strategy and Development offices. In a letter to James Jacobs, Chair of the Depository Library Council, Vance-Cooks stated that,
"One of our most important democratic principles is the free flow of Government information through the FDLP and GPO's Federal Digital System (FDsys). I deeply respect the dedicated directors and staff of each depository library for their commitment to this fundamental principle. They have their fingers on the pulse of users of Federal Government information by providing free public access to tangible and digital collections and services to meet the needs of their users."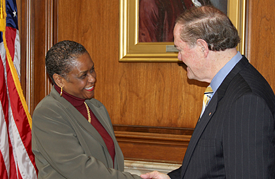 As you can see, Acting Public Printer Vance-Cooks is a strong advocate of the FDLP and she looks forward to collaborating with the community as we work together to ensure a robust digital future for the Program.
GPO's FY 2012 Appropriations
GPO's FY 2012 funding level, included in the Omnibus Appropriations Act for FY 12 (H.R. 2055) which was signed by President Obama in December, is $126.2 million, a reduction of about 6.6% from FY 2011 appropriations. Here's the breakdown:
The Congressional Printing and Binding Appropriation is $90.7 million, a reduction of about 3.1% from the amount provided for FY 2011. It covers the cost of information products in digital and print formats that GPO produces for Congress; approximately 70% of this cost is for preparing the electronic files used for both digital access and printing;
The Salaries and Expenses Appropriation of the Superintendent of Documents, which funds the Federal Depository Library Program, Cataloging and Indexing, as well as the International Exchange Service and By-Law distribution, is funded at $37.7 million. This represents a reduction of about 5.4% from FY 2011.
For FY 2012, GPO received $500,000 for the Revolving Fund to be used to help finance ongoing development of the Federal Digital System. While appropriations to this account represents a reduction of about 70% from the funding provided for FY 2011, as I mentioned previously, under Public Printer Boarman's leadership GPO has improved its own investment capability significantly over the past year.
LSCM 2011 Year in Review
I am pleased to announce that the LSCM's Past, Present, and Future of Keeping America Informed: FY2011 Year in Review is now available on the FDLP Desktop and I urge you to read it. This 4th annual report is an electronic-only title that celebrates this year's 150th Anniversary of the GPO with a glance at the future of the FDLP. It provides reports on the Digitization Projects Registry, the GPO Access transition to FDsys, the Cataloging Record Distribution Project, the PACER: Access and Education Program, the FDsys Training Initiative, and much, much more. The report represents the hard work and dedication of the LSCM team in serving you, the FDLP community, during FY 2011. Its compilation was also a team effort—as the saying goes, "many hands make light work." Special thanks to all the contributors to the Year in Review, and to Kelly Seifert, LSCM's Lead Planning Specialist, who compiled the report and Dean Gardei, GPO's Brand and Web Manager. We hope you enjoy it!
GPO Response to ARL Concerns
We have been asked to respond to a number of concerns raised by members of the Association of Research Libraries (ARL), specifically related to:
a plan for the University of Minnesota to serve as the regional Federal depository library for selective depository libraries in the state of Michigan;
a plan for the disposal of publications by depository libraries served by libraries belonging to the Association of Southeastern Research Libraries (ASERL); and
a claim that GPO is requiring retrospective collections by regional Federal depository libraries.
Since there appears to be a great deal of misinformation within the community about GPO's position on these three issues, I would like to take this opportunity to comment on them.
Regional and Selective Depository Libraries
Under the Federal Depository Library Program (FDLP), each state can have up to two regional depository libraries (most states have just one, and today there are fewer than 50 regional depository libraries). Regional libraries are designated by their Senators to serve their states. Regional libraries receive one copy of every publication distributed by GPO and are required to retain that copy permanently. In addition to permanently holding publications, regional libraries must monitor which publications are discarded by the selectives in their state to maintain the integrity of the state's depository collection for its citizens. The rest of the libraries in the program are selective depository libraries. They are designated by their Representatives (when there are vacancies) or become depositories by operation of law (for example, all ABA-accredited law school libraries are eligible to be depositories). Selective depository libraries must choose which publications to receive and can discard them after a period of 5 years, following procedures established by their regional.
Multi-State Regional Depository Libraries
Some states do not have a regional depository library, for various reasons. In such cases, arrangements have usually been made with a neighboring state's regional to support the selective depository libraries in the state with no regional. The multi-state regional depositories currently are:
Connecticut State Library, which also serves Rhode Island;
University of Florida, which also serves Puerto Rico and the U.S. Virgin Islands;
University of Hawaii, Manoa, which also serves American Samoa, Guam and the Federated States of Micronesia;
University of Maine, Orono, which also serves New Hampshire and Vermont;
University of Maryland – College Park, which also serves Delaware and the District of Columbia;
University of Minnesota, which also serves South Dakota; and
Washington State Library, which also serves Alaska.
CRS Legal Opinion
Assertions are being made that "there clearly is precedent with approval of the state's Senators [for] [F]ederal regional depository libraries [to] serve depositories in other states." However, in 2007 a legal opinion by the American Law Division of the Congressional Research Service, which was requested by and provided to the Joint Committee on Printing, raised the issue of whether multi-state regional depository libraries serving the selectives in other states are permissible under the provisions of the 1962 Depository Library Act. Although such arrangements have been established in the past—and I have stated that there are no plans to alter the existing arrangements—the CRS opinion persuaded GPO that any future proposals for multi-state regionals should be reviewed and approved by GPO's oversight committee, the Joint Committee on Printing, which has the statutory authority to approve "any measures [the Public Printer] considers necessary for the practical and economical implementation of" the FDLP.
Michigan/Minnesota Proposal
Due to funding restrictions, the State Library of Michigan – Michigan's regional depository library – announced it would have to relinquish its regional status effective October 1, 2011. This would leave Michigan's selectives with no regional library to support them. Subsequently, the State Librarian of Michigan proposed that the regional depository library for Minnesota at the University of Minnesota serve as the regional for Michigan.
GPO had concerns about this proposal and said so in a September 15 letter to the Michigan State Librarian. The letter said the proposal is not practical and would not ensure equal and equitable public access to the historic materials which have been distributed to the Library of Michigan through the FDLP. GPO was informed that the MI/MN agreement included plans to send many regional materials from the Library of Michigan to be used as part of a destructive scanning project by the Committee on Institutional Cooperation. These Google-scanned digital files, which when digitized would no longer be official Government resources, would then be included in a digital repository at the University of Michigan with certain restrictions on easy public accessibility for Michigan's citizens. In effect, tangible regional materials from the Library of Michigan would be taken out of the state, would no longer be available to Michigan citizens for research and learning, and would be destroyed. Because of these concerns, GPO did not recommend the MI/MN agreement to the Joint Committee on Printing for approval.
Indiana State Library Proposal
In August 2010, the Indiana State Library communicated to the Michigan State Library a willingness to consider serving as the regional depository library for Michigan. This communication does not appear to have been relayed to any of the Michigan selective depository libraries. GPO is pleased that the 2010 offer by the Indiana State Library has recently been reiterated.
GPO believes that the proposal offered by the Indiana State Library to serve as the regional depository library for Michigan is the preferable alternative to the MI/MN proposal. The two states are adjoining. The Indiana State Library is well supported by its administration and is currently not dealing with the space and monetary issues, as is the Library of Michigan. The Indiana State Library has assured GPO that one of its primary goals would be to keep the Federal documents currently housed in Michigan's selective depository libraries in Michigan for ease of use for all Michigan residents and librarians. Also, there is no destructive digitization plan as part of Indiana's proposal. Accordingly, GPO has notified the Michigan selective libraries of this proposal. GPO believes that this proposal more closely comports with longstanding practice related to multi-state regional depository libraries as a means of ensuring the continuation of convenient, equal, and equitable access to Federal Government information for the citizens of Michigan.
ASERL Proposal
ASERL, involving the regional Federal depository libraries serving approximately 300 selective depositories in 11 southeastern states, has developed a plan for region-wide collaboration in making depository resources available to the public. Part of this plan involves the development of "Centers of Excellence" (COEs), whereby specific libraries would be made responsible for the assembly of comprehensive collections of Federal information in certain categories.
In general, GPO supports this innovative approach to providing public access to Government information. However, one of the key tools to be used in implementing the COE concept is ASERL's disposition tool, the process by which publications discarded by selective depositories within the ASERL region will be provided to COE libraries first, rather than following the state-based system established by law and current administrative practice. GPO has objected to the way this tool is designed to operate and has asked ASERL to change it to bring it into compliance with current law and administrative practice.
According to ASERL, "the ASERL plan modifies the traditional state-based discard process for a region-based discard and acquisition process. This change provides libraries that are serving as a Center of Excellence—wherever they may be located in the region—first priority to select items that related to their area of specialization." In fact, however, the FDLP discard process is not a "tradition" but is standard operating procedure that has been developed to implement the requirements of 44 U.S.C. 1912. This law states that: "[t]he libraries designated as regional depositories may permit depository libraries, within the areas served by them, to dispose of Government publications which they have retained for five years after first offering them to other depository libraries within their area, then to other libraries" (emphasis added).
ASERL's proposal offers discards first to COEs within the ASERL region, regardless of where they are located, rather than those libraries within the discarding library's area. As a result, ASERL's proposed disposition plan could deprive depository libraries in participating states of their ability to ensure the integrity of the collections of Federal documents with which they have been provided, and so does not comport with current law.
In a November 4, 2011, letter to ASERL, GPO commended its proposed regional approach overall, but urged adjustments to the disposition tool to ensure conformance with the statute and administrative practice. In GPO's view, this need not impair the operation of the COEs, while it would assure the integrity of state-based depository library programs under current law.
Comprehensive and Retrospective Collection
The statutory antecedents of the FDLP date to 1813, when Congress first authorized the distribution of certain documents to certain historical societies and other libraries. GPO was assigned control of the program in 1895 (and in the following years, in fact, distributed to depository libraries large numbers of retrospective publications that had been accumulating in Government agencies in Washington for many years). The Depository Library Act of 1962, which forms the basis of current law on the FDLP, established regional depository libraries which "shall receive…copies of all new and revised Government publications authorized for distribution to depository libraries" (emphasis added). This language serves as one of the authorizations of appropriations for the FDLP, which are used to pay for distributing copies of Government publications to the regional and selective depositories. There is no statutory authorization for GPO to pay for distributing copies of retrospective publications, nor is there a requirement in law or GPO administrative practice that requires regional depositories to collect retrospectively.
However, at the time the 1962 Act was passed, there were many libraries in the FDLP that had been collecting Government documents for many years, and many extensive historical collections of such documents had been established that continue to have great value to the public. Along with setting up a system for managing the acquisition of new and revised publications, the 1962 Act established a system for the regional and selective libraries within each state to manage these historical collections. GPO's administration of the program is consistent with the language of the statute, and we do not make it a requirement to collect retrospectively. However, at the same time we recognize and support the authority that regional and selective depository libraries have under the law to ensure the integrity of their documents collections that have been built up over the years, both before and after the passage of the 1962 Act, and for selectives to manage their collections in a manner that best serves the information needs of their users.
Collaborative Research Project to Explore the Future of the FDLP
In October, GPO convened the annual Depository Library Council Meeting and Federal Depository Library Conference (Meeting and Conference). At that meeting, GPO proposed to create two tools that will assist in determining a national FDLP forecast and a national strategy that complement the work of the depository library community in every state. This research effort is an initial step in an outcomes-based collaborative process on the future of the FDLP. The state forecast will be used to cumulatively represent the conditions of all types of FDLP libraries in a state and identify issues that libraries are facing now and anticipate in the future. The state-focused action plan, which builds on the information identified in state forecasts, will be composed of initiatives and activities that FDLP members in a state or region plan to implement in the next five years.
The quantitative and qualitative data derived from FDLP member libraries at the state and regional level through completed state forecasts and state-focused action plans will be analyzed and used to inform the creation of the national plan for the future of the FDLP. GPO is currently refining forecast and action plan templates in response to community feedback, and will begin a beta-test next week by depository library community members representing each type of library in the FDLP. Public release of finalized state forecast and state-focused action plan templates is anticipated shortly after the beta-test. GPO is requesting completed templates from the community by June 30, 2012. Analysis will begin thereafter and discussion of the preliminary findings of this study is slated for the fall 2012 Meeting and Conference.
Conclusion
To summarize, the claim that "GPO has not supported new collaborative initiatives that ensure members of the public have access to government information in ways that are effective for users and cost-effective for [F]ederal depository libraries alike" is not accurate. GPO supports the Indiana State Library's offer to serve as the regional depository for Michigan depository libraries, a plan which more closely comports with established practice for the provision of multi-state regional depository library services. GPO supports ASERL's regional plan in general but has asked for a change to ensure that the plan's disposition tool comports with law and administrative policy. GPO has not required regional depository libraries to collect retrospectively.
Under the leadership of Acting Public Printer Davita Vance-Cooks and myself, GPO is moving forward with a structured, data-based process involving the entire depository library community for establishing a plan for the future of the FDLP. I hope that all depository libraries will participate in this important initiative so that that a new national plan will represent the needs of the American public and participating libraries.