The University of North Texas: First Federal Information Preservation Network (FIPNet) Partner
Details

Last Updated: August 26 2015
Published: August 25 2015
The Federal Information Preservation Network (FIPNet) is officially up and running. The University of North Texas Libraries (UNT) became the first partner in June 2015. With UNT's long history of work in the digital preservation arena, the U.S. Government Publishing Office (GPO) is very pleased to have UNT sign on as the first FIPNet partner.
Federal depository librarians know very well how important the preservation of the tangible historic collection of Federal Government publications and the more recent born digital information is to ensuring this information remains available to users. FIPNet is a collaborative network of partners working to ensure just that goal, to keep Federal Government information in all formats freely accessible to users for generations to come. FIPNet aims to elevate public awareness of the many local preservation initiatives, wonderful collections of Federal Government information, and the institutions and agencies that have stewardship over them.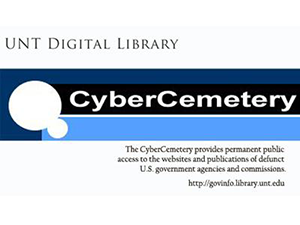 UNT is in the forefront of the library community's efforts in digital preservation. The university has a long commitment to digital access and preservation of Federal information, which makes it the ideal first partner. UNT has worked with GPO since 1999 to preserve digital information through its CyberCemetery for material from decommissioned Federal agencies, boards, and commissions. The National Archives and Records Administration (NARA) designated the CyberCemetery a NARA affiliate archive in 2006. UNT also has an extensive collection of digitized and harvested Federal publications in the UNT Digital Library. These collections, such as the Congressional Globe, the FCC Record, and the A-Z digitization project, offer a treasure trove of great resources. The FIPNet partnership agreement now supersedes all previous preservation agreements between GPO and UNT.
As a FIPNET partner, UNT is committed to preserving, in a trustworthy digital repository, any digital master files resulting from digitization or harvesting of materials within scope of the national collection of Government information. All digitization will be in compliance with the Federal Agencies Digitization Guidelines Initiative (FADGI). UNT will also share metadata records with GPO.
Robbie Sittel, department head of UNT's Government Information Connection, states,
"When UNT was approached to be the first academic library FIPNet Partner, the decision to agree was easy for Martin Halbert, Dean of Libraries, because of his strong interest in preservation. UNT's partnerships with GPO began in 1994 when our depository was named a GPO Access Gateway Library. In the subsequent 20 years, UNT and GPO's partnerships have expanded to include the CyberCemetery of defunct agency and commission websites, collections within the UNT Digital Library, and even helped UNT gain designation as an Affiliated Archive of the National Archives and Records Administration (NARA). Administration at the UNT Libraries is committed to the preservation of Government information, both born digital and digitized content. The UNT Libraries sees this agreement as a continuation of our long-standing partnership with GPO and as an extension of current efforts being made by the UNT Digital Library and Government Information Connection staff to capture and provide access to Federal Government materials."
There are many opportunities for depository libraries to participate in FIPNet and contribute to the preservation of Federal Government information. FIPNet wants to leverage the activities many of you already have underway at your library. These activities could include:
Cataloging and metadata creation
Digitization and content conversion
Harvesting web content
Hosting digital content
Storing physical copies
Condition assessment
Conservation
Other innovative activities that support preservation
Share your projects and ideas with GPO and the wider preservation community. Please contact GPO at This email address is being protected from spambots. You need JavaScript enabled to view it. to learn how you can too can become a FIPNet partner.