Archival Management
Details

Last Updated: February 25 2013
Published: October 02 2012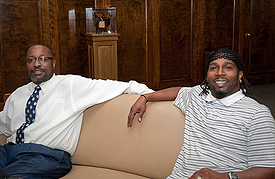 The Office of Archival Management (OAM) at the U.S. Government Printing Office (GPO) plays a vital role in ensuring permanent public access to important resources of the Federal Depository Library Program (FDLP).
This group is responsible for:
Preserving the electronic and tangible FDLP collection;
Preserving the files and records associated with the FDLP;
Validating Persistent Uniformed Resource Locaters (PURLs) to ensure public access to electronic resources;
Managing FDLP digitization initiatives; and
Web-Harvesting.
OAM collaborates with many other areas in in Library Services & Content Management (LSCM). The staff members of OAM work closely with LSCM's Depository Distribution Division, as OAM prepares the distributed in-scope publications for accession into the National Archives and Records Administration (NARA) for permanent record retention. This group also works directly with LSCM's Bibliographic Control unit to ensure that electronic resources are identified and purled correctly and that any persistent identifier errors found in cataloging records are corrected quickly and efficiently. OAM staff members also work with LSCM's Content Acquisitions staff to ensure that the substitution of tangible for electronic publications is transitioned smoothly.
This group of five staff members is led by James Mauldin, a 16 year veteran of GPO. Prior to coming to GPO, James worked for the Government Accountability Office (then called the General Accounting Office) in a range of positions that focused on network support for their Integrated Library System and library acquisitions, to name a few. James' team is:
Theodore Defosse, an Army veteran and proud father of two who has been with GPO for 13 years;
Darin White, a Marine Corps veteran who has been with GPO for 15 years;
Dory Bower; and
Sarah Walch.
James commented on the work of OAM by saying, "The work of OAM serves a critical need to the FDLP community – we ensure that the electronic resources included in the FDLP remain available and accessible and that links to important electronic publications remain in working order. We are an important conduit to ensuring permanent public access."