Jane Sánchez, GPO's Director of Library Services & Content Management
Details

Category: Get to Know GPO
Published: July 10 2012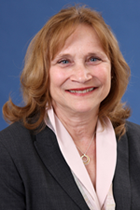 In March of this year, Library Services & Content Management (LSCM) welcomed a new leader. Jane Sánchez has taken the reigns as the Director of LSCM, and she wants the depository community to get to know her just as her staff has.
Jane comes to the U.S. Government Printing Office (GPO) with 35 years of library and information program management experience, both in the Federal Government and in the private sector. She previously served as the Associate Director of Library Staff at the U.S. Department of Justice, Justice Management Division Libraries. There, she managed nine operational divisions providing reference and research support to senior management offices including the Attorney General and Solicitor General. Prior to that, Jane served as the Department Head, History and Culture Libraries at the Smithsonian Institution Libraries. She also spent 17 years working in the private sector at BNA Corporate Headquarters as the Director of Information Resources.
Even moreso than her credentials, Jane wants the depository community to know that she is very passionate about libraries and the mission of the Federal Depository Library Program (FDLP) and that she is very committed to optimizing the services that GPO provides to FDLP libraries. She has a can-do attitude that achieves results. She has said, "Whatever the issue, we'll tackle it!"
Government documents have been a part of Jane's career since day one. In her very first job after college, she worked in the Government Documents section at Northeastern University on Friday nights. Throughout her career, Jane has continued her relationship with the depository library community; she not only has a strong grasp on the challenges and opportunities that the FDLP faces, but she has a strong conviction for public access to the vital documents of our democracy. Jane understands the challenges facing the FDLP in the electronic age and has said that she is committed to taking on this challenge together with the FDLP community.
Regarding her goals for LSCM, Jane said, "I want to tackle improving our workflow and processes in order to better serve the FDLP community and the public. I want to help create a more logical workflow to ensure the staff at GPO remains engaged and challenged, shorten and improve turnaround times where we can, and optimize our job performance so that we can support FDLP libraries as completely and efficiently as possible."
Originally from New Mexico, Jane first earned her Bachelor's Degree from the University of New Mexico in Albuquerque before heading to Boston to earn her Master's Degree in Library Science from Simmons College. After that, she attended The American University's Washington College of Law where she was awarded a Juris Doctorate Degree. While not at work, Jane's focus is on family, and she enjoys spending time with her husband and three children.
Please join LSCM in giving Jane a warm welcome. She just returned back to D.C. following her first American Library Association Annual Conference as LSCM's Director. Jane enjoyed all those whom she got to meet at the Conference and looks forward to meeting many more of you at this summer's Interagency Depository Seminar and the fall 2012 Depository Library Council Meeting & Federal Depository Library Conference in Washington, D.C.