GPO's govinfo is Out of Beta
Details

Last Updated: February 22 2018
Published: February 16 2018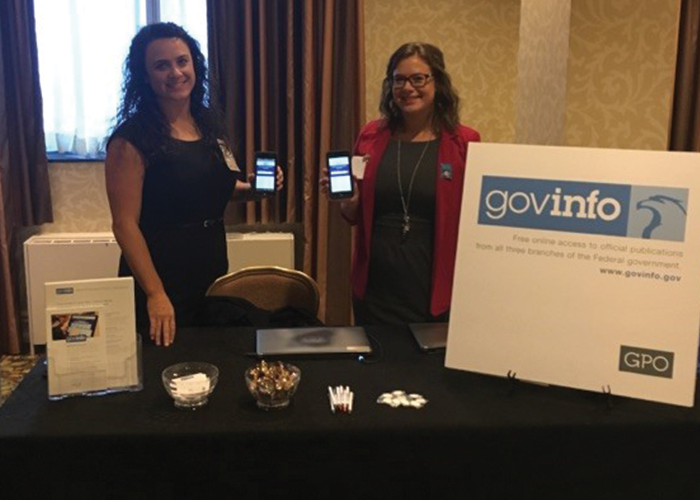 In February 2016, GPO debuted the modern, mobile-friendly govinfo as a beta website to eventually replace GPO's Federal Digital System.
GPO is pleased to announce that govinfo is now out of beta. FDsys will remain available in the coming months and in December 2018, GPO will retire FDsys, and govinfo will take its place as GPO's source for official Government information.
Learn more about the transition from FDsys to govinfo, including a handy chart on finding certain FDsys resources where they've been migrated to govinfo.
Update Links to govinfo
Now is the time to transition to govinfo. Users should link to content and metadata on govinfo instead of FDsys, and stakeholders should update their systems and processes to utilize govinfo instead of FDsys. GPO will implement alerts on FDsys as early as spring 2018 to encourage users to fully transition to govinfo.
Redirects for FDsys Links
Immediately before retiring FDsys, GPO will enable redirects to govinfo, but users and stakeholders are encouraged to proactively update links and processes to reference govinfo instead of FDsys. Library Services & Content Management staff members have reviewed the current PURLs linking to FDsys in the CGP, have updated links as needed, and are continuing to monitor and update links as identified.
Help using govinfo
The FDsys Help information has been updated and migrated to govinfo. This help information includes tutorials, handouts, and details about each collection, including sample searches and URLs, and a list of the metadata fields and values for that collection.
GPO is also working to develop a series of additional video tutorials that will cover everything from searching to finding related documents in the legislative and regulatory processes and more about the tools we have available for developers and those who reuse govinfo data.
govinfo Enhancements
Learn about new features and enhancements through our quarterly Release Notes. These articles summarize what's new, what's been fixed, what new content has been made available recently, and some of our favorite articles featuring curated content.
Highlights from Beta Period
During the beta period, GPO worked to:
Build functionality on govinfo
Gather and implement user and stakeholder feedback
Optimize URLs
Migrate metadata, bulk data, sitemaps, and help content
Resolve reported bugs
Build new features requested by users
Here are some highlights of the work that was done since the launch of govinfo in February 2016:
Completed building Browse and Details pages (including Document in Context tabs) for the remaining collections. (While all content files have been available from govinfo throughout the beta period, at the time of beta launch only 10 collections were fully built with equivalent access points as are available on FDsys.)
Migrated from FDsys the Browse by Government Author feature, CFR Parts Affected tool, thumbnails in search results, related resources on Browse pages, the Bulk Data Repository, sitemaps, MODS and PREMIS metadata files, and link service.
Migrated help content and drafted and featured more than 100 articles on the homepage.
Data tools: Bulk Data Repository, sitemaps to make it easy for search engines to crawl and index govinfo pages and content, migrated MODS and PREMIS metadata files, and link service where for 13 collections you can use a pattern to construct reliable links to pages and content.
Optimized URLs to be more user-friendly, shareable, and consistent.
Gathered and implemented user feedback such as adding sort options for certain search filters (e.g. option to sort the date filter from new to old instead of by number of results), building pagination for very long lists in Browse pages, switching to pagination for navigating search results, and updates to the search widget.
Linked more related documents together on Details pages for Congressional Reports and the Congressional Record. Learn more about finding related documents on govinfo.
Made available our first eBook, an update to Women in Congress that covers 1917-2017, digitized volumes of the Bound Congressional Record back to the first issue in 1873, and digitized issues of the Federal Register back to 1970.
Many activities required to transition from FDsys to govinfo involved work on the back end of the site, and while not being immediately apparent on the front end (the website that you interact with), all of these efforts contribute to providing the best user experience while ensuring GPO remains the trusted custodian of official Federal information from all three branches throughout the transition.
In addition to tasks required to support the transition to govinfo, GPO regularly performs maintenance on the hardware, software, and other components to support the content management system, preservation repository, and public website that make govinfo unique.
Send Feedback
GPO has implemented many enhancements based on the feedback we received during the beta period, but please remember to continue sending your feedback. Feedback remains critically important not only for improving the user experience but also for prioritizing new features and development work, monitoring our progress, and validating new features and enhancements.
You can contact GPO about the new site in a variety of ways. We hope you enjoy this next generation of discovering and navigating U.S. Government information, and we look forward to your feedback.