GPO Begins Launch of FDLP eXchange
Details

Last Updated: June 20 2017
Published: June 14 2017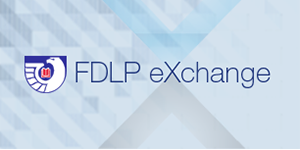 The U.S. Government Publishing Office (GPO) began the roll out of FDLP eXchange on June 1 with a series of live training webinars and a variety of new training and informational materials to help Federal depository libraries prepare for using the application. One live webinar was designed to teach selective library staff how to navigate and use the selective interface, and a second live webinar was designed to teach regional library staff how to navigate and use the regional interface. Each webinar was offered twice in June, with an additional repeat of each scheduled for July. Recordings of both webinars are available on the FDLP Academy site.
GPO also launched a package of sixteen brief training webcasts demonstrating various FDLP eXchange tasks and functions. Each recorded webcast is nine minutes or less, intended to provide quick refreshers on specific tasks. Topics covered include:
Getting started
Entering a need using the form
Entering an offer using the form
Creating spreadsheets
Uploading spreadsheets
Reviewing Offers
Various navigational tasks
QuickStart Guides provide regionals and selectives section-by-section overviews of their respective interfaces, including screen captures and helpful tips. These guides were designed to provide enough information to help users get started using the application with minimal effort.
Spreadsheet templates for creating needs lists and for creating offers lists are also available. These templates will also be accessible with FDLP eXchange when the application is released. Posting them on the project page makes them available to depository library staff who wish to begin creating lists in preparation for uploading them into FDLP eXchange. A Data Dictionary is also available to help users determine which fields are required and what values are accepted in each field.
All of these educational resources are available from the FDLP eXchange page on FDLP.gov.
Initial response to FDLP eXchange has been positive, and GPO looks forward to launching the application in the near future. GPO staff are available to answer questions, so please don't hesitate to use our web form to contact GPO's implementation team with questions or comments.