GPO's Laurel, MD Distribution Facility: Keeping America Informed by Hand
Details

Last Updated: April 11 2017
Published: April 07 2017
Getting Federal depository documents in the hands of depository coordinators is the responsibility of the U.S. Government Publishing Office's (GPO's) Distribution Facility in Laurel, Maryland. Up until 2012, the facility was located at GPO headquarters on North Capitol St. in Washington, D.C. In 2012, the operation moved to its current location in Laurel. Nine employees process and ship Federal publications to 1,150 depository libraries in the Federal Depository Library Program (FDLP).
While much of the publication process is automated, the distribution process is all processed by hand. Every year, over 1,000,000 items are sent out from the distribution center. The employees work with the staff at GPO headquarters on the many steps of processing, including classification and cataloging, to ship out the publications every two weeks. (See chart for complete process)
The shipping schedule is rigidly followed. On the rare occasion when a publication cannot be completed within the two-week window, it will be removed from the shipping list so a single item will not delay scheduled shipments. The process is extremely efficient; the annual error rate is well below 1%.
The regular shipments received by depositories contain the publications and the shipping lists, including those which are called "Separates." Separates are those items which are not sent in the biweekly shipments.
There are a few reasons why these few items are shipped separately. Some items, like the Congressional Record, are too large, both in dimensions and page count, to fit in the regular depository shipments. Other items are pre-packed by publishers and private vendors. Occasionally, GPO has special publications which are sent separately to most depositories.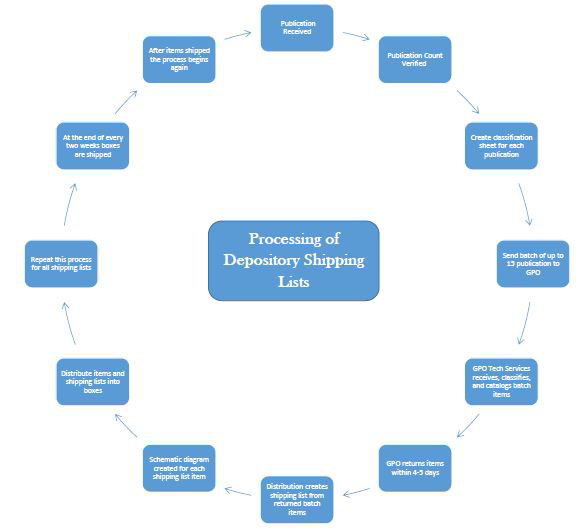 In addition to these duties, the Distribution staff also fulfills all claims for depository materials.
Even though the amount of print GPO publications has decreased over the past few years, the number of publications shipped each year has remained steady, never dipping below 1,000,000. In part, this is due to special and commemorative publications, such as the recently published, America First: A Budget Blueprint to Make America Great Again and the GPO historical publication: Picturing the Big Shop: Photos from the U.S. Government Publishing Office, 1900 - 1980.
The Distribution Center's responsibilities are not limited to libraries in the FDLP. They also provide distribution to the International Exchange Service (IES), a program of the Library of Congress that supplies documents to international libraries. In 2016, GPO shipped 9,826 tangible items and 118,920 microfiche copies to libraries around the world.
Often unsung FDLP heroes and heroines, the Distribution staff members exemplify dedication and commitment in their work to Keep America Informed.