Implementation of the Regional Discard Policy: An Update
Details

Last Updated: December 12 2016
Published: December 07 2016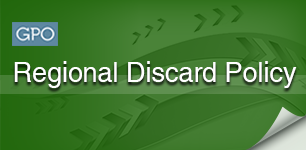 2016 has seen a lot of progress with the implementation of the Regional Discard Policy. In July, the U.S. Government Publishing Office (GPO) released the final version of the Policy, along with Titles Eligible for Discard – List No. 1, which includes:
Congressional documents from the House Committee on Ways and Means and House Committee on Agriculture (approximately 650 titles, all formats)(104th -111th Congresses)
Congressional Record (Daily) (all issues 1994-2009)
Federal Register (all issues 1995-2009)
In August 2016, GPO finalized the Memorandum of Agreement (MOA) template for Preservation Stewards, and as of September 2016, all regional libraries can now participate and submit requests to discard.
As part of GPO's commitment to ensure continuous communication and feedback opportunities for the library community, we have conducted webcasts and webinars, presented information at conferences, established a Regional Discard Policy project page and contact form, shared FDLP News Alerts, and pushed direct emails to regional coordinators.
On October 18, 2016, GPO and the University of Colorado, Boulder signed the first Preservation Steward memorandum of agreement. To learn more, read the Partnership Showcase in this issue.
As for next steps, staff in GPO's Library Services & Content Management unit are working on the following actions:
Releasing a Titles Eligible for Discard List No. 2 (Each list will be cumulative.)

Expect to see the Congressional Record (Bound) and additional Congressional Hearings for select committees on List 2.

Collecting and analyzing data and making appropriate improvements to procedures for submitting regional discard requests
Continuing to conduct outreach and encouraging library participation as Preservation Stewards
Continuing to solicit and review feedback to determine potential enhancements to current processes
Developing Preservation Steward guidance documents and concepts for Preservation Steward webinars or webcasts
Developing the inventory of content for which there are Preservation Stewards
For more information on the implementation of the Regional Discard Policy, and for access to other related resources, visit our project page on FDLP.gov and stay tuned to the FDLP News & Events email and RSS service for upcoming announcements.
Contact GPO staff with questions or comments about the Regional Discard Policy. If you are interested in becoming a Preservation Steward, or would like to know what this entails, email GPO at This email address is being protected from spambots. You need JavaScript enabled to view it..