Made to Order: GPO's New U.S. Government Bookstore Web Site
Details

Published: August 30 2013
Written by Michele Bartram, Promotions Manager and Editor-in-Chief for GPO's Government BookTalk blog, Publication and Information Sales, U.S. Government Printing Office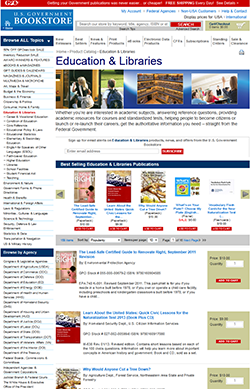 In late February, the Government Printing Office (GPO) launched its upgraded U.S. Government Bookstore e-commerce site. It has gone through several iterations since its first version in 1999, each time adding functionality to keep up with the changing needs. Today, GPO has over 4,000 Federal print publications and more than 180 eBooks available through our online bookstore.
User-Friendly Features
GPO's new Web site includes the following user-friendly features:
Improved search capabilities and usability, including printer-friendly pages (look for the printer icon at the top right) and a footer with quick links
Secure user account and login, allowing users to see their order history and save their shopping cart for later
Slideshow on the home page to link to and highlight featured titles and collections
Scrolling widgets on the home page and category pages for Best Sellers and to point out Related Items
Over 200 additional New Titles by Topics email alert categories to which to subscribe
Enhanced product detail page that includes a product image, suggested related items, as well as editorial reviews, author information, and links to other available formats (if applicable)
Option to sort products alphabetically or by date of publication, popularity, or price
FREE SHIPPING WORLDWIDE - As always, standard shipping worldwide is FREE from GPO and there is no sales tax
Specialty Pages and eBooks
GPO has added a number of specialty pages along the top of the site as hyperlinked "tabs."
There is a new eBooks section with over 180 eBook titles and more added weekly. The site functionality is expanding within the next few weeks to also offer FREE EBOOKS and other direct Digital Downloads, along with a user "Bookshelf" where users can find their downloaded files.
Other tab specialty pages include New Releases; Best Sellers; News & Features highlighting new and newsworthy titles and happenings; Electronic Data Products which provides information on custom data products such as FTP files, custom CD-ROMs and more; and CFRs, a shortcut table of all the titles in the Code of Federal Regulations.
Subscriptions lists all regularly published serial publication available via subscription from GPO, while Standing Orders lists all irregularly published serial items available through GPO's standing order service or indefinite auto-shipment.
Finally, our new Sale & Clearance category is extremely popular, as it lists all items on sale or in final clearance with prices reduced up to 75% or 90% off original prices.
Over 200 New Subject Categories
We have added an entirely new taxonomy with over 200 new subject categories based on consumer search research, including the option to browse for products by topic or by the Federal Government agency who published the title. To see all of the "Browse by Topic" subject categories at a glance, click on the dark blue Browse ALL Topics button.
The main Topics currently include specialty categories such as two specialty sale categories with items marked off 50% or more: 50% OFF GPOverstock SALE and 50% OFF GPOverstock SALE.
It also includes AWARD WINNERS & FEATURES which lists the ALA Notable Government Documents and other featured titles.
The category GIFT GUIDES & CALENDARS includes Gifts & Books for CHILDREN, Gifts & Books for MEN, and Gifts & Books for WOMEN, as well as the highly popular Bargains under $20.
The category eBOOKS & e-MAGAZINES has digital titles organized by sub-category, while MAGAZINES & JOURNALS is arranged by topic. MULTIMEDIA & MICROFICHE includes CD-ROMs and DVDs along with microfiche.
The remaining master topical categories can be viewed under Browse ALL Topics.
Browse By Agency
Executive Branch Departments are listed by department name under Browse by Agency, with their agencies and offices listed below them. For example, you can find National Park Service (NPS) publications under Department of the Interior (DOI) in the Browse by Agency categories on the menu at the lower left side of the site.
Other Federal entities are grouped under their own main categories:
It's a Launch, Not a Landing
Our new site marks the completion of over a year of hard work by our team here at GPO, all aimed to make sure "we the people" can discover more about our Nation through excellent publications by our Federal Government. But there's a good reason we call it a Web site launch and not a landing. This is only the beginning, with more great content and features to come! Enjoy!
So, please visit GPO's new online bookstore Web site and tell us what you think!