Spring Virtual Meeting Celebrated Preservation Week
Details

Category: Featured Articles
Published: June 20 2013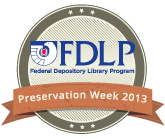 Library Services and Content Management (LSCM) conducted its first all virtual, multi-day meeting this past April. Held during Preservation Week, April 23-25, it was the perfect opportunity to reflect on the importance of permanent public access to Government information and how we can ensure it for future generations.
Programs were planned as a direct result of what the U.S. Government Printing Office (GPO) heard in responses to the Library and State Forecast Questionnaire responses. They offered a mix of information updates, training, and focused discussions consistent with the theme "Partners in Preservation: Government Information for Future Generations."
The meeting opened with a welcome from the Superintendent of Documents, Mary Alice Baish, and a short briefing on the National Academy of Public Administration (NAPA) recommendation to preserve the print historical collection of Government publications. This recommendation is in NAPA's January 2013 report on the GPO. Rounding out the day's programs were the LSCM and Federal Depository Library Program (FDLP) Forecast Study updates, which highlighted initiatives and Forecast responses related to preservation.
The tangible collection preservation and digital registry focused discussions moved us into phase 2 of the FDLP Forecast Study. Questions were posed to attendees that elicited clarification or more detailed responses than were provided in Forecast responses. Valuable information was gained that will assist in developing the strategic plans, the National Plan for the Future of the FDLP, and the comprehensive collection preservation plan.
Always a favorite are presentations by your fellow depository colleagues. Their presentations provided guidance for successful implementation of a digitization project and successful preservation partnerships. They delivered practical "how to" and "what works" presentations from which any depository can benefit.
Registrants for the event numbered 115, with an average of 60 daily participants. There were instances of "group viewing" from one connection, which resulted in an additional 54 attendees.
All sessions were recorded and they, along with corresponding handouts, are accessible for viewing at any time from the FDLP Webinar Archive.
The Partners in Preservation experience provided numerous takeaways and lessons learned to be applied to future virtual FDLP events. Watch for announcements of upcoming webinars and educational opportunities or visit the Training & Events Web page.
On behalf of GPO and the FDLP, we extend our thanks and gratitude to all who took time out of their busy schedules to participate in this online event. A special thank you to our speakers and facilitators, and to all attendees!