FDsys Training: Educating the Public on the Next Generation of Government Information Online
Details

Category: Featured Articles
Last Updated: March 14 2013
Published: October 05 2011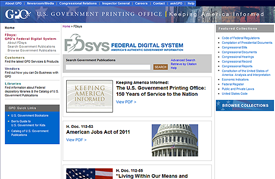 Part of Library Services & Content Management's (LSCM) efforts to educate the public on the use of FDsys is the creation of a formal FDsys training plan. This summer, LSCM staff began the design of a plan with two major components:
Developing a comprehensive FDsys curriculum and curriculum tools.
Planning for the implementation of the curriculum and tools in live, virtual, and recorded video environments.
For the curriculum team, we assembled staff who had previous experience giving GPO Access and FDsys training, staff who have worked extensively in the development of FDsys, and staff with backgrounds in education. We are pleased to report that the curriculum is now complete! It includes detailed scripts for recorded video modules; step-by-step talking points and instructions for educators; presentation material for each session; and a user manual to bring it all together. The curriculum includes the following:
Introduction
Background
Basic Searching
Advanced Searching
Browsing Government Publications
Retrieving by Citation
Tracking Legislation (including 7 sub-parts)
Tracking Regulations (including 4 sub-parts)
Help
Tips & Tricks (including 15 sub-parts)
This summer, Library Services & Content Management (LSCM) posted questions about online training tools and learning software applications on the FDLP Community site. We received comments about how content is created and delivered, favorite features, and we've been pointed to other online training informational resources. The information we gained from the Federal depository library community was used to develop a document that identifies requirements for a system to be used for depository library training and to manage training materials and activities. LSCM thanks all of you who participated in this discussion. We are now working on obtaining software that satisfies our requirements.
This initiative will not merely serve as a replacement for our past use of Online Programming for all Libraries (OPAL), but it will serve to meet the ever-changing education and training needs of the community in dynamic, timely, and efficient ways. Through this initiative, LSCM will increase awareness of FDsys, help users navigate its content effectively, and enhance access to Federal Government information.
Find out more about the FDsys training plan at the 2011 Depository Library Council Meeting and Federal Depository Library Conference (Meeting and Conference) in Arlington VA, October 17-20, 2011.