Murphy Library at the University of Wisconsin-La Crosse
Details

Category: Depository Library Spotlight
Published: February 28 2011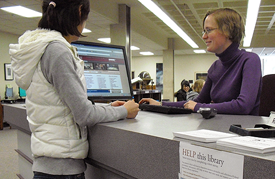 One of the most important things any depository can have is visibility. Top-notch collections, great services, and accessibility do not matter if people do not know about them. It is for its efforts to maintain a visible depository that GPO spotlights Murphy Library at the University of Wisconsin-La Crosse.
The library was designated a depository in 1965 and serves the 3rd Congressional district of Wisconsin. The library staff takes the obligation to provide depository services to both students and members of the general public seriously. They show this dedication by promoting and making visible not only the depository status of the library, but also what this status means to users.
It is readily apparent that Murphy Library is a Federal depository library. Anyone visiting, whether in person or virtually, is made aware of this right away. Emblems are front and center on all entrances. Large signs indicate the Documents stacks. The FDLP graphic is on the home page, leading to an excellent Government Information page. Michael Current, depository coordinator since 2003, has written articles about the Government Documents collection in The Fine Print, the library newsletter. Depository materials have been displayed in exhibits, both physically and online. Depository services are included in library instruction.
Murphy Library enhances this by making clear what it means to be a depository library. On the Web site, the About Government Depository page describes the Federal Depository Library Program in detail, and some of the core commitments of depository libraries are highlighted. These include free public access regardless of format and expertise in government information sources. This page also includes information about the program in multimedia formats such as the "Easy as FDL" audio public service announcement and the video "U.S. Government Printing Office: Working with Libraries."
Murphy Library further develops its visibility by offering assistance to anyone wanting to use the library. This is especially evident on the library Web site. It contains links to various subject related research guides, including legal materials, statistical information, and tax forms. Depository items are distinguished from commercial products with an FDLP graphic, indicating that these resources are freely available to all. There is also a direct link to search the library catalog for Government documents.
This page also contains a guide called Government Information: Selected Resources. This is a more comprehensive guide to Federal government information sources. Government Web sites, books, database, and other resources are included. The guide helps users find and access Government information located in the Murphy Library, as well as online. Further, it links to GPO's Catalog of United States Government Publications and provides contact information for the depository coordinator.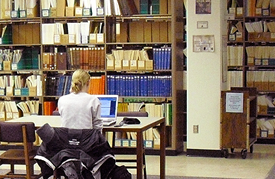 Thanks primarily to the combined efforts of the depository coordinator and Mary Baldwin, support staff in government documents since 1976, Murphy Library also promotes and makes its collection visible in its catalog. Aside from topographic maps and some items contained in the U.S. Congressional Serial Set, all tangible depository materials held by the library are included. Moreover, all of these records are made available in shared union catalogs to facilitate interlibrary loan. Doing this makes Murphy's depository collection visible not only to UW-L patrons, but also the public and users of other library catalogs.
The efforts to make the depository at Murphy Library visible have been successful. Use of the tangible collection has remained steady over recent years. The use of electronic resources continues to increase.
It is apparent that the team at Murphy Library takes pride in its status as a depository library. The depository coordinator says it best himself: "We are proud to do our part to preserve, improve access to, and advocate the use of government information in our community through our ongoing participation in the Federal Depository Library Program."