Depository Libraries Produce the 2010 Six-State Virtual Government Information Conference
Details

Category: Depository Library Spotlight
Published: January 02 2011
What do 17 depository libraries do when they face budget restrictions, travel restrictions, and a never ending need for continuing education? The library partners in the six states of Arizona, Colorado, Nevada, New Mexico, Utah, and Wyoming took a bold step in hosting their normal in-person 5-day government information conference virtually.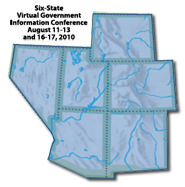 Goals of the virtual conference:
To create a full‐fledged conference experience
To reach documents specialists, general reference and all levels of library staff
Create opportunities for networking
To spend no money or as little as possible
Include people who might not be able to attend conferences on a regular basis
Provide Continuing Education credits as appropriate
To gain experience with using technology for continuing education and outreach
Tap local talent (organization, planning, subject knowledge, and presentation skills)
To take advantage of the online environment by archiving the sessions
The conference planning team, composed of 21 librarians from 17 depositories, was careful to assess the needs of their audience, which included both depository and non-depository library staff. They drew upon their own specialists to present sessions whenever they could, and reached out to experts and organizations as needed. Sessions addressed topics relevant for librarians in managing their depository collections as well as subject based training on government information resources. The result of their efforts were 17 virtual government information sessions ranging from information on international sources and statistics, to FDsys, to a keynote speaker from the Sunlight Foundation on government openness and transparency.
The planning team excelled in creating an online "location" for the conference itself. A Web page as well as a wiki page was created for the conference that collected presentations, biographic information on the presenters, linked to technical information about the conference, showed twitter feeds from the audience, and also linked to the archived sessions after they were over. The WebJunction pages for the Government Information in the 21st Century have been enhanced with the PowerPoints and handouts from this conference so that anyone can view, revise as needed, and use these materials.
If your institution is interested in hosting a virtual conference, take a look at the 2010 Depository Library Conference session entitled "Making Continuing Education Happen: Details of Planning and Implementing the Six-State Virtual Conference." The Six-State conference planners have shared their knowledge with other depository libraries, including tip sheets, an overview of some of the challenges they had, a suggested time line, and lots of helpful advice.
Due to the efforts of the 17 depository libraries and their staff, this conference had a tremendous impact on their community. Here are some snippets of feedback the conference planners got:
"This was such a time-effective way to learn, to network, and to get answers to questions regarding issues we experience at our library. It had a definite conference feel, and I loved how I didn't have to leave my workplace or my responsibilities to take part. Yet, it was substantial and relevant."
"I thought a virtual conference sounded a bit dull, and was pleasantly surprised by how much I enjoyed the programs and the interaction provided by the chat room and mics. Because we had set ourselves up in a conference room where we could eat snacks and drink coffee, it felt like a real event and not just watching YouTube. We also drew in some non-docs specialists for a few of the programs, which could never happen at a tangible conference."
GPO applauds the following people and institutions for their efforts to address the critical information needs of their constituents:
Chris Brown, University of Denver, FDL 0071A
Jennie Burroughs, University of Montana, FDL 0341
Laurie Canepa, New Mexico State Library, FDL 0386
Janet Fisher, Arizona State Library and Archives, FDL 0022
Jennie Gerke, University of Colorado at Boulder, FDL 0069
Valerie Glenn, University of Alabama, FDL 0012
Mollie Gugler, Yavapai Community College Library, FDL 0027B
Kate Holvoet, University of Utah, FDL 0622
Barbara (Berg) Howe, Arizona State Library and Archives, FDL 0022
Peggy Jobe, University of Colorado at Boulder, FDL 0069
Katie Lage, University of Colorado at Boulder, FDL 0069
Sue Kendall, San Jose State University, FDL 0051A
Karen Kitchens, Wyoming State Library, FDL 0677
Pat Ragains, University of Nevada, Reno, FDL 0353
Sandy Rizzo, Mesa Public Library, FDL 0025A
Kerry Skinner, Arizona State University Ross-Blakley Law Library, FDL 0026A
Louise Treff-Gangler, University of Colorado, Denver, Auraria Library, FDL 0069B
Victoria Trotta, Arizona State University Ross-Blakley Law Library, FDL 0026A
Debra Van Tassel, University of Colorado at Boulder, FDL 0069
Brad Vogus, Arizona State University Libraries, FDL 0025
Lee Warthen, University of Utah Law, FDL 0622A