Snell Library at Northeastern University
Details

Category: Depository Library Spotlight
Published: October 01 2010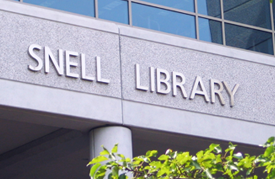 Balancing the needs of primary patrons with the promotion of depository access to all users is not always easy, especially for private organizations. Meeting the demands of primary users, administrators, and parent institutions can often lead to providing a mere minimum of promotion to depository patrons. This has not been a dilemma for our October Spotlight Depository, Snell Library at Northeastern University.
"Founded in 1898, Northeastern is a global, experiential, research university. Grounded in its signature co-op program, Northeastern today provides students with unprecedented experiential learning opportunities around the world. The University's rapidly growing research enterprise is strategically aligned with three national imperatives: health, security, and sustainability. Northeastern offers a comprehensive range of undergraduate and graduate programs leading to degrees through the doctorate in nine schools and colleges."

Northeastern at a Glance, 2010.
This global and open outlook is apparent at the Snell Library, which has been a Federal depository since 1962. Led by coordinator Roxanne Palmatier, the staff takes the promotion of free access to depository materials by all users very seriously, even as they transition to a more electronic environment. Their dedication is evident on the library's Web site where:
FDLP logos are included on a number of library pages.
The library access policy states that "As a federal depository, the Northeastern University Libraries ensure public access to government document collections without further question or request for identification."
Guest computers and wireless service are available without login.
The Library Bill of Rights is posted on the Web site, emphasizing free access by all library users.
Moreover, the Government Publications Department Web pages contain an abundance of useful information for public patrons as well as for Northeastern affiliates. In addition to a page with links to Federal Web sites, there is a Federal Depository Library Guide that includes:
A detailed description of the Federal Depository Library Program
A statement stressing that reference services are available to all users of government information
An in depth collection development policy
Links to other area depositories as well as to the regional depository, also in Boston
A link to the Federal Government Research Guide which links to a number of government agencies and publications
The library has also developed some innovative tools to make their electronic depository materials more visible to all users. Public access screen savers allow any library user to easily recognize public access computers. Clickable FDLP logos are included in the catalog records of depository materials. These link to a screen indicating the items as such and further link to the Federal Depository Library Guide or the Federal Government Research Guide. The staff at Snell Library plan to continue to come up with creative ideas as their depository becomes more electronic.
Finally, the visibility of Snell's electronic depository materials is heightened by comprehensive cataloging and staff training. In addition to the cataloging of tangible materials, the library provides access to a vast number of electronic resources via a contractual agreement with a third party vendor. This access is greatly enhanced by regularly training staff members to access and use both the tangible and electronic portions of their collection. Such a well trained staff makes an already visible collection even more accessible.
Snell Library does not simply meet the minimum legal and program requirements for promoting access to their depository collection. To the contrary, the library makes every effort to ensure not only that the depository collection is visible, but that all users are welcome to access tangible and online materials alike. For any library to embrace the spirit of the Federal Depository Library Program to the extent that Snell has is commendable. All depositories looking to emphasize free access by all users need only follow the example set by the Snell Library at Northeastern University.