Depository Library Spotlight: the Year in Review
Details

Category: Depository Library Spotlight
Published: May 03 2010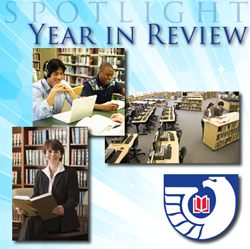 One year ago the U.S. Government Printing Office (GPO) began focusing the spotlight on some remarkable Federal depository libraries. The libraries chosen are reflective of the range of depository libraries-- such as academic, government, public, and special --and are located across the country, from large urban areas to less populous regions. The libraries have included both regional and selective depositories. Some libraries have been in the Federal Depository Library Program for over 100 years while others have joined more recently.
The range of patrons served is broad as well, demonstrating a wide variety of unique information needs and reflecting the interests of diverse demographic backgrounds. Researchers in academic libraries may be searching government information for historical primary resources, while patrons in public libraries may be searching for employment trends or tax information. Depository library collections truly span a host of issues and subjects and extend back to the founding years of our democracy. These documents help guide the critical decision making process of countless people every day.
The monthly Depository Library Spotlight is a public recognition of the initiative and creativity of depository libraries in increasing awareness of their collections: "[b]y spotlighting the unique services and offerings of our depositories, we can share in the strengths and innovations of our partners and help promote the essential American service that is the FDLP." A few select examples demonstrate the noteworthy and varied ways in which different depository libraries have increased awareness of and access to government information.
In February 2010 we focused our spotlight on the University of Maryland School of Law, Thurgood Marshall Law Library, which recently celebrated their 40th anniversary with the Federal Depository Library Program. They manage a noted project of historical documents, the Historical Publications of the United States Commission on Civil Rights. The project is one of the select group that collaborates with the originating agency - between GPO and the United States Commission on Civil Rights - and provides access to over 500 digitized Commission publications. Publications are not only searchable by title, date, subject, and SuDoc number, but are also searchable by geographic location on a Google map.
The spotlight for December 2009 focused on the Mesa Public Library in Mesa, Arizona, which has been a depository library since 1983. The depository staff employ a number of methods to increase awareness of their depository collection. While some libraries keep depository items in a distinct collection, the Spanish language depository publications at Mesa Public have been integrated into the Spanish language collection. Government periodicals are integrated and displayed in the magazine/newspaper area. Using depository publications, staff at the library have created inventive displays incorporating objects such as a flip-the-page quiz about your DIIQ, or your Declaration of Independence IQ, or using "I voted today" sticker strips as a border for a display about "Voting in America". Understanding the importance of visually appealing displays, staff have even kept a Promotions Notebook to record their hard work.
Four libraries shared the spotlight in September 2009: Oregon State Library, Oregon State University Valley Library, Portland State University Library, and the University of Oregon Knight Library. In crafting a distributed housing arrangement, these libraries have collaborated to share the regional Federal depository library collection in Oregon. While a regional's collection is typically at one institution, this arrangement houses part of the regional collection at each library through an official Memorandum of Understanding. Public services and collection development at each library are adapted to the needs of the community, ensuring that "a comprehensive collection of Federal depository publications will be managed and secured for citizen access in perpetuity, and the collaborating libraries will be able to provide more responsive access to Federal government information." (From the Oregon State Library Web page).
Depository libraries around the country are working hard to promote collections and engage communities. Take a look at the past year's spotlight libraries for promotion and other ideas and let us know about the creative ways you have devised to manage and publicize your individual collections and services in order to reach your community. Perhaps in the future a spotlight will shine on your depository library!
Libraries Spotlighted During the Past Year