Depository Library Spotlight – The University of Central Oklahoma's Chambers Library
Details

Last Updated: December 31 2018
Published: December 31 2018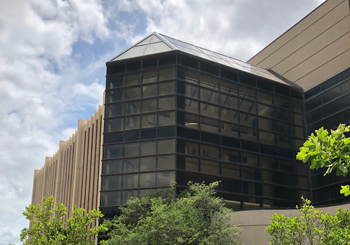 The newest Depository Spotlight library is the Chambers Library at the University of Central Oklahoma in Edmond, Oklahoma. The library serves Oklahoma's 5th Congressional District.
Founded in 1890 as Central State Teachers College, Central calls itself "a smart investment for success," preparing future leaders in an opportunity-rich environment, with access to more than 200 student organizations and the internship, employment, entertainment, and cultural offerings of the rapidly-growing Oklahoma City metropolitan area. Central connects its more than 16,000 students to 121 undergraduate areas of study and 74 graduate programs from its main campus in Edmond and facilities throughout its area.
The Max Chambers Library was designated a depository by Senator Will Rogers in July 1935, and over the ensuing decades has provided Government information to faculty, staff, students, and the community. The library was an early partner in the FDLP's transition to digital formats and tools, hosting the "Browse Topics" service for several years.
During a recent GPO visit, GPO Outreach Librarian Kathy Bayer noted that Depository Coordinator Elizabeth Jones and her colleagues work effectively as a team to support all aspects of their depository operation. Kathy commented that "this library staff just 'get it'" in terms of maintaining their collections and providing access to Government information in all formats.
All new material in all formats is cataloged, a large percentage of their retrospective collection is cataloged, and, says Kathy, "It was my impression that Government information is rather easily incorporated into library reference and instruction activities...I spent my visit affirming what they're doing rather than answering basic questions, which is somewhat unusual, especially in a library where the Coordinator is relatively new." She also noted the ease of use, comprehensiveness, and prominence of their Government Information web pages.
GPO salutes the Max Chambers Library for their efforts to bring U.S Government information not only to students and faculty of the University of Central Oklahoma, but the wider community as well.