University Libraries of Bowling Green State University
Details

Last Updated: August 20 2018
Published: August 17 2018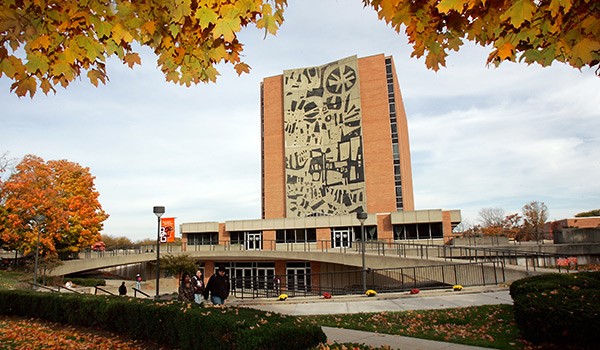 Our newest Spotlight Library is the University Libraries of Bowling Green State University in Bowling Green, Ohio. Bowling Green was designated a depository in 1933 and serves its students and faculty along with residents of the Fifth Congressional District of Ohio. The university began as a teacher training college in 1910 and became a university in 1947. Today it is a large, diversified research university with an enrollment of over 19,000 students, over 800 full time faculty, and 200 undergraduate majors and programs across eight colleges.
The main library of the campus, the William T. Jerome Library, turned 50 years old in 2017. In those 50 years, the library has grown from 400,000 volumes to over seven million books alongside access to unending amounts of electronic information. In addition to the Government Information Collections, the University Libraries include a Music Library, Center for Archival Collections, and the Ray & Pat Browne Library for Popular Culture Studies.
In their 85 years of depository service, the University Libraries have maintained a large collection of U.S. documents alongside significant collections of Ohio state and local government information. Today, their depository collection has been carefully evaluated and groomed to work together with extensive online access to Government information. This careful management by the current coordinator, Carol Singer, continues a long tradition of service and collection stewardship.
Dean of Libraries Sara Bushong says, "While the Library's services and resources have expanded, our underlying mission of serving BGSU's teaching, learning, and research needs has remained constant."
The Government Information Collections are an integral part of that mission, as well as the mission of the FDLP, and GPO salutes Bowling Green State University's record of service in the FDLP.