John Cotton Dana Library, Rutgers University-Newark
Details

Last Updated: June 19 2017
Published: June 14 2017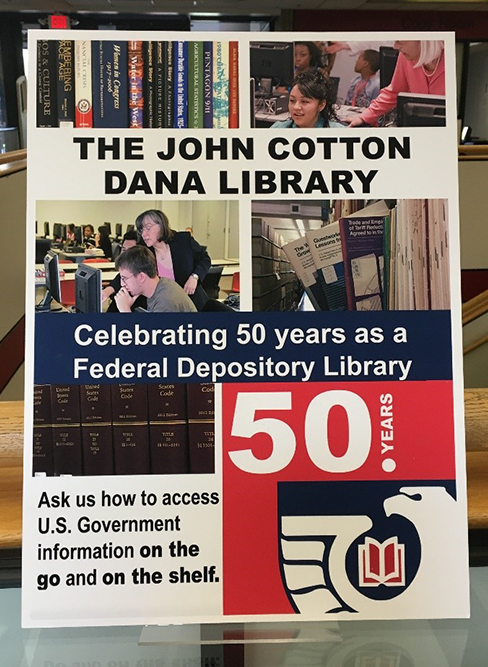 How should a library celebrate its 50th anniversary as a depository when the designation date falls on Dec. 28, with only five days left in the year?
For John Cotton Dana Library at Rutgers University that didn't seem like enough time for proper recognition of this important event. So the library decided to go all-out and spend all of 2017 highlighting its Government documents collections and services.
The depository from Newark, New Jersey, led by Coordinator Wen-Hua Ren, is the subject of the latest Depository Spotlight.
The cornerstone of Dana Library's 50-year celebration is its 50 Mini Sessions on Online Government Resources series. These 15-minute educational sessions are held in the lobby of Dana Library during free periods and are open to the public.
The topics presented show the full range and scope of Government information, and include:
Narrative Profiles (Census data on cities and towns)
EDGAR Filings and Forms (business data)
National Jukebox
The Department of Agriculture's Plants database
The Internal Revenue Service
Declassified documents
And much more!
Four library staff are lending their expertise to this project by teaching the sessions. You can see the full calendar of talks at the library's online guide.
"The shifting demographics of our user community pushes us to be innovative with how we deliver information to our users and how we engage them," Dana Library Director, Dr. Consuella Askew, said while describing the initiative. "Ms. Ren, along with her colleagues, has responded to the information needs and expectations of our users by meeting them where they are, offering concise instruction sessions on the most relevant online Government resources and catching them at their point of need."
Another aspect of the anniversary celebration is publicity for the depository collection. This is being accomplished using a combination of in-person and online methods. People in the library will find an extensive Government documents display in the main lobby.
Depository Coordinator Wen-Hua Ren has carefully chosen a wide variety of documents that showcase New Jersey as well as the breadth and beauty of published materials sent through the Federal Depository Library Program (FDLP). On the library's website, a list of 50 popular Government websites provides another avenue for finding timely and relevant Government information.
This library's celebration of its depository anniversary is also in keeping with its namesake. John Cotton Dana innovated at his first Library Director position with the Denver Public Library by instituting open stacks and a separate children's room. Dana later worked at the Newark Public Library, where he acquired foreign language material to support the city's immigrant population and established a business branch. Because of his activity in and for the community, John Cotton Dana was known as "Newark's First Citizen."
GPO appreciates and recognizes Dana Library and its staff's commitment to not only providing access to Government information, but helping their patrons find, utilize, and understand the print and online resources available to them through the depository.
In the tradition of John Cotton Dana and of the FDLP, their dedication shows the importance the depository and library have had to the community and the university over the course of a full half century.
"The staff at Dana Library feel honored and proud to be a depository and to serve the campus," Depository Coordinator Wen-Hua Ren said. "'Keeping America Informed' has been our ultimate goal and mission as information specialists."
We look forward to seeing what this creative, active depository will do in its next 50 years with the FDLP!