National Agricultural Library
Details

Last Updated: June 20 2016
Published: June 15 2016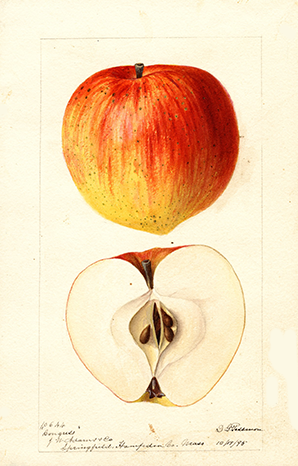 The National Agricultural Library (NAL) is unique for several reasons. This historic library is part of the Federal Depository Library Program (FDLP) due to a special provision of the 1895 Printing Act. It is one of four national libraries of the United States, and it has digitized the Pomological Watercolor Collection.
The National Agricultural Library, located in Beltsville, Maryland, has a rich history going back even further than its depository designation in 1895. In 1839, $1,000 was set aside for the Agricultural Division of the Patent Office to purchase books. The Department of Agriculture was created in 1862, and the library was designated the National Agricultural Library in 1962. The cornerstone for the new Beltsville building was laid in 1967, and library collections and staff moved there in 1969 from Washington, D.C.
NAL makes its collections widely available to the public through online tools. The digital collections include the rich Pomological Watercolor Collection, containing botanical drawings and a staggering 3,807 images of apples. Be sure to look at the apple pictured here to see if you can spot some significant details (hint: year and name). You'll also find digital collections of historical dietary guidance, publications on organic agriculture, and the records of the World's Poultry Science Association at the NAL. Beware, browsing these collections is such fun you may lose some time!
On the other hand, you may save time and do efficient research using publication and data sharing sites such as PubAg and the AgData Commons. PubAg provides USDA-authored and other relevant agricultural research, in the same tradition as PubMed. The AgData Commons is a very recent project, launched in beta in October 2015. This site contributes to NAL's compliance with directives to make Federally-funded research products freely available to the public and aims to make research data easily discoverable.
Another of the NAL's strengths is its collaborative work, which helps broaden the scope of collection use. The NAL recently joined with the National Agricultural Law Center and the Center for Agriculture and Food Systems at Vermont Law School to create the Agricultural Law Information Partnership. This effort supports the dissemination of agricultural and food law information. Specialized information centers such as the Food and Nutrition Information Center, the Animal Welfare Information Center, the Rural Information Center, and others help people find quality information and deliver tools to help use it.
Whether you visit online or in person, contact them for research help, or watch their recent FDLP Academy webinar, you will find fascinating collections and staff with the expertise to help and inform you at the National Agricultural Library.