Earl K. Long Library at the University of New Orleans
Details

Last Updated: April 21 2016
Published: April 21 2016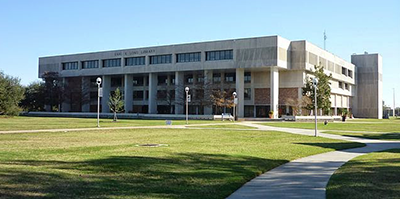 Louisiana has a history of strong Federal depository libraries and excellent collaboration among depositories. There are currently 27 depository libraries in the state, and the two regional depository libraries, Louisiana State University, Baton Rouge and Louisiana Tech, were co-winners of the 2015 Federal Depository Library of the Year Award.
A little over a third of Louisiana depository libraries (10) are in New Orleans. One of the standout New Orleans depository libraries is the Earl K. Long Library at the University of New Orleans (UNO), which has been a depository library since 1963. Depository operations at UNO's Earl K. Long Library have been administered by long-time depository coordinator Sonnet Ireland and her assistant Lisa R. Davenport until just recently. At the end of March 2016, Ms. Ireland accepted a position at Louisiana's St. Tammany Parish Public Library. Her replacement is Ms. Lora Amsberryaugier.
The library selects 86.87% of the item numbers offered as of March 2016. It has a history of a high selection rate, usually making the library the largest Louisiana depository by selection rate, with the exception of the two Louisiana regional depository libraries. The library has a very detailed collection development policy to help guide its selections, to include an agency-by-agency analysis.
A very impressive library project is digitizing the library's Congressional hearings, which currently stands at about 1,500 scanned publications.
The library does an excellent job to promote its depository resources. Since the 1990s, the library has included all of its depository receipts in its online catalog. There are a number of large screens around the UNO campus that display information, and the library makes a practice of including depository information on those screens. The library website includes the Federal Depository Library Program (FDLP) logo on every web page and also has research guides about Government information resources.
On a humorous note, Sonnet used Government documents during final exams the past two semesters of 2015, for a stress relieving program. She found Government coloring sheets, printed them out, and left them on a table with crayons. A sign was placed on a table calling it the "Coloring Station," explaining that coloring relieves stress.
Louisiana has a very active documents group, the Louisiana Federal Depository Library Council (LFDLC), which meets twice a year, once in person and once virtually. UNO library plays a large role in this organization. UNO's depository coordinator completed a term as Chair of the LFDLC in 2014. She has also been very active in state and national documents groups.
Louisiana depository libraries' sense of collaboration was tested to an extreme level during and after they were hit by severe storms. This is especially true in 2005, during and after Hurricane Katrina. The regional librarian made site visits, and New Orleans depositories helped the affected libraries get back on their feet. This included moving some depository collections from damaged libraries to those less affected by the storm.
In the summer of 2015, the UNO library staff also graciously hosted a visit from Davita Vance-Cooks, Director of the U.S. Government Publishing Office (GPO).
The University of New Orleans' Earl K. Long Library continues its now 53 year history as a top-notch depository library. GPO commends this library for its excellent service and dedication to the people of Louisiana.