Northern Kentucky University's Steely Library
Details

Last Updated: June 19 2015
Published: June 12 2015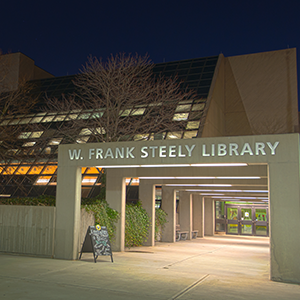 The W. Frank Steely Library at Northern Kentucky University (NKU) was designated as a Federal depository library in 1973, only five years after the university was founded. Steely Library's depository has always been a busy center, primarily serving students, public libraries, and other residents of Kentucky's 4th U.S. Congressional District that includes the eight counties of the Northern Kentucky Area Development District. Located only five miles south of the Cincinnati Ohio Riverfront, the library's Government documents complements those depository collections found at the University of Cincinnati and the Public Library of Cincinnati & Hamilton County. Steely Library's depository is committed to expanded customer access to U.S. Government information for its community. It is currently coordinated and represented by Philip Yannarella, an enthusiastic and knowledgeable Government documents librarian.
The library has historically collected a large number of U.S. Government publications from the Federal Depository Library Program (FDLP) in support of university programs and the community. More recently, the library has undertaken some significant new collection responsibilities, committing to be an Association of Southeastern Research Libraries (ASERL) Center of Excellence for the Small Business Administration and for both the U.S. Copyright Office and the American Folklife Center from the Library of Congress. As such, the library aims to collect comprehensively from these Federal agencies, currently and retrospectively.
These collections are proving to be valuable additions for the library's patrons. For example, the new resources acquired for the U.S. Copyright Office collection have been, as Mr. Yannarella describes it, an "instant success." These intellectual property resources are heavily used since the library also serves as a Patent and Trademark Resource Center (PTRC) for the U.S. Patent and Trademark Office. John Schlipp, Intellectual Property Librarian, is the head of the library's Intellectual Property Awareness Center (IPAC) and coordinates the library's collection of patents, trademarks, and copyright materials. He and Philip Yannarella work closely together with the respective Government publications collections.
The PTRC constituents include legal and business (and related) users, non-profit groups, students, and more. One of the joint community programs of the Steely Library depository and the PTRC program was a Government Information Day covering Census, Trademarks, and Patents topics and issues.
To help get the word out about the value and use of U.S. Government publications, Philip Yannarella has regularly performed outreach since he became the library's depository coordinator in 1977. Most recently, he has taught the Government Information LIN305 Course for the university library's Bachelor of Library Science, in the Informatics Program, since it launched in 2009. The program supports library staff in Kentucky public libraries and the staff in other selected states with ongoing accreditation. Part of the LIN305 Government Information coursework includes a visit to a local depository library, an interview with a depository librarian, and, more recently, participation in the FDLP Academy.
Selected other instruction activities have included:
Finding the GOLD (Government On Line Documents)" presentations to many student, faculty, and community settings at NKU, at public libraries, and at state conferences
Presentations to NKU nursing, engineering, and astronomy students (among others) about Government information in information and literature in their specific areas
Legislative history presentations to Social Work students at NKU and nearby St. Xavier University
American Factfinder and general Government information resources for new library staff orientations at local public libraries
To help publicize the tangible collection in the past, Mr. Yannarella authored a monthly newsletter entitled "Information for Everyone" that was printed and distributed throughout the NKU campus. Although he ceased the newsletter when online keyword searching helped researchers identify new resources more readily, the digitized newsletter has ongoing use by those looking for past information.
The depository is successful for many other activities as well. For example, almost all of the large collection is fully cataloged. The Steely Library provides selected printed IRS income tax forms annually as a service of the depository. The library works regularly with the Law Library on campus for referrals about Government information resources, and library staff regularly participate in the Cincinnati metro area, Kentucky, and Ohio Government information groups and programs. The library also provides services to other libraries where possible. For example, since it had acquired a significant collection of Congressional Research Service publications, the Steely Library shared these with the University of North Texas CyberCemetary for digitization and permanent, digital access.
In addition, last but not least, Mr. Yannarella has served as a Volunteer Librarian at the Cincinnati Museum Center's Geier Collections and Research Center's Science Library since May 1993. Not only does this provide community service on the part of the university, it serves as additional outreach for the depository, as Mr. Yannarella is an enthusiastic proponent of the value and use of Government information in all settings, including the Science Library.
As you can see, Steely Library's Federal depository has a lot to offer. One of the Government Documents Research Guides the library offers highlights how Government information is valuable for various groups, such as business and industry, education and health professionals, small businesses and economists, environmentalists, homeowners, and students. It concludes with: "Remember, all the existing resources are waiting for your use and there is always something new coming out. Read government documents paid for by your tax dollars and be an informed citizen."
GPO is proud to spotlight the Northern Kentucky University Steely Library as a successful partner in Keeping America Informed and appreciates the library's ongoing services.