University of Montana, Mansfield Library
Details

Last Updated: December 23 2014
Published: December 23 2014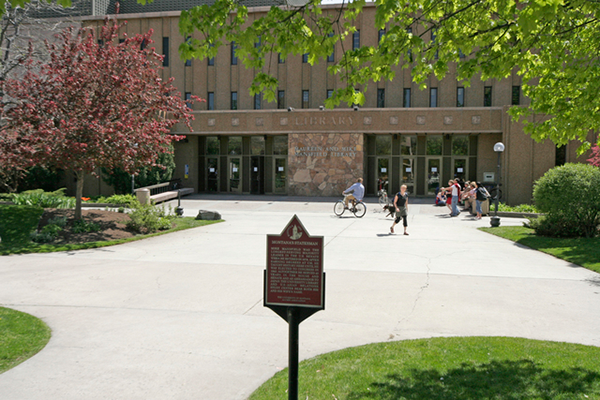 The U.S. Government Publishing Office (GPO) is proud to spotlight the University of Montana (UM), Mansfield Library in Missoula, Montana. UM serves as the regional depository library for Montana's 11 selective depository libraries. The library was designated as a depository in 1909 and a regional depository library in 1965.
This large academic library has a wide variety of information for its patrons through well-developed online guides. Susanne Caro, the regional depository coordinator, creates and maintains the Government Information subject guides. They provide an array of portal-level access points to online Government resources, down to individual monographs of specific titles. As one would expect, the New Government Documents guide showcases new Government publications, but it also does a wonderful job of tying historic documents to today's current events. The Government News For Montana blog has posts with new Government document resources and news articles of interest to those in Montana.
A characteristic of UM online subject guides that you will find very interesting is that they provide a mash up or a blend of information from a variety of sources as appropriate, including images from photographs, artwork, or book covers; SuDoc call numbers for print resources in the library; catalog search permalinks; and links to online versions of documents, other agency sites, other library's subject guides, and audio recordings of statements given at congressional hearings.
For an example of the integration of multiple resources, check out the Women in Government Documents guide, which provides the above references in a timeline of major events in women's history by decades. Also check out the mash up of resources in the Artemis to Apollo 17 guide for an overview of the moon's influence on art, culture, and science.
As a regional, one of the services they provide their selective depositories is Government Documents Administration, a Montana FDLP blog site with video demonstrations, blog postings of training opportunities, weeding procedures, a directory of Montana depositories, and more.
Another notable project the library has been working on is a long-term retrospective cataloging project. The University of Montana Mansfield Library has a strong collection of U.S. Forest Service publications. They have partnered with GPO to provide cooperative cataloging for the pre-1976 publications and for fugitive publications the library holds. UM sends their catalog records to GPO in batches to confirm the SuDocs classification number, item number, Library of Congress Subject Heading (LSCH) assignment, and the corporate name authority assignment. All libraries benefit from the project because finalized records are added to GPO's Catalog of U.S. Government Publications (CGP) and subsequently to OCLC. As this partnership winds down, the UM Libraries are looking for their next partnership opportunity!
The staff at Mansfield Library have access to a large historic collection and put a lot of work into making their collection visible and available for use. They work through traditional cataloging enhancement as well as through their informative online subject guides and blogs. Their passion for Federal Government information serves the people of the University, the state of Montana, and the Nation very well. GPO is very appreciative of their dedication to sharing Federal Government information!