Hesburgh Libraries, University of Notre Dame
Details

Last Updated: February 27 2014
Published: February 27 2014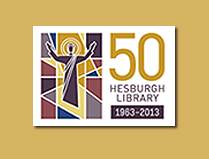 Libraries are increasingly relying on Web sites to increase access to Government information for their patrons. The library at the focus of this month's Library Spotlight, Notre Dame's Hesburgh Libraries, does this job exceedingly well.
The Hesburgh Library Web site states that:
Notre Dame has been a depository for U.S. Government publications since 1883 and [these documents] take the form of paper, maps, microfiche as well as electronic media. All materials received prior to 1968 are housed in the main LC collection. The present Documents Center collection on the lower level of Hesburgh Library has over 800,000 publications received since January 1, 1968. These materials are arranged by Superintendent of Documents (SuDoc) classification, and cover a broad spectrum of subjects.
Contact information for Government documents staff is readily available, and a link to a map of the library makes it easy for users of the Web site to locate and access materials within the library.
The library Web site further facilitates access by providing excellent resource guides on a wide variety of topics including maps, statistical data, science and technology, health, and legislation and legislators. The various topics are organized in a manner that makes locating exactly the right resources easy for anyone, whether a student or a public user.
These guides are linked from the library's Government Information page, making them easily accessible to all users. Each guide includes links to relevant Web sites, databases, tangible materials, and other resources. In-depth descriptions are provided for each resource so that users can clearly determine which ones will be of use.
Access to Government resources is also increased by placing descriptions and links on library Web pages other than the Government Information page. In the Help & Guides—I Need to Find section, there is a page about ways to locate Government information, with links to the Government Information page, FDsys, USA.gov, and the government publications search of the library catalog.
This Government publication search itself enhances access to Government information. If a user is searching specifically for Government information, he or she can search the library catalog for Government publications only. Moreover, a variety of search methods including title, keyword, and author can be used as tools to find the most relevant documents.
The fact that Hesburgh Libraries puts so much focus on the organization of and discovery methods for Federal Government information in a publically-accessible place speaks to the dedication the library has to the core principle of the Federal Depository Library Program: free public access. It is for this reason that we shine the light on Notre Dame's Hesburgh Libraries and recognize their dedicated staff.