The Marriott Library, University of Utah
Details

Category: Depository Library Spotlight
Published: July 10 2012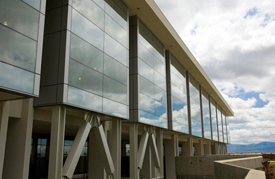 Did you know that Salt Lake City is a hub of Government information? The University of Utah's Marriott Library serves as a depository and service center for the:  
Federal Depository Library Program.
Department of Energy.
U.S. Patent and Trademark Resource Center Program.
The United Nations.
Commission of the European Communities.
State of Utah.
Access to Government Information
Designated as a depository library in 1893, the Marriott Library has a long history of providing public access to Government information. They frequently incorporate Government information into library instruction sessions and outreach programs done across the state, and they also provide valuable Census data, international statistics, and patent searching workshops open to librarians and the public. The library's map collection, one of the largest in the region, has many depository items, including the U.S. Geological Survey topographic and geologic maps. A recent research project by librarian Amy Brunvand digitized Government technical reports from the '50s and '60s, illustrating the early role played by the University of Utah in the development of the Internet. The University served as the fourth node of the Internet; the first connection outside California!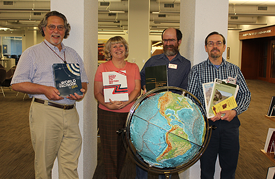 Depository Coordinator Dave Morrison conducts patent and trademark training classes for engineering design classes, University grant administrators, and entrepreneurial programs on campus. Engineering, medical, and business students participate in campus and state-wide competitions to win venture capital to start their own businesses. As a result of these and other initiatives, the University of Utah is the #1 research institution in the U.S. for spinning off new businesses based upon University-owned technologies.
Community Participation
They contribute to the larger library community as well. They formed an active Government Documents CIT (College and Interdisciplinary Team) whose members work together to promote and provide access to library patrons. The enthusiastic staff are also heavily involved in this summer's Six-State Virtual Government Information Conference. Several staff members have presented at Federal Depository Library Conferences, and Dave has presented at Interagency Depository Seminar as a Patent Fellow. The U.S. Government Printing Office (GPO) was fortunate to have Associate Librarian Jill Moriearty on the Depository Library Council (DLC) from 2009-2012. Jill's significant library experience and deep knowledge of the issues related to the Federal Depository Library Program (FDLP) made her an invaluable voice in DLC discussions and deliberations.
Going Online
Utah also has a strong interest in and support for projects of local history. The Marriott Library retains a strong technical reports collection.
The University of Utah participates in several digitization projects that utilize FDLP and other material of a local nature. These projects greatly expand the discovery and usability of Government publications and information. They are currently partnering with:
GPO thanks the staff at the University of Utah's Marriott Library for the significant ways in which they serve the Government information needs of the University community and the public!