FGI: Informing and Advocating for Government Information
Details

Category: Community Insights
Published: April 19 2013
Written by James R. Jacobs, Government Information Librarian, Stanford University; Jim A. Jacobs, Emeritus Data Librarian, UC San Diego; and Shinjoung Yeo, PhD Student, Information in Society Fellow, University of Illinois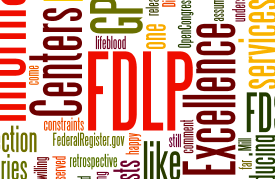 Free Government Information (FGI) was launched in November 2004 as a public space to write and engage in dialog about libraries and Government information. Our goal was and is to expand the discussion beyond the Government information library community. The issues we address cross boundaries to include policy makers, journalists, researchers, open Government activists, and the public who have a stake in the preservation of and perpetual free access to Government information.
FGI also turned into the perfect vehicle to share online the preprint of the article, "Government Information in the Digital Age: the Once and Future Federal Depository Library Program" (Journal of Academic Librarianship, (May 2005), Vol.31, No.3, pp198-208). In that article, we argued -- and continue to advocate -- that the traditional roles of depository libraries (selecting, acquiring, organizing, preserving, and providing access to and services for Government information) are more important than ever in the digital age.
FGI is managed by librarians with Government documents experience who volunteer their time and seek to understand how information policy and technology affect library users. We soon began actively writing about the critical issues of the day. Our first blog post, "Bureau of Reclamation commandeers two 61-year-old technical books on Shasta dam," highlighted a Government effort to limit access to Government information. Almost 4,000 posts and eight years later, we're still writing about current events, research trends, technologies, and issues related to Government information policy (copyright, digitization, FOIA, privacy, etc.). We offer a mix of announcements and current awareness with analysis, commentary, advocacy, and a long-term vision. FGI provides a unique perspective of the intersection of these issues and how they affect, not just libraries, but the users of Government information.
Examples of FGI Posts:
In order to broaden the discussion, we've invited librarians, academics, researchers, and technologists as guest bloggers who cover a range of topics from the End-of-Term Archive to Wikileaks to agriculture, USDA and, yes, even the perfect recipe for peanut butter cookies. 
To keep readers abreast of issues as they arise, the FGI team offers rapid response and analysis of reports and proposed legislation.
Some examples are:
In an effort to provide wider public access to and awareness of fugitive Government documents, we've undertaken a project to digitize and make publicly available documents and reports of historic and/or research importance including:
An outgrowth of this fugitive documents effort is the LostDocs blog. The purpose of LostDocs is two-fold. It's a way for us to "seed the cloud," to provide a public listing of Government documents submitted to the U.S. Government Printing Office (GPO) through their lostdocs reporting form and a way for librarians to assist GPO in tracking agencies and assuring those documents that are in scope for the Federal Depository Library Program make it into the Catalog of U.S. Government Publications (CGP). 
The digital age brings both promises and risks to Government information. While information dissemination is easier, information discovery and preservation are more challenging than ever. FGI offers a place to discuss, evaluate, and imagine a robust user-centered vision of evolving Government information policy. Please This email address is being protected from spambots. You need JavaScript enabled to view it. if you'd like to join the conversation, volunteer to be a guest blogger, or have ideas for projects.