FRED: A Great Source for Economic Data
Details

Category: Community Insights
Published: June 08 2012
Written by Katrina Stierholz, Federal Reserve Bank of St. Louis
The views expressed are those of the author and do not necessarily represent the views of the Federal Reserve Bank of St. Louis or the Federal Reserve System.

Federal Reserve Economic Data (FRED), the free economic database from the Federal Reserve Bank of St. Louis, aggregates data from 40 different data sources, including the Bureau of Labor Statistics, the Bureau of Economic Analysis, Census, OECD, World Bank, International Monetary Fund, and the Federal Reserve System. FRED's mission is to make economic data available to researchers, analysts, and students, opening discussions about the economy to the entire world.
The St. Louis Fed has a long history (back to the 1960's) of providing access to data as weekly and monthly paper subscriptions. These publications were hugely popular with economists and students, but mail delivery had its drawbacks. At the dawn of the Internet Age, electronic access allowed the St. Louis Fed to offer better delivery of its data services. In 1991, FRED was born. FRED started as a dial-up service with a few hundred data series and a few thousand users. Now FRED provides speedy online access to over 45,000 economic time series and attracts a million unique visitors each year as its popularity and use continue to grow.
FRED has a goal of easy access to the important economic data for a wide audience. To achieve that goal, FRED aggregates economic data from government and commercial sources, providing access to international, national, and regional economic data. These data are uploaded into the FRED database every business day—usually within an hour of the release of the data on the source website. The data are presented in a common format and style to improve usability; a user may download series from multiple sources and have the dates align correctly for time-series analysis. FRED offers a free, one-stop, credible shop for economic data.
How FRED Works
The data in FRED have always been categorized by subject, but the addition of so many series prompted the need for more options for finding data. So, our most recent change is the addition of tags to all the series to allow users to filter results in multiple ways.
Each series contains information on the original source of the data, the dates of coverage, the most recent update to the data, geographic regions covered, subject concepts, whether the data are seasonally adjusted, and units of measure. For instance, FRED contains over 5,000 series tagged for the consumer price index (CPI). Some of these series are for various regions of the United States, some apply to foreign countries, some provide the index for the various components of the CPI (e.g., rent, gas, food, transportation), some are released at different frequencies (e.g., monthly, semi-annually, annually, and quarterly), some are seasonally adjusted, and so on.
When a user initially searches for data, the results are sorted by popularity. So, when a user searches for "CPI," the most popular series is the CPI for All Urban Consumers, seasonally adjusted, monthly, for all items. That series selection makes sense; this is typically the CPI number most often reported in the media and most typically commented on by bloggers. Among the next most popular (usually in the top five) is the CPI for All Urban Consumers: All Items Less Food & Energy, commonly called "Core CPI." This is another series that receives considerable attention by economists and the press. Ordering search results by popularity has been a boon to FRED users.

Finding a series when the data are not the most popular is easily accomplished using the tags. Tags allow users to efficiently and accurately filter a large dataset to find exactly what they need.
Other FRED Features
In addition to providing the raw data, FRED offers users the ability to download data, create custom graphs, and receive an email notice every time data are updated. Data can be downloaded from any screen in FRED where data are displayed. A user may also customize a graph which is automatically presented from any data page. FRED automatically presents the data as the source provides it. For example, FRED shows the CPI as its index number. For April 2012, the CPI for all urban consumers, seasonally adjusted, is 229.177. This index number is interesting, but it is more helpful to know the percent change from an earlier time period. FRED's pull-down menu options offer the data in other forms. As of May 16, 2012, the April 2012 All Items CPI is 2.3 percent higher than the All Items CPI for April 2011.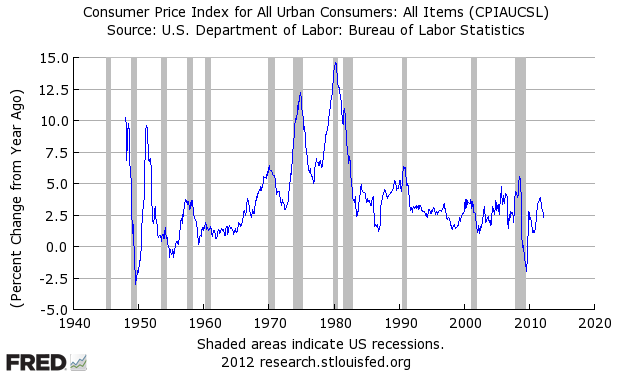 FRED's features include the ability to add multiple lines to a graph or download multiple series at one time. Graphing the "Core CPI" alongside the "All Items CPI" provides more context for understanding everyday consumer prices. FRED's capabilities include saving data and graphs in individual user accounts and sharing the data with others (e.g., URL link, Twitter, Facebook, email, etc.).
Help is Just a Click Away
The St. Louis Fed Library helps librarians and others interested in economic data through a Web site and the Library's regular newsletter, Page One Economics. The newsletter covers the most current economic topics and provides a basic explanation for lay audiences. The Page One Economics Web site also provides the 50 most fundamental economic time series for new users (the FRED starter set) and offers several lessons on learning to use FRED's features. Tutorials for customizing the graphs are also available.
Apps and Add-Ins
FRED also has apps compatible with Androids, iPads, and iPhones. Excel also has an add-in feature, and our programmers have written a FRED Excel Add-In so that users can directly import FRED data into Excel. If you like Excel and work with economic data, you will love the Excel Add-In.
Why do we do this?
We do this because of our long-standing tradition of providing free public access to valuable economic data. Our goal is to allow informed individuals to draw their own conclusions supported by evidence. We offer valuable information to the public in an easily accessible form.
FRED Feedback
What are some of the outcomes of the FRED Web site? College professors have their students use FRED to complete their homework. Bloggers post commentaries about the economy and economic policy using FRED data to support their arguments. Journalists use FRED for background information and data retrieval. Academics use it for their research papers. FRED is a widely-used tool in the economics profession and has a strong reputation as a credible source.
FRED has been online since 1991 but has evolved to keep up with the times. Tags, new series, customizable graphs, and apps are all part of our ongoing commitment to providing the highest-quality data for free to the world. To join the economic conversation, be sure to check FRED often. To stay abreast of the latest economic topics, subscribe to Page One Economics.