A Farewell and Thanks to 31 Year FDLP Veteran: Joe McClane
Details

Category: Featured Articles
Published: August 10 2012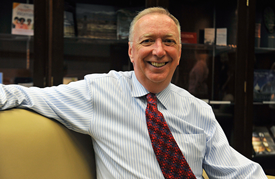 On August 3, 2012 a dedicated advocate and dear friend of the Federal Depository Library Program (FDLP) will retire from the U.S. Government Printing Office (GPO). For over 30 years, Joe McClane has worked for and with the FDLP community to improve public access to U.S. Government information.
Joe's first job with GPO was that of a library inspector, where he got to travel the country and meet with hundreds of FDLP librarians. Over the years, Joe has had many roles at GPO, from Chief Inspector to Chief of Depository Services, then outside of Library Services & Content Management (LSCM) to GPO's Publication & Information Sales and Information Technology divisions. Now, in Joe's final position at GPO, he is the Manager of Content Acquisitions in LSCM. In this role, he has been able to meet and learn from hundreds of content originators in Federal agencies and help enrich the FDLP with new and important resources and publications. When asked about his work over the years, Joe said, "All of my responsibilities have heightened my respect for my fellow librarians and agency staffers, seeing first-hand how much good they accomplish."
Since his early days with LSCM (then called, the Library Division), Joe has seen many changes over the years. Of course the biggest change that he has seen has been in technology and communications. He said that when he started at GPO, staff used typewriters, whiteout, carbon copies, and the telephone. Laughing about the experience, Joe said, "Try arranging a visit to American Samoa Community College in Pago Pago by pre-voicemail phone and nothing else!" Joe was also the first person in the Library Division to ask for a personal computer, and his boss' response at the time was, "You want your own computer? For your desk?!" The thought was outlandish at the time. Once computer use was more widespread, Joe was responsible for creating the PAMALA database, which kept track of depository libraries and their personnel.
Legacies of Joe's that live on today are the Interagency Depository Seminar and the Federal Depository Library Conference. About 25 years ago, Joe founded the Interagency Depository Seminar as a "boot camp" for new documents librarians. And five years after that, he arranged the first Depository Library Conference, which offered a venue for continuing education for documents librarians, in conjunction with the annual fall Depository Library Council Meeting. Joe said, "I believed very early on that GPO should provide as many training opportunities as possible to documents librarians and Federal content providers. Anytime you bring documents librarians together with each other and agency representatives, everyone benefits."
Joe also advocated for an expanded Instructions to Depository Librarians and the Federal Depository Library Manual, so that librarians would have a clear understanding of their responsibilities and a source of information on best practices. Those sources have grown into today's Legal Requirements & Program Regulations of the Federal Depository Library Program. For the last several years, Joe has worked on a more proactive outreach effort to Federal information content originators called Document Discovery. This is an effort to better educate and cooperate with Federal agencies that create FDLP content, with the ultimate goal of reducing the number of fugitive documents.  
Upon retirement, Joe plans to stay in the Washington, D.C. area and continue his landscaping hobby and volunteer efforts. He also plans to continue traveling the globe to interesting and remote places. Joe expressed that he will miss the many wonderful people at GPO, depositories, and Federal agencies that he has worked with. GPO thanks Joe for his many years of service to the FDLP and for his lasting contributions to our mission of keeping America informed.